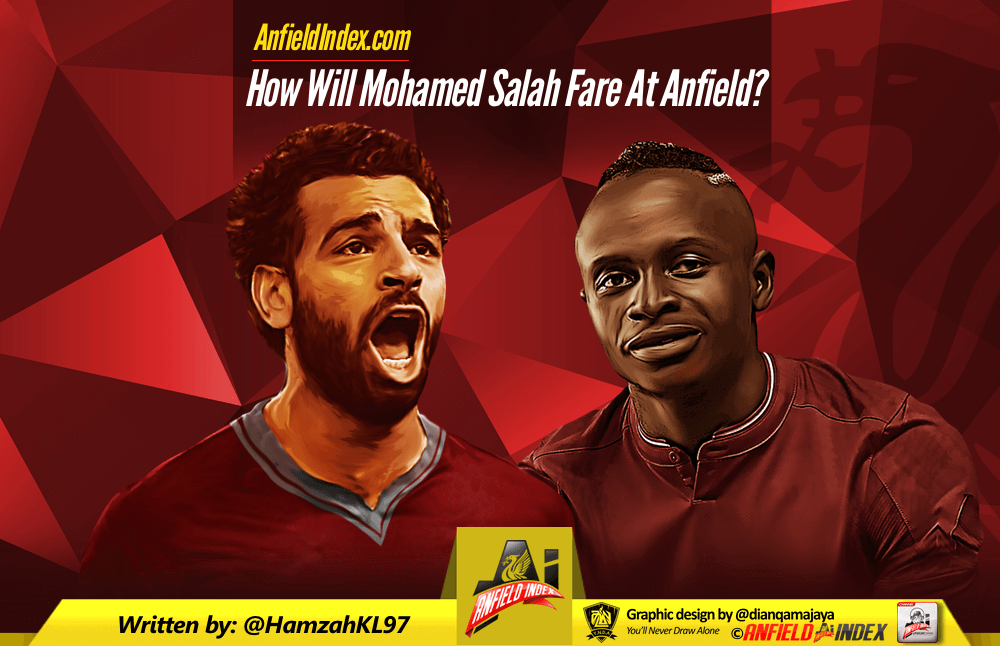 How Will Mohamed Salah Fare at Liverpool?
In the most recent edition of the Gags Tandon Show, Gabriele Marcotti, from both ESPN and The Times, featured as the guest: profiling Mohamed Salah and discussing potential concerns that Liverpool fans may have.
For many Liverpool fans, their main concern is why Mohamed Salah, a player that could not establish himself at Chelsea is now one of Liverpool's primary targets, and, by extension, is he of the quality Liverpool need to improve in order to build towards those Premier League and Champions League ambitions?
However, Salah is very much a different player from the 21-year-old that joined Chelsea back in January of 2014. Back then, Salah was very raw; he lacked the tangible output in terms of goals and assists, but also his decision-making was underdeveloped. From his experience in the Premier League, and in Serie A, Salah has now developed into a more rounded player; in terms of goalscoring, and other relevant output figures, he is actually very similar to Liverpool's Player of the Season, Sadio Mané.

This season, Salah scored 15 goals, and recorded 11 assists for Roma in Seria A, from 29 games (two of which were as a substitute). Like Sadio Mané, he also missed a month because of the African Cup of Nations. Comparatively Mané scored 13 goals and provided 5 assists in 26 games.
The similarities, besides their blistering pace, do not stop there.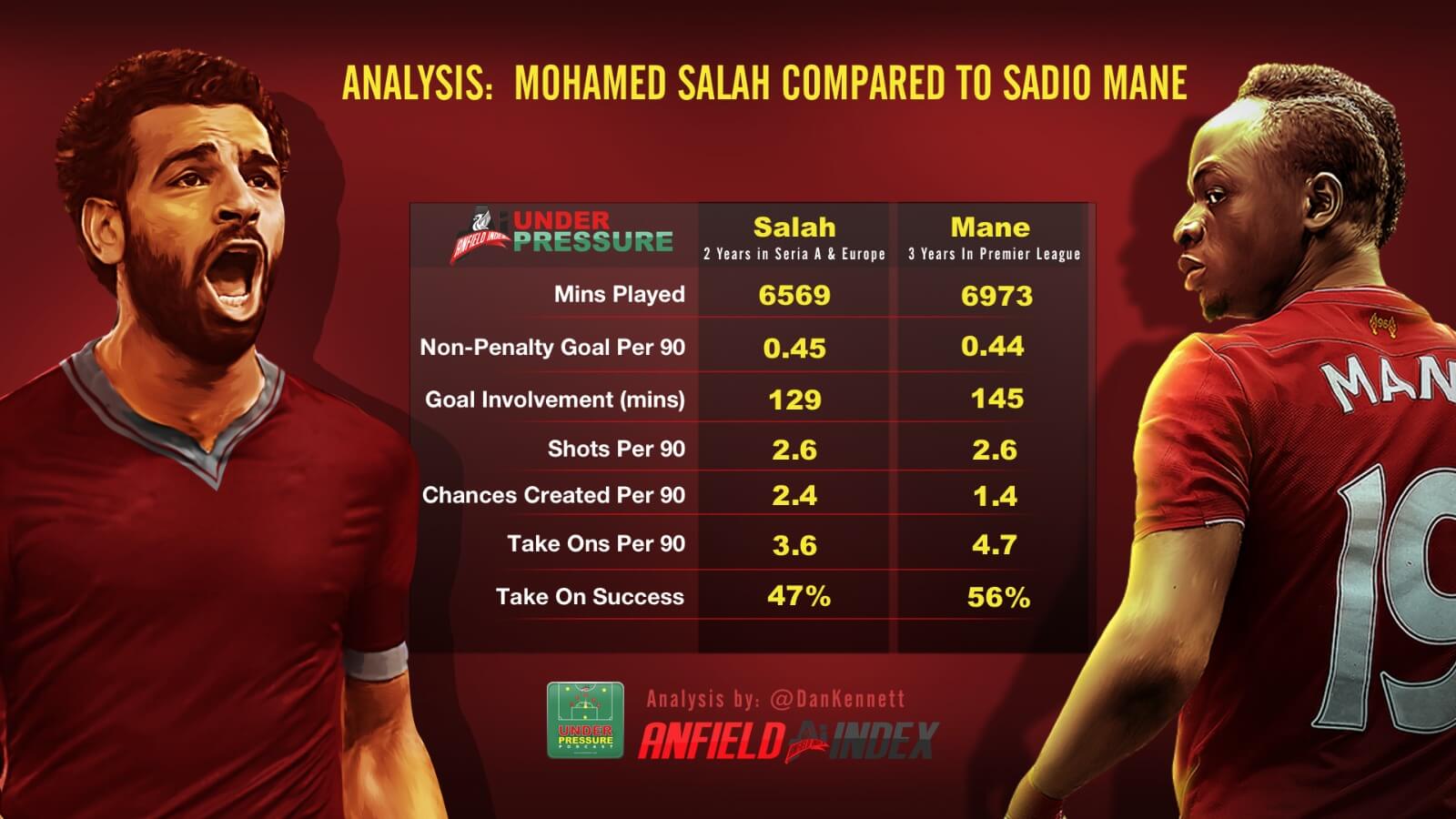 Comfortable on both wings, like Mané, Liverpool will be blessed with pace and penetration from wide positions – one of the shortfalls of Liverpool in 2016-17. His Chances Created and Goal Involvement figures are extremely exciting, surpassing Mané's output, but the challenge will be transferring that over to Liverpool, in the Premier League and Champions League.
But despite these similarities, Marcotti asserted that Mané and Salah are still very much different players. He stressed how Salah may well be better in terms of stretching defences, attacking and running in straight lines and counter-attacking, but he is not able to function as an inside forward the same way Mané does.
Yet this variety in styles and skills amongst Liverpool's front line may well be its biggest asset. Mané, Salah, Firmino, Coutinho, Sturridge and Origi all offer different options and qualities, unlike almost any other side in the league. For fans concerned about Liverpool lacking a 'plan B', this seems to be Klopp's answer: a squad of players that can respond to any challenge through sheer strength in variety, and the diversity of physical and technical qualities.
Marcotti argued Liverpool are in the brilliant position in which the manager can 'tailor the front three to the opponent'.
Questions may remain about what Salah specifically brings in relation to Liverpool's performances. His pace, positioning and direct approach are the specific qualities that have made him such a desirable target. When we look at Liverpool's issues this season – mainly against sides that employed a low-block, or when Mané was injured, Liverpool lacked width and direct penetration. Salah offers both, more-so width than penetration when compared to Mané though. He may well prove to be part of the solution at left-back too, as James Milner's inability to provide width, and work the overload stagnated Liverpool's fluency in the final third.
For Liverpool fans though, Salah still represents some long-standing concerns beyond this, regarding the history of Italian or Serie A imports to the Premier League, as well as whether a Chelsea "reject" is good enough to cut it at Liverpool.
In some respect, these concerns are justified: Aquilani, Borini and Balotelli can hardly be classed as successes at Liverpool, but it is very much a case of looking at the individual and the context. Of those three, only Aquilani may be classed as a definitively Serie A player – as both Borini and Balotelli had considerable Premier League experience before they joined Liverpool. In this sense, the argument that players from Serie A simply do not work at Liverpool is balderdash. For Aquilani injuries and confidence ruined what could have been a promising move. In terms of players from Italy in general, Pellé, Ogbonna, Darmian and Pogba have all been fairly successful since moving to the Premier League. But in reality, this argument that players from Serie A just are not good enough is a fallacy. Roma finished the season on 87 points, one above Napoli, and four behind Juventus, who reigned as champions with 91 points. To consider a league, which has produced one of the Champions League finalists for two of the past three seasons, inferior, or unable to produce players that can compete in the Premier League – a league which has only managed two finalists over the past 7 seasons – is plainly illogical.
So too is to judge a young player brought in, mid-season, from the Swiss league, under José Mourinho, who has a record of sidelining wingers who do not meet his defensive requirements, as well as younger players. Some fans may point to Mourinho choosing not to reintroduce Salah to the starting XI, after a successful spell at Fiorentina – however, after winning the league, Mourinho felt another forward was simply excessive. Regardless of Salah's short-time at Chelsea, the term Chelsea "reject" bears little weight considering that includes Kevin De Brunye, Romelu Lukaku, Nemanja Matic and David Luiz: two of whom have been re-signed, one who is expected to re-sign, and the other is arguably the best CAM in the league.
What is relevant to Salah and Liverpool are his past experiences, specifically the systems he has played in before. As Salah has mostly played in counter-attacking sides, and a Roma team that was extremely offensive, but in a different manner to Liverpool, Marcotti expressed his reservations:
'In terms of natural skillset, he's not a natural fit for Liverpool… simply because he hasn't been in pressing systems – like Liverpool's – for the past three years.'

'…but it doesn't mean he can't learn it.'
For Salah, adapting to the demands of Klopp's pressing system may well be his biggest challenge, rather than adjusting to the league, its physicality or other generic issues that new signings face. However, with a sizeable pre-season scheduled for Liverpool, this may well present the opportunity for Salah to fit in as well as Sadio Mané did.
Considering current price inflation, Salah's age, figures this season, and the specific need for Liverpool to sign someone with those specific qualities, Marcotti is quite right in claiming Liverpool are not really paying a 'huge fee'. It seems Klopp has gone out of his way to try to sign Salah, identifying specific attributes that he feels will improve Liverpool. If Salah is as successful as Klopp's other big-money signings: Mané and Wijnaldum, Liverpool will certainly be an attacking force next season, finally with a degree of depth to back up the starting quality.
Salah's positive injury record and attitude indicates that he is the all-round package for Liverpool FC, and whilst there are some questions about how Salah will adapt to Liverpool – it's abundantly clear that this is a deal that makes financial and tactical sense, and could pay phenomenal dividends.
Liverpool fans will be extremely eager to see what Mohamed Salah can do in the red of Liverpool next season, for if it's anything like what he produced this season, Liverpool's front line will be one of the most fearsome in Europe.