 Can Coutinho start alongside Lallana In Midfield?
Liverpool's signing of Mohamed Salah, and Coutinho's success in a no.8 position at the end of the 2016-17 season is widely expected to herald Coutinho's move to the midfield permanently. However, for the coming season, providing Liverpool stick with a 4-3-3, let alone use the 4-4-2 diamond that featured against West Ham and Middlesborough in the penultimate and ultimate games of the season, it seems hard to accommodate for both Coutinho and Adam Lallana in midfield.
Whilst Lallana and Coutinho did play together in midfield, against both West Ham and Middlesbrough; in those games Liverpool opted for a 4-4-2 diamond, with Firmino unavailable for the first and Mané for both. Considering both are widely considered definite starters next season, it's best to look at a potential team of who will definitely start next season, and go from there when looking at how Coutinho and Lallana could feature together.
Here we have the favourite XI, or the "undroppable" players. It is extremely unlikely Salah will have been bought for such a sizeable fee for him to function as a player from the bench, and when Henderson is fit, it's abundantly clear he is a favourite of Klopp – and as captain, he has to start.
What this leaves us with are gaps at left-back, left-centre-back, and in midfield, ahead of Henderson. With Can and Wijnaldum both at their best in that centre-midfield position, it seems Lallana will be vying with them or Coutinho for that offensive midfield spot. What we are not even considering here is a new addition to the starting XI in midfield – Naby Keita, one such example – in which case Lallana's omission in this potential starting XI would appear a near certainty.
Of course there is the possibility Lallana may function as one of the front three, but his lack of pace, and propensity to cut inside would reduce the width of the team, and create a deficit in the offensive threat – one which Mané and Salah were brought in to definitively address. That being said, considering Lallana's performances until January, in which he scored 7 goals and registered 7 assists, his best position seems to be in midfield – the same position that Coutinho is expected to play in.
If it's a simple shootout between Coutinho and Lallana, most Liverpool fans, and Jürgen Klopp would opt for the Brazilian, a past Player of the Season and recent stand-in Brazil captain.
However, we'll put aside that practicality for this discussion, and instead look at how Liverpool would work with Coutinho and Lallana within a first-choice starting XI, before looking at how they both may start together as the season progresses, and other players become unavailable.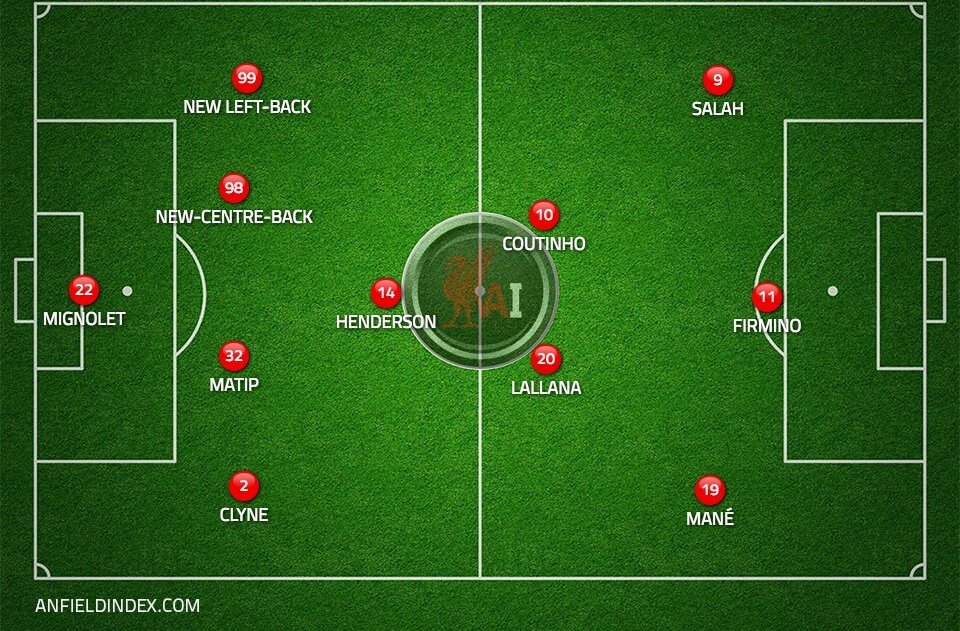 Whilst a FIFA-player's dream XI, Coutinho and Lallana both playing in midfield appears impractical for a few reasons.
Firstly is a simple matter of size and physicality. As it stands Liverpool are the shortest team in the league and the second lightest, after Manchester City, and this is without even including Mohamed Salah. Liverpool's front line would stand at an average of 1.73m tall, as Mané and Salah are both 1.75m tall, and Firmino is 1.80m tall.
Coutinho, however, is only 1.70m tall, and Lallana a mere 0.03 of a metre taller. Henderson is the tallest, at 1.83 metres. This would give an Liverpool midfield average height of 1.75 metres – smaller than any other team average in the league. When we add into this that Clyne is also 1.75m, and that left backs are also hardly known for their stature, Liverpool will be relying on their two centre-backs and Henderson to cope with physical teams – like West Brom for instance whose average height is 185.5m.
Admittedly, Wijnaldum is only 1.75m, but as a physical player he is preferable to Adam Lallana, so too the 1.83m Emre Can – who also is unlikely to get bullied off the ball.
Physicality is a selective issue though; if Liverpool were to play against the similarly sized Manchester City would Lallana and Coutinho work well as a midfield partnership ahead of Henderson?
On the ball Lallana and Coutinho may fare well in such a game, but it's without the ball where the team could suffer. One of Lallana's greatest strengths from midfield is his ability to push forward into the box and contribute offensively – if Coutinho were to fulfil the same role, it's likely that Henderson and the two centre-backs would be hopelessly exposed in such a game.
Here we must recognise Can and Wijnaldum's functions within a different role, but in the same on-field position as Lallana. Emre Can and Wijnaldum both serve as facilitators to Lallana breaking forward – through covering the gap that he leaves when he moves into or around the box, meaning that Liverpool are less open, and less susceptible to a successful counter-attack.
Wijnaldum's role in big games is specific to him too, he operates as a recycler of the ball, keeping and rotating the play alongside the deeper midfielder in the no.6 role – a bridge between defence and attack, performing both roles. Lallana on the other hand, whilst undeniably technically gifted, is primarily an offensive player, and asking him to perform the role of a classic central midfielder may be a challenge alien and too great for him. He would be forced into restraining himself, and his attacking play at time – his best quality – so it hardly makes sense for him to function in this role in a game in which Liverpool expect the opposition will have a lot of possession or are counter-attacking specialists.
Lallana performs best as a bridge between the midfield and the attack, a floating and primarily offensive box-to-box (I am aware of the irony and juxtaposition of the phrase 'an offensive box-to-box'). This role is considerably different, and requires a different tactical approach if Lallana were to function in Wijnaldum's or Can's place.
You could put the case forward that both Coutinho and Lallana play the exact same floating midfield role, but the 4-3-3 system is primarily about balance, and without sufficient defensive consideration within the midfield three, the system can be exploited directly down the middle by opposition teams.
Lallana's form over the second half of the season also is reason to doubt whether he should start; after a blistering start, Lallana was goalless for Liverpool from January to the last game of the season.
That being said, it was the last two games of the season in which Coutinho and Lallana both featured alongside one-another, and the team played phenomenally well, even with Firmino absent for the first, and Mané sidelined for both.
What does this mean then?
Coutinho and Lallana can both play together, it's just a matter of where and when. With Coutinho out wide, Lallana is perfect in midfield, but when both are in midfield the system has to be tinkered with to accommodate the pair of them without compromising the defensive strength of the team. If anything, Coutinho will most likely be rotated with Lallana, rather than playing alongside him, but there's always the possibility they will play together when chasing a game, or the opposition suits it.
So, the answer to the title's question, 'Can Coutinho start alongside Lallana?'
Yes.
Should he?
In most instances no.
However, this is another opportunity for Lallana to shine and adapt,; and whilst it is a shame that a player of his quality will likely not be starting next season, it's clear Klopp trusts him and will utilise him at every opportunity – something that cannot be said of the weak substitute options last season. Lallana from the bench will offer depth, quality and energy, and also the ability for Klopp to rotate and rest key players – considering the demands of the coming season, having Lallana on the bench may not be a negative at all.