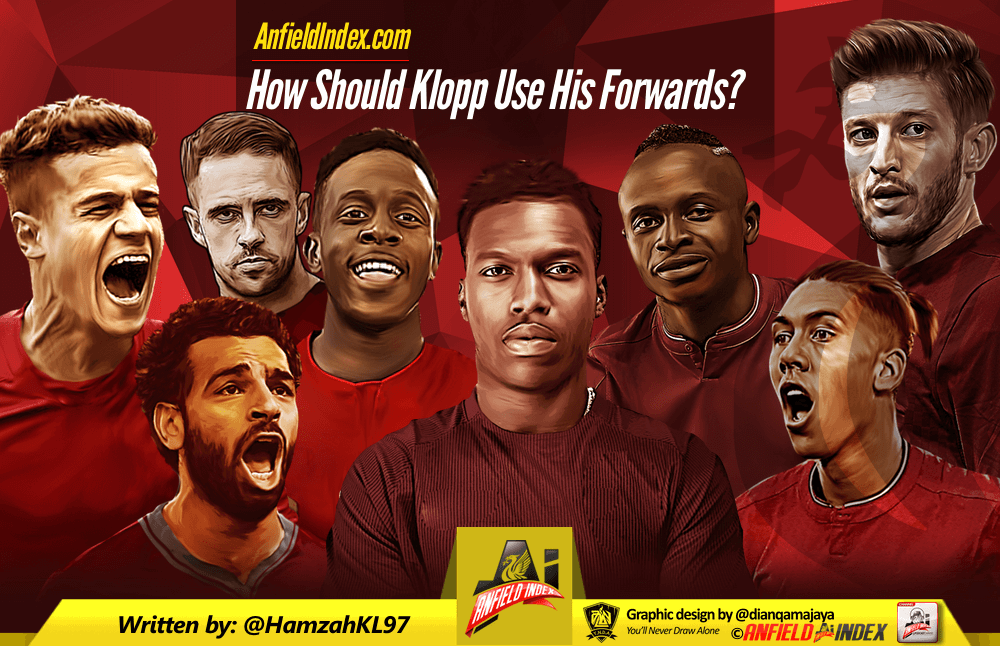 How Should Klopp Use His Forwards?
With Mohamed Salah signed, attention naturally shifts to prospective signings in midfield and defence. However, with the Under-20 World Cup winner, Dominic Solanke, added to the ranks, Liverpool now have a large group of offensive players readying themselves for the coming season. How then should Klopp use and manage this group of very different, and talented players; will a formation switch get the best out of them, and should Klopp look to trim down this attacking group?
In the most recent Gags Tandon Show, ESPN and Times writer Gabriele Marcotti asked:
'the question is, what happens with Sturridge?'
It seems as good a place as any to start when analysing Liverpool's group of attacking players.

By mid-February Daniel Sturridge's supposed summer departure was a formality. Yet all it took was a brief cameo against Southampton for that formality to be questioned, before a brilliant display against West Ham had fans gushing again. With Daniel Sturridge working on his fitness, the coming season could provide the run of games he needs to be back to his best, and the luck he deserves, after such a torrid time with injuries. But what Sturridge's performances at the back-end of the season showed was not just how much he offers to the team, but also how his individual qualities and characteristics could solve the low-block issue that troubled Liverpool for most of the season.
Both PSG and West Ham have reportedly shown interest in Sturridge, but were allegedly put off by the £40 million minimum asking price. Rightly so: his quality and value to the team when he plays is immense. His attitude whilst being injured has been first class, and even when not selected, he kept his head down. If anything, Sturridge, judging on his past performances and behaviour, has earned himself a chance to revive his own career, and with Liverpool facing more pressing personnel issues elsewhere, selling and having to replace Sturridge would pose more problems than it would solve.
Klopp's responses in relation to Sturridge in May are promising in this respect too, he asserted that,
'A fit Sturridge is an unbelievable player'
and that,
'For me, there was not a second of doubt about Daniel Sturridge… I only think about now, at this moment, and I trust him 100%. He's an instinctive footballer and a fantastic striker.'
In a separate press conference, upon being asked whether Sturridge had a future at LFC, Klopp answered,
'Of course.'
So then, if keeping Sturridge is the best course of action, how best to use him? Here I refer back to the Gags Tandon Show, and a point made by Gags, in which he highlighted Sturridge's most successful, injury-free run under Klopp was in the weeks building up to the Europa League final, where he played once a week, and was carefully managed. Considering Firmino appears to be the first choice striker, this should certainly suit Sturridge in helping him get match time in the first few weeks of the season. Beyond this he will likely play a bigger role too – Firmino struggled with fatigue near the end of the season, and with a potential season that may well span over 60 games, rotation without losing intensity or quality will be essential, and unlike the still-developing Divock Origi, Daniel Sturridge provides Liverpool with the opportunity to rest a starting player, without losing any offensive threat. His finishing prowess will also undoubtedly be an asset for the season to come, whether as starting as a lone striker, as part of a two (as we saw at the end of the 2016-17 season), or even from the bench. What remains clear in relation to Sturridge's future is that should he still be a Liverpool player come the end of the transfer window, he will have an extremely important and pivotal role to LFC's upcoming season.
The next most-senior forward is Roberto Firmino. Naturally, and unlike Sturridge, there is no discussion about him leaving the club at all after another good season, but the challenge for him is to improve upon his goalscoring output over the past two seasons. With Salah and Mané alongside him, and Coutinho in behind will create chances galore, but Firmino has to be hitting and pushing beyond 15 league goals this season, if he plays as the striker.
It's clear that the 2016-17 fixtures took their toll on Firmino too; he was too tired to start against Stoke, and picked up a minor injury late on in the season. For Klopp, rotating Firmino, resting him, or reducing the physical and goalscoring burden upon him, through using him in a different role (a second striker or CAM in a 4-2-3-1) will be key to getting the very best out of him, in what promises to be a demanding season. Keeping Firmino fresh for big games, be it in the Premier League or Champions League may prove decisive at the end of the season – in this sense, keeping offensive options such as Sturridge and Origi in reserve may be absolutely crucial.
Divock Origi, still only 22, struggled this season, but with 14 starts, and 20 appearances from the bench he contributed with 7 goals and 3 assists. For Origi it would certainly have been a disappointing season, and he may find himself still feeling as if his opportunities are limited, in terms of playing with other forwards that would help get the best out of him. Regardless, his qualities, in terms of his physical stature and rounded finishing skills, set him apart from the other forwards and ensure he will have a role to play in the coming season. He will likely find himself stuck with substitute league appearances and Cup matches, but he, like Sturridge, seems to flourish in a two-striker partnership, and with youth and energy on his side, he could become an extremely useful asset to Klopp.
In December and January, with Premier League fixture pile-ups already scheduled – without accounting for potential FA and League Cup fixtures, or Champions League fixtures being played early because of the World Cup forcing the normal end of the season back – Origi may well get his chance to prove himself as a player deserving of a starting spot, and showing the qualities that earned him a move to Liverpool. If Origi is serious about getting into the Belgian World Cup squad, he may have some reservations, but Klopp has used him liberally as a substitute last season, so he should have more than enough opportunities to prove himself this season – with his physicality and energy likely to prove especially useful when it comes to the winter months.
Sadio Mané, Liverpool's Player of the Season, will have to be closely managed over preseason, and in the first few weeks of the season. Mané is expected to recover from the knee injury that he sustained against Everton, back in April, but for such a vital player, it's essential that he does not suffer a recurrence. Liverpool's dependence upon his pace and direct approach underscored his importance, illustrated in lacklustre performances without him. And whilst Salah may address the pace and width deficit on Mané's opposite flank, Mané's close control and decisiveness in big games will mean he, like Firmino, will have to be managed in terms of the volume of games he plays. The challenge, like for Firmino and Coutinho, is for Mané to improve upon his already impressive goalscoring and assist output. For Mané though, operating on the wings, in a 4-3-3 or 4-2-3-1 will suit him perfectly – with a new left-back, and Salah on the opposing side, Mané may even have more of an opportunity to roam in the final third and function as an inside forward, so he can score and contribute even more.
Mohamed Salah is more than a welcome signing, he is an essential one. With Milner at left-back, Coutinho on the left-wing, and Mané injured, Liverpool lacked pace and width this season – struggling to break down teams in the bottom-half of the table who employed a low-block. Now armed with a genuine winger blessed with raw pace, Liverpool can spring their counter-attacks far more effectively, and the front 3 or 4 can be far more fluid, with Mané, Firmino and Salah rotating across the front, breaking down sides and creating half-spaces for themselves and Coutinho, from deep, to exploit it far easier. Salah also provides depth to the team, through forcing players like Lallana to likely feature on the bench.
In important games this season, Klopp was reluctant to make changes, as he felt there was a disparity between the players starting and those options on the bench – considering how weak the bench was at times, we can sympathise; what Salah now does is facilitate for someone like Lallana to start on the bench, a player who Klopp has no issue in bringing on when something needs to change. For instance, when both Coutinho and Firmino were on the bench against Stoke, they were brought on at half-time – illustrating Klopp's willingness to use his substitutes, when he has faith in them. The substitutes that did too little, or were introduced too late this season may not be such an issue when Klopp will have Sturridge, Origi, Lallana and Can/Wijnaldum to call upon from the bench. Klopp will have no reluctance or hesitation to bringing on players he trusts to change or win a game.
Salah's experience whilst playing and working with Džeko at Roma may well help get the best out of Divock Origi too, through working to his strengths. But with Salah, Firmino and Mané starting, there are going to be very few defences that aren't tired and worn by the time Sturridge, Origi or Lallana are brought on to wreak havoc. For Salah though, the challenge for him is adapting to Klopp's pressing system and reproducing at the same level he did at Roma.
Adam Lallana may find himself moved to the bench this season, but by no means will that mean he will see the same sort of minutes that Grujic did in 2016-17, for example. Lallana's favour with Klopp means he'll likely feature as the first substitute in many games, probably functioning in the midfield three in place of Coutinho. Lallana's function this season is absolutely essential, but unlike Mané, Firmino and Salah, he will likely be restricted to playing in one position, as a box-to-box central midfielder – as he's struggled when used as a winger, or part of the front three. He may well thrive as a CAM in a 4-2-3-1, and did brilliantly over the first-half of the season as part of the midfield three. But intriguingly, he also looked extremely impressive when used as part of the 4-4-2 diamond system, alongside Coutinho, in the last two games of the season. The 4-4-2 diamond may well feature as the formation for the Cup side, and for Lallana this may suit him to a tee, but most probably, his primary function for the coming season will be providing depth and quality from the bench – a role that cannot be underestimated, especially when considering the squad struggled without the pressures of European football or a lengthy FA Cup run in 2016-17.
For Danny Ings, this season will be an opportunity to put his injury issues behind him. The unfortunate reality is that by the start of the season, Ings will be 25, will have played minimal competitive football over the past two years and will have suffered two injuries, to alternate knees, that can often end careers. His determination and desire to play for Liverpool can only be applauded and respected, but what Danny Ings needs, for the sake of his own career, is game-time, and unfortunately for him it does not seem as if he will get the opportunity he needs at Liverpool, this season. Whilst Ings wants to revive his Liverpool career, he needs to get his own career back on track first; a full preseason and some time on loan at another Premier League side would be perfect for Danny Ings, as he approaches the typical peak age for a forward, and maybe he'll be able to spend that time at Liverpool in the future.
Young Dominic Solanke will likely find himself fulfilling the role Ings was meant to perform in 2016-17. However, his poaching instinct and physical strength may well be an asset that Klopp will look to use. That's not to say he won't play many games – if Sturridge only plays one game a week, or functions as part of a two in a cup match, Solanke will certainly get a chance to prove himself at his new club. Like Salah, he must learn and adapt to the demands of Klopp's gegenpressing, but with a full preseason awaiting him, he should find plenty of opportunities to learn and develop. With Sturridge and Origi's injury records though, Solanke may find himself a more regular player than we expect. But as far as a fourth choice centre-forward goes, Liverpool can have few complaints about this promising young player, who offers a great deal of a different approach to both Firmino and Sturridge. Klopp should look to use Solanke in cup competitions, but unlike Origi and Sturridge, Solanke appears more comfortable as a lone striker, and can function as a winger too – he may well have a bigger season than what most fans currently envisage.
Star-man Philippe Coutinho will very likely have a very different role than the left-wing one that he occupied for the majority of last season.
Klopp discussed the potential evolution of Coutinho, from a winger, to a centre-midfielder,
'He plays at the moment kind of wing '10' but he can also play as a No 8. That is possible and maybe he will have more influence and we can involve another player on the wing.

'That would make us stronger for sure, having his creativity in the middle of the park. He would have to adapt to that. He is young, full of talent and I'm pretty sure he thinks he is in the right place.'
Considering Coutinho's brilliant display against West Ham, in the penultimate game of the season, playing in midfield seems perfect for the Brazilian playmaker. Operating in the current role Adam Lallana fulfils in the 4-3-3 system seems the natural spot for 'O Magico, but Coutinho has played extremely successfully and efficiently in a 4-4-2 diamond before, under Rodgers, and very recently under Klopp. There is always the possibility he could play in a 4-2-3-1, as part of the 2, as Santi Cazorla does for Arsenal – but this may not provide enough defensive cover, however, it's certainly an option for league games at Anfield, when Liverpool dominate possession. If either Salah or Mané are injured or rested, Coutinho can deputise out wide on the left without a considerable loss to the team's performance or overall quality – with Lallana, Can or Wijnaldum able to fill-in, in midfield in Coutinho's place. Keeping Coutinho injury free will be a main concern for Klopp – his form in the first-half of the season was phenomenal, but like in previous seasons, an unfortunate injury halted his progression and form. What playing in midfield offers the rest of the team is a great deal more creativity, and an opportunity for all players to function in their best and favourite positions. For all the excitement surrounding Salah, Coutinho in the no.8 position might just be the most interesting development to keep an eye on for the season.
For Klopp though, over the course of what will be a long and testing season, he will need all of these players and all of their different qualities. The variety in their approach is a strength which many of Liverpool's competitors lack; not only do Liverpool have a 'Plan B', but also a 'Plan C' and 'Plan D' through the sheer diversity of the forward department and their versatility. Selling any of these players, apart from Danny Ings who should go out on loan would be a grave mistake – Klopp has a selection of quality and varied players with experience, youth and most importantly broadly already know or are adapting to Klopp's tactical demands. Selling a player and having to replace them, without giving them a full preseason to adjust could be something the club may reject, and instead, the group of forwards should remain untouched, unless an unmissable opportunity comes along.
What this mini-squad of forwards also means is that Liverpool will finally have some depth and quality on the bench – under 21s will not be called-up to form a makeshift side in the FA Cup this season, at least in relation to the forwards. For Liverpool's season to be a success next season though, Klopp will need the same diversity, quality and depth to both the midfield and defence, and that is what the club must set their sights on now.