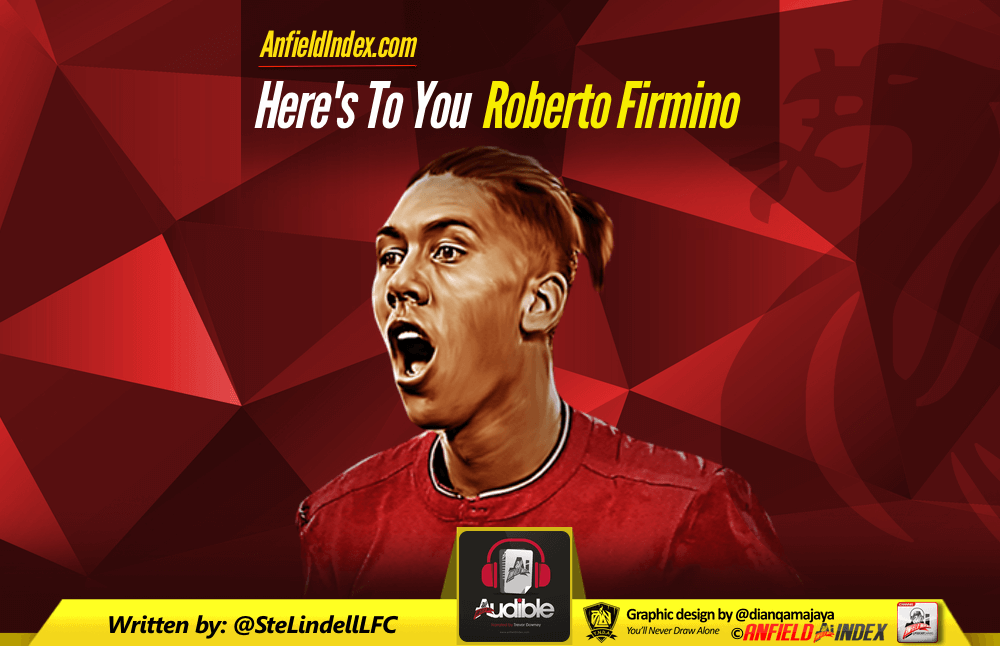 Here's To You Roberto Firmino
With Saturday marking Roberto Firmino's two year anniversary at the club, now is the perfect time to assess how the Brazilian has fared for Liverpool since his arrival.
Roberto Firmino signed for Liverpool on the 24th June 2015 from 1899 Hoffenheim, in a fee around £29m.
Firmino had enjoyed categorical success in Germany – in the 2013/14 Bundesliga season he was the joint top scorer and was named the Breakthrough Player of the Season. He had become an instant fans' favourite, and many Liverpool fans were delighted when the deal was complete.

With Liverpool having lost stellar youngster Raheem Sterling to Manchester City in a £50m move, manager Brendan Rodgers was looking to bolster his attacking options ahead of the 2015/16 season.
However, a lot of Liverpool fans were wary of any marquee signing – with Rodgers having infamously spent £117m the following summer, but ended the season in a disappointing 6th place.
The consensus was that the likes of Adam Lallana, Lazar Markovic, Rickie Lambert and Mario Balotelli had all failed to create the impact expected of them in their debut season. With the Reds only scoring a meagre 52 goals the following season, stakes were high for a creative spark in the side that could contribute vital goals when it was most needed. Bar Philippe Coutinho, the side was derelict of any kind of attacking spark.
And so the Ulsterman turned to Firmino as his choice. Graced with very good technical ability, it was easy to see why the Brazilian was so popular at Hoffenheim. Ryan Babel, an ex-Liverpool player and Firmino's teammate at Hoffenheim, said of him:
"He is a tricky player. He can dribble, shoot, he has a great shot, he can play a lot of through balls and his assists are very good.
"He is actually also great at heading, which maybe you wouldn't think because he's not that tall, but he's very good at it.
"He's the kind of player that likes the ball at his feet and to do nice things with it, but something he learned in Germany was how to work without the ball and defend.
Many supporters were delighted at his signature – with the 25-year old expected to bring flair and guile to the fore. The prospect of him linking up with fellow countryman Philippe Coutinho was very exciting indeed. Firmino, being a foreign import, clearly took his time to settle though.
Despite showing flashes of quality in pre-season, Firmino's progress was scuppered on numerous occasions in the Premier League due to Rodgers' complete misuse of the striker. Having started 21 games for Hoffenheim in 2014/15 as an attacking midfielder, it was bemusing at times to see how often Firmino was played of position.
Rodgers often deployed him in an unfamiliar attacking or defensive roles all around the shop in the league. He was peripheral very often out wide, and the whole side going forward seemed to suffer from a lack of balance as a result. Some were even hinting that Firmino could have joined the likes of Lazar Markovic and Emre Can who had their careers notoriously hindered under the Ulsterman
And who can forget the time when he was infamously deployed as effectively a wing-back in the 3-1 defeat to Manchester United in 2015? The cult of Rodgers' negative tactics really spoke volumes about his longevity at the club. Rodgers were eventually relieved of his duties following the Merseyside Derby on the 4th October 2015.
Then it was Jurgen Klopp who stepped into the Anfield hotseat in October 2015. The German has been renowned for his tactical nous & man management in his managerial career – and Firmino joined the likes of Emre Can and Adam Lallana in being reborn following the appointment of Klopp. This was, of course, no coincidence.
Klopp's appointment coincided with Firmino being moved into a 'False Nine' role in his conventional 4-3-3 system. His best performances came in this role – as it gives him the opportunity to bring his pressing game and energy to the fore. This was notable in the 4-1 win away at Man City in November 2015, and the 5-4 win against Norwich in January 2016.
But that's not to say that he spent the whole of his career at Liverpool as a striker. He at times featured as a No. 10 towards the end of the 2015/16 season – and also proved relatively effective there too. Many supporters felt that more output was needed from the Reds' No. 11.
Firmino started the 2016/17 in very good form; featuring as a false nine throughout the season. However, towards the backend of the season, Klopp switched to a 4-4-2 diamond formation with Firmino up top with Daniel Sturridge or Divock Origi.
The Brazailian ended the 2016/17 season as Liverpool's third top scorer and third most minutes played, as well as contributing the highest amount of assists. There's no doubting he stepped up a gear. He also made a strong start to last season – goals against Swansea and Stoke divulged the fact that he has the ability to turn nothing moments into a chance.
His off-the-ball work is highly understated – whilst not always grabbing the headlines with goals or assists, there is no doubting his suitability to Klopp's pressing model as well as his central movement off the ball.
Firmino playing out wide to accommodate the lone striker has resulted in an aforementioned lack of balance – and regardless of who signs for the club next season, he should start centrally. It is unlikely the manager will opt to sign a striker this summer – so now's Firmino's chance to step up and be counted next season.
That's not to say Firmino hasn't been perfect, though. On his rare off-day, he can often be very frustrating on the ball and opts for the wrong options. Also, his finishing has let Liverpool down at times. His composure in front of goal needs to improve; as he often opts for power rather than accuracy or placement.
Also, whilst the role of a 'false nine' isn't only to contribute goals, he could arguably work on his goal return. 12 goals in 41 appearances isn't a great return for someone of his technical ability – but the positives comfortably outweigh the negatives.
Here's to your 2nd year anniversary, Firmino. Now's your chance to step it up a gear further.