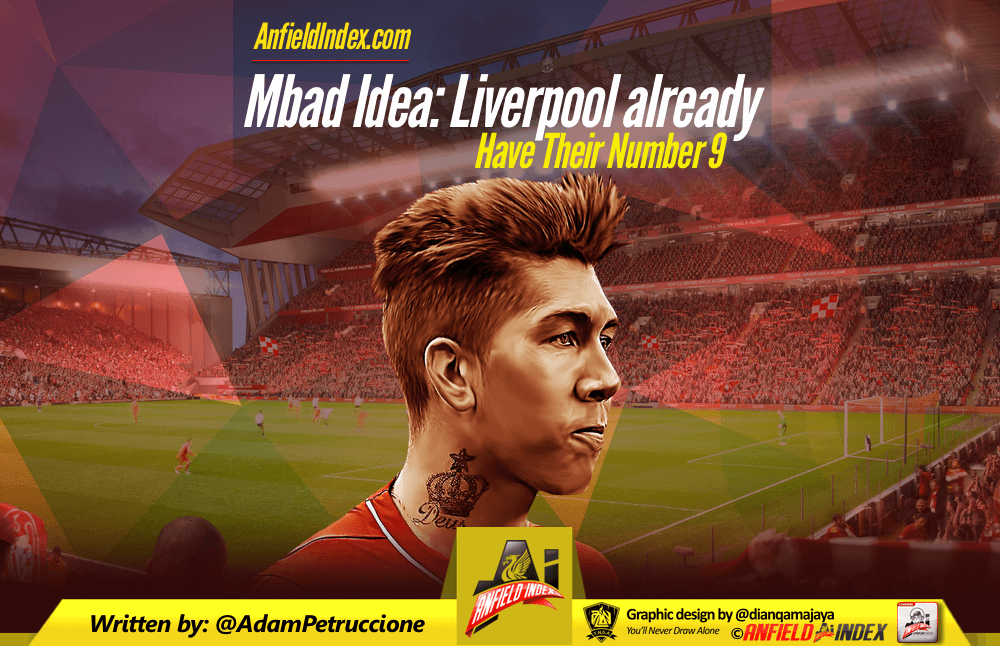 Mbad Idea: Liverpool Already Have Their Number 9
Reports of Liverpool's chase for Kylian Mbappe have lingered throughout May and June.  The Reds have been tracking him for quite a while and have not been put off by his rocketing notoriety or his price-tag.  Good for them.  Let's be honest, if he were signed it would change perceptions among supporters and rivals alike and Jurgen Klopp would find an effective way to use him.
However, with Mané a key addition last year and Salah brought into the fold last week it would not be the best way to move forward for the club.  Liverpool already have their 'number 9' and he happens to be quite good.
STRANGE ARRIVAL

Roberto Firmino was brought to Liverpool in the same summer as Christian Benteke.  He was a celebrated, but confusing addition to Rodgers' squad.  A support striker for Hoffenheim, he was played out wide in those early days and if we've learned anything in the time since then, it is that Firmino is not very effective for Liverpool unless he's playing centrally.  Either as the central forward in the 'false 9,' behind the striker in the 4231 or in a pair up front in the diamond, Bobby does his best business in the middle.
The thought of Mbappe playing through the middle with Salah and Mané flanking him sounds great, but more for FIFA than in real life.  Successful teams with wide scorers typically have a striker who enhances the ability of the wingers to score.  Firmino's unselfish play both with the ball and in pressing situations was critical to Liverpool's success in the best moments of the 16/17 season and are sure to be going forward.  Replacing Firmino with Mbappe would make us faster, but at the end of the day you can only beat a team on the counter-attack once per possession.  Having Mané was great.  Two forwards able to burn past a defense will be outstanding.  It isn't clear that having a third would make much of a difference.  The opposition will want to sit back with either of Mané or Salah and certainly with both of them.  We'll have to prove we can pick them apart with the movement and intelligence that Firmino provides.
Against clubs that aren't afraid to stretch the game against us, taking full advantage of our speed on the wings will require a central striker who can hold the ball up well, be a threat to score themselves and be able to press like a demon whenever possession is lost.  Firmino certainly fits that bill.  Other strikers might score more, but would they allow the team to score more overall while holding back the opposition by defending from the front?  Few are better than Bobby in this area.
Scoring or assisting in one game out of every two is not setting the world on fire, but Firmino will now have his countryman Phil setting him up from deep and he should be part of a more regular rotation with the Champions League on the horizon.  Liverpool fans have notoriously short memories, but surely we can remember as far back as October, November and December when the Reds were at the top of the European scoring charts.  It is difficult to argue that Firmino was really slowing down our scoring.  We should also remember that Firmino's slow period was preceded by his home being burgled in late December and a drink driving charge two days after that.  If that series of events hadn't happened, the player and the club may have written a different story this past season.
Looking forward, improvements in the positions surrounding Firmino are sure to boost his statistics.  However, the column where fans should expect the biggest improvement may not be his scoring, but his assists.  In the two seasons prior to his transfer to Liverpool, Bobby racked up 21 assists, compared to only 14 in the two since.  Having top wingers like Salah and Mané on either side of him and capable midfielders behind him should see Firmino surpass 14 assists in this coming season alone.
WHAT LIES BENEATH
It is no secret that Bobby faded during the spring fixtures and he'll need to be managed better in 2017/18.  The late season surge by Daniel Sturridge, the return of Danny Ings, the signing of Dom Solanke, the continued development of Divock Origi and the rise of Rhian Brewster from the Academy will ensure a furious competition to be the striker that leads us through the early rounds of the League Cup, the FA Cup and congested Premier League fixtures.  A heathy Sturridge would be a great complement to be able to close out games and to start when Firmino needs a rest.  Solanke has the size to make an impact against stubborn, low-block defenses.  Something to keep an eye on throughout the preseason will be which of Ings, Origi or even Brewster shows themselves to be the best 4th option as the other two will either be loaned out or will have to spend a season in the Under 23's.
IF NOT MBAPPE THEN WHO?
If not Mbappe, could a striker with the pressing ability of Timo Werner or the hold-up skill of Edinson Cavani strengthen Liverpool more effectively?  Possibly, but if we're going to push the boat out at Centre-Back, be able to improve an already strong midfield with a superstar addition, and solve a persistent problem at Left-Back, the way we use our resources to fortify the attack must be measured even if the opportunity arises to make a fan-pleasing splash.
The appropriate addition to the attack to get us through 55-60 matches is more likely a versatile attacker that can play across the front three and offer something different to the others like Lazio's Keita Balde.  Ryan Sessegnon's ability to play as a fullback or on the left wing would have been valuable and would have bolstered our 'home-grown' quota.  Mijat Gacinovic, to offer someone lesser known, is a 22 year old Serbian stand-out who can play in central midfield or on either wing.
While these names won't move kit sales like Mbappe or Aubameyang they would be better additions for the overall balance of the squad. And if the club completes their shopping list in other areas of the pitch, selling shirts will not be a problem for many years to come.