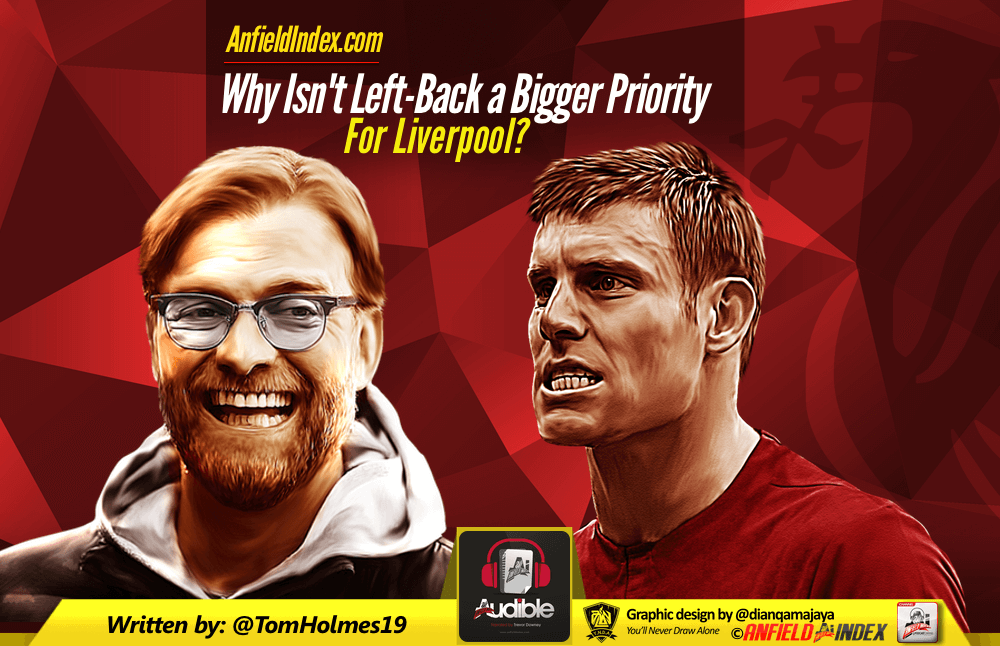 Why Isn't Left-Back a Bigger Priority for Liverpool?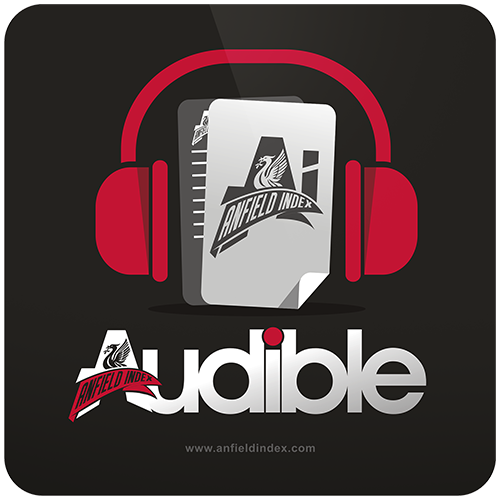 Listen to this article via @AIAudible !
The most interesting thing about the transfer window so far is how little thought and effort is being put into the full-back areas at Liverpool. Last summer, a BBC poll indicated that only 7% of Liverpool fans were happy with the left-back situation, which was comfortably the unhappiest any fans were about any position in the entire division. Whilst that poll is hardly conclusive, it's a damning indictment of Alberto Moreno, who is expected to move on this summer, which would leave Liverpool without a left-back.
Think about that for a second. James Milner has been playing left-back for 12 months, and he might be left as the only senior left-back at the club. And he isn't even a left-back. And yet whenever Liverpool's transfer business has been discussed, the issue of left-back has been nothing more than an after-thought.
That's not to say that Liverpool aren't linked with left-backs, but more that those links are very much secondary to the big names that we're linked with. When you consider the big names Liverpool have been targeting, it's very much: Van Dijk, Salah, Keita and possibly Oxlade-Chamberlain. Oh and a left-back. Maybe Robertson from Hull.

Now that's not to say that none of those players are needed, nor that they're bad signings. Salah was very much a vital piece of Jürgen Klopp's puzzle, Van Dijk remains probably the single most important deal of the window for Liverpool and pinching one of the best midfielders in the Bundesliga would be an absolutely phenomenal signing. But the fact remains that left-back, and to an extent right-back, are key problem areas for Liverpool, and should be getting as much coverage as the other positions.
If you look at Liverpool's starting XI from last season, or the 14/15 players who are in and around the first eleven, which are the two players who need to be upgraded? Dejan Lovren and James Milner. Mignolet has done enough to stave off the axe for now; Clyne is one of the most solid full-backs in the division; Matip is a gem of a find; Hendo, Can, Gini and Lallana offer genuine options in midfield; and our first choice front three of Phil, Bobby and Sadio is electrifying. With Liverpool making Van Dijk one of their top priorities, it's clear that Lovren is going to be upgraded so what about Milner?
And this is what I'm trying to get at. For some reason, left-back and replacing Milner isn't seen as being a key priority for Klopp, and for fans this summer to an extent, it's almost crept under the radar. We're expecting to replace Moreno with someone good enough to start, but beyond that?
I want to briefly, perhaps unfairly, compare Keita and Robertson. Keita is a genuinely exciting prospect, the kind of world class midfielder in waiting who could be a superstar at Liverpool for a decade to come and one of the best midfielders in the Bundesliga last season. Robertson is a decent enough left-back who didn't set the league alight and ended up going down with Hull City being one of their better players. So why aren't we looking to bring in someone of Keita's calibre to a position that has been one of Liverpool's biggest problems for the last twelve months, and if we're being honest, for years, when we have five genuinely exceptional central midfielders but feel the need to upgrade on them?
One argument is that there simply aren't the same level of quality left-backs available but that's simply not true. Kolasinac headed to Arsenal this summer on a free transfer, AC Milan snapped up Ricardo Rodriguez, Hector has been available and linked for a couple of years, and Chelsea are spending up to £50m for Alex Sandro, not to mention Mendy has been loosely linked with LFC on a couple of occasions but there seems to be no real commitment. If Liverpool can spend £50m (perhaps as much as £70m) for Keita, then why can't they spend half of that on a left-back?
The answer of course is that left-back isn't considered a priority position. By Jürgen Klopp, by the club, by the journalists or by the fans. Whilst the aforementioned 93% of Liverpool fans would probably still admit that they're unhappy with the club's left-back position, there's not really a clamouring for the Reds to spend £40m on a world class addition there, that there is in the same way for VVD or even Keita. The attitude seems to be, on all fronts: "Oh we don't have a left-back. Oh well. When we've finished signing our real targets we'll just see who's available and pick one up." And that's odd, given the importance that the position will hold, particularly if at any point Klopp wants to test three or five at the back.
The problem is similar on the other flank, where Liverpool are one serious Nathaniel Clyne injury away from giving Trent Alexander-Arnold a 40 game season as first choice right-back at Liverpool Football Club.
And yet, full-back remains one of the most important positions on the pitch. Look at Spurs and Chelsea, two sides who have admittedly used formations that focus heavily on those positions. But it's perhaps no coincidence that the two teams with the best full-backs (or wing-backs) in the league are the two best sides in the league. How many times would Liverpool's stagnant attacking play last season have been solved with better quality from full-back? And how many times would having a left-back able to defend (frankly I'd settle for one who can balance pace and positional awareness at this point) have got them out of trouble?
So why is it that nobody seems to value full-backs as a vital position, or even one worthy of prioritising, even when it's so clearly the area in Liverpool's squad that needs the most prioritisation (apart from possibly central defence which is getting the prioritisation it deserves)? Well part of the reason for me is that Klopp's system tends to make its full-backs essentially redundant to an extent. When you have penetrative wingers, such as Mané or Salah, then you don't need full-backs to do the damage in attack. And the way that Klopp sets up, with the two central defenders hanging back and the central midfielder dropping in, they aren't crucial defensive cogs when Liverpool are being counter-attacked either.
Last season at least, the main function of the full-backs has been to keep the attacking play flowing, but not necessarily play a pivotal role in it, and then in the defensive phase, to get back as quickly as possible to stop the cross. Now Milner in particular has struggled with both of these aspects at times, but that doesn't mean that you need to spend £40m on a player to do the job in a position that simply isn't at the forefront of Klopp's mind or system.
I suppose the other obvious answer, one that applies not to Klopp but more generally, is that full-backs simply aren't fashionable. As Jamie Carragher once so eloquently put it: full-backs are either failed wingers or failed central defenders. Nobody wants to be Gary Neville. But it's a valid point. Attackers get all the glory, and increasingly central-defenders are viewed as the only cogs that are important in a defence and rightly so to an extent with the new modern full-backs seen as more attacking units, particularly with the rise of the 3-4-3. So where does a full-back fit in? They're viewed as the 10th and 11th least important players in the team by a lot of fans, and even a lot of journalists, although maybe subconsciously.
So it's interesting to see where the state of Liverpool's full-backs is at when the window closes at the end of August. Surely Alberto Moreno will have been shipped out and surely Liverpool will have brought someone in to replace him. But will that signing be a priority? Or will it just be whoever we could get with the money left over? Will they be a genuinely class addition to our starting eleven in a position that desperately needs one? Or will they be another stop-gap, the latest in a long, long list of uninspiring Liverpool left-backs?
And most interestingly, will anyone care? But most importantly, will that cost us?