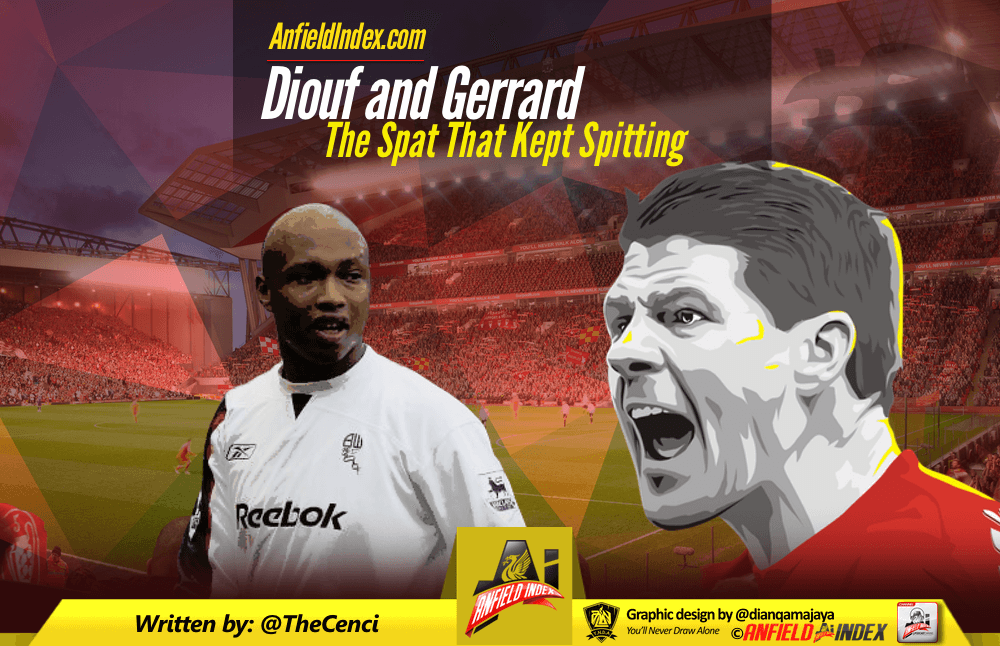 Diouf and Gerrard: The Spat That Kept Spitting
"'Stevie G' was a very good player, people like him in Liverpool but he never did anything for his country.

I am Mr. El Hadji Diouf, Mr. Senegal, but he is Mr. Liverpool and Senegal is bigger than Liverpool and he has to know that."
Well, somebody let Diouf near a microphone again and he just can't resist gabbing on about his favourite topic. He's brought up his, ahem, 'spat' with Steven Gerrard.
The above quote amuses me. Not just because it's another example of an egotist thinking he has the right to even consider himself to be worthy of Gerrard, never mind surpass him, but because it suggests that there's something lacking in the former captain's knowledge and it's been holding him back for all these years. Oh sure, Steven, there's the Champions League medal, the UEFA Cup, the FA Cups, League Cups and over 100 England caps, but your knowledge of Senegal really counts against him.
'He has to know that.'

Incidentally, Senegal is bigger than Liverpool though. He's right there.
Of course, El-Hadji is good for business and like so many before and after him, he knows exactly what he's doing. Every interview means an opportunity to slate Stevie and Carra which results in lots of column inches and, of course, Mr Diouf feels important for another ten minutes.
I'm aware that by writing these words I am fuelling that very inconsequential ego but bear with me here.
Gerrard hasn't responded, mostly because he has no need to, as legends don't pick fights with glorified Sunday League players. This is like me emailing Thierry Henry and taunting him about his lack of appearances for Croxteth County Primary School in the 1978-79 season. The Frenchman didn't register a single one that campaign while the records will forever show that I was an unused sub in the 0-6 defeat against Rudston Road Primary School.
I was there. He was not. Thierry has to know that.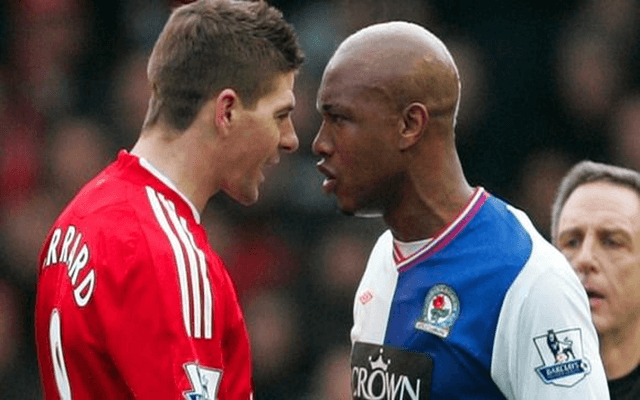 Okay, at least Diouf played on the same pitches as his intended target but he's only really famed for one major positive incident in his career  – his pass to Papa Bouba Diop when beat holders France in the opening fixture of 2002 World Cup finals. That was an enormous moment for African football and Diouf is quite right to state this.
"We were colonised by France, most of the businesses are run by French people here and to beat them was a big thing for us. Before the game, they used to say: 'The reserve team is going to play against the first team' – because most of the players used to play in the French league. I used to be in Lens, Salif Diao [Sedan], Khalilou Fadiga [Auxerre], most of the players played in the French league but we used to say: 'Be careful before you kill the lion.'"
That game made him an international star and a hero to many on the continent. If he hadn't seen that as the be all and end all of his career he could have been so much more. Instead…
By then he'd already agreed terms with Liverpool so it looked good when he played a part in the greatest game in Senegal's victory. Incidentally Thierry Henry was curiously out of sorts that day and I think we all know why.
Diouf did win the African Footballer of the Year in both 2001 and 2002 as well as silverware for Rangers and a League Cup with us in 2003, but there's nothing more positive to be said about him.
It would be too easy to list his misdemeanours and deride him for them, but you know most of them already and such an exercise would be like shooting fish in a barrel. I don't find that side of him interesting in the least. What fascinates me is whether or not he genuinely believes that he is 'Mr Senegal'. Here's why.
In 2011 the Federation Senegalaise de Football (FSF) banned by him from any football activities in his country for five years when he stated in an interview that African football was corrupt. He apparently refused to appear at a disciplinary hearing to explain his remarks though the sentence was reduced when he said he didn't know that such a hearing even existed. They allowed him to play for the national side in 2012, but when he was dropped for a qualifier against Ivory Coast he claimed that it was because the authorities were scared of him. His international career was effectively over at that moment.
He scored 24 times in 70 appearances for the' Lions of Teranga' and is currently the sixth most capped player in their history. If you're interested, Mane has 13 in 45.
Speaking of his far more humble compatriot, Sadio loves him. Speaking last November, he said:
'When I was young I was watching El-Hadji Diouf as he was one of my heroes.

He also played for Liverpool and he was a big motivation because he was a great player for Senegal.

'He was one of the best players ever in Senegal.' 
So maybe Diouf isn't quite so deluded after all. True, he's no Steven Gerrard but if he genuinely inspires people because of that one game 15 years ago then maybe there's something to him.
His Liverpool career, though, was simply terrible. Diouf scored six goals for Liverpool in a three year career – a third of them on his debut. Mane matched that in his first 13 appearances at the club and ended the season with over double Diouf's talent – this is particularly impressive when you consider that he didn't play after the home derby.
The saddest thing about Diouf apart from watching a man repeatedly make an absolute prick of himself, is that somewhere under that appalling attitude and self-opinion once stood a possible player. He was fast and could score when he could be arsed but everything was always about him and never the badge he served. He certainly duped Houllier who had unwisely chosen him over Nicolas Anelka at the start of the 2002-03 season. Sulky Nic may have had his issues but he knew how to play and was always more of an asset to the team than a liability.
But there is one good thing about El-Hadji Diouf. One glorious thing.
Liverpool supporters are the most argumentative breed in the modern game. We fight with each other about anything and everything constantly. I can bear this out as a man who has covered the club in various media for nearly two decades. I've lost count at the times I've been called a 'good lad' or 'an absolute prick' by those who choose to read my words. We will never be 100% connected on many issues.
And yet.
And yet there is one. The one thing we can all agree on.
When it comes to El-Hadji Diouf we are legion in our distaste – our hatred even – of the spitting bellend that infected our shirt for those years. With others we can sit and shout at each other in our camps, but with the Senegalese we can be as one. The man is a loathsome tit. Many would sooner hug Gary Neville than admit any affection for that anus.
Perhaps the last word on Diouf should go to Jamie Carragher. They, er, didn't get on.
"He has one of the worst strike rates of any forward in Liverpool history. He's the only no. 9 ever to go through a whole season without scoring, in fact he's probably the only no. 9 of any club to do that. He was always the last one to get picked in training"