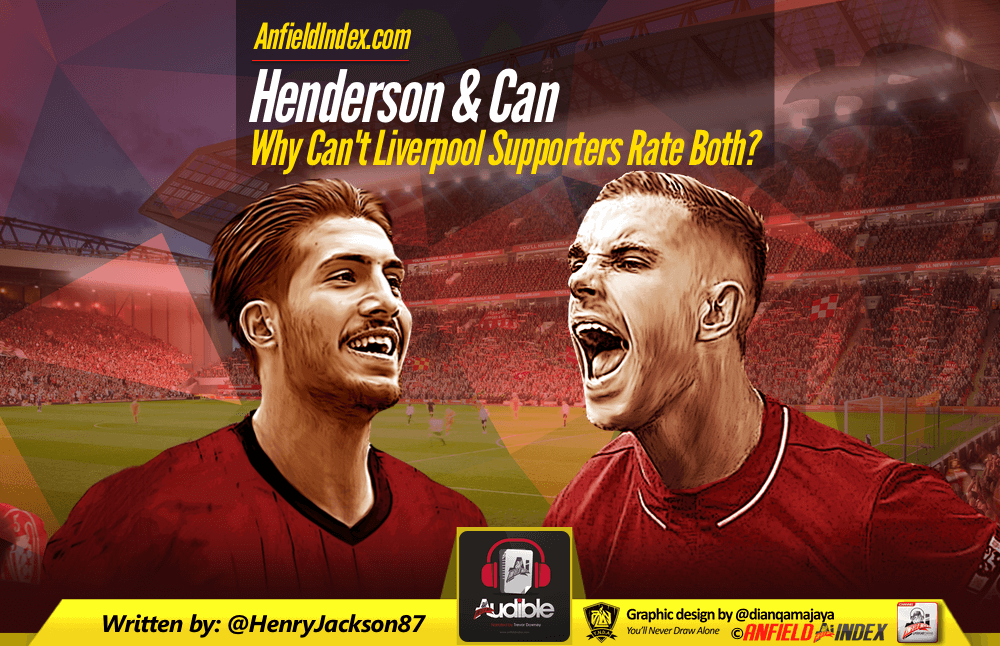 Henderson & Can: Why Can't Liverpool Supporters Rate Both?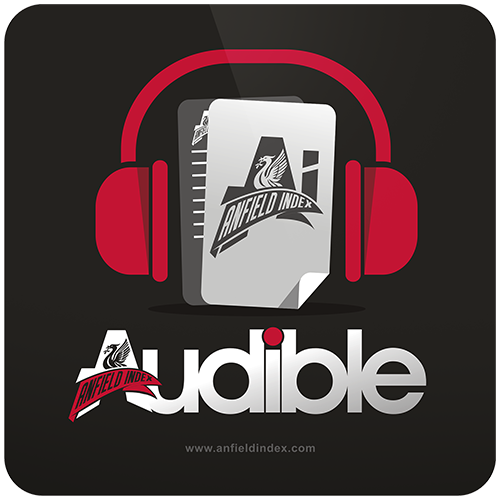 Listen to this article via @AIAudible !
There seems to be a bizarre, unwritten rule among much of the modern day Liverpool fanbase: it is a sin to rate both Jordan Henderson and Emre Can.
Quite where this has stemmed from remains a mystery, but there seem to be two distinct camps, with very few rating the duo in roughly equal measure.
Football in 2017 is as tribal as it has ever been throughout history, but sadly, that tribalism doesn't only exist among rival supporters.

Nowadays, fans of the same team spend their days squabbling over their love and dislike of certain players, with everyone out to prove a point. At Liverpool, it is as prevalent as anywhere.
It really is school playground antics, with social media platforms such as Twitter not helping matters in the slightest.
If a player you rate highly has a bad day at the office, his critics will pelt you with messages, and likewise, if an individual you don't rate has a blinder, a similarly venomous response will head in your direction.
This is where the Henderson/Can debacle comes into play.
These are two very good footballers, both of whom are more than worthy of representing Liverpool, yet there seems to be an ongoing debate regarding the pair.
Perhaps the fact that they are both fighting for that defensive midfield berth next season plays a part, with Jurgen Klopp likely to find it very difficult to accommodate both in his side regularly in 2017/18. 
Rather than simply putting forward a level-headed argument for their preferred player to start, though, sly digs always have to come at the expense of the other.
There is a definite snobbery involved in both instances, with both the Henderson and the Can admirers guilty of it.
Those who rate the Liverpool captain cite his consistency, leadership and understated nature in the role, before lazily claiming Can is just a wrecking ball who blows hot and cold too often, making rash decisions and losing his head.
On the flip side, those in favour of Can turn their noses up at Henderson because he isn't as fashionable or as aesthetically pleasing as they would like in their beloved 'DM' role, before making out Can is somehow 10 times the player his skipper is.
Both of these arguments are total nonsense, even if an element of them can be true, at times. 
Can, in particular, has a very dedicated following, with any criticism of the German met with a giant wave of defensiveness. They ignore the fact that he is yet to have a long run of excellent form in his three years at Anfield, and that his performances were very poor before an excellent end to 2016/17.
Those who are incapable of praising him, however, will completely ignore the fact that he was carrying an injury during that bad run around the turn of the year.
Henderson, meanwhile, has arguably become overrated because he is so underrated, if that makes sense.
His supporters have grown so tired of the stick that comes his way, that subconsciously they rate everything he does that little bit higher than it deserves.
They will also use the injury excuse to take the heat off the 27-year-old but gloss over that subject when Can is the talking point.
The bottom line is that we should be in a position where we think highly of both Henderson and Can, both of whom can continue to flourish under Klopp.
Henderson has grown so much since a dire early period in a Reds shirt, improving season upon season and becoming one of the first names on the team-sheet during the team's most impressive spell last season.
Few players have shown more heart in moments of adversity to reach the level he is now at, and he should be liked and lauded in equal measure. His injury problems are a cause for concern, sadly. 
Can is a player of enormous potential, and he has shown many times what he can offer in the middle of the park.
When he is on song, he has the ability to boss a midfield battle, whether it be through brute strength, pace and power or technique. If you had any reservations about the latter, just watch that Watford goal over and over again.
Many clubs would love to have both Henderson and Can at their disposal, but such is the stubborn nature of fans these days, they seem unwilling to shower both with praise at the time.
Are they both the undoubted midfield solution moving forward? Who knows. Can they be improved upon by a really top class midfielder? Absolutely.
There is no shame in that, and it is taking nothing away from two players who have been definite success stories at Anfield.
Having a favourite out of the two is only natural – I prefer Henderson because he is a more consistent performer who uses the ball quicker, but Can has many great attributes – but there shouldn't be this concerted effort to only rate one or the other.
Rather than mock Henderson for "not being good enough as a DM" when his passing eludes him for once, or laying into Can for a few sloppy displays when he is still very much maturing, we should be showing them both the affection they deserve.