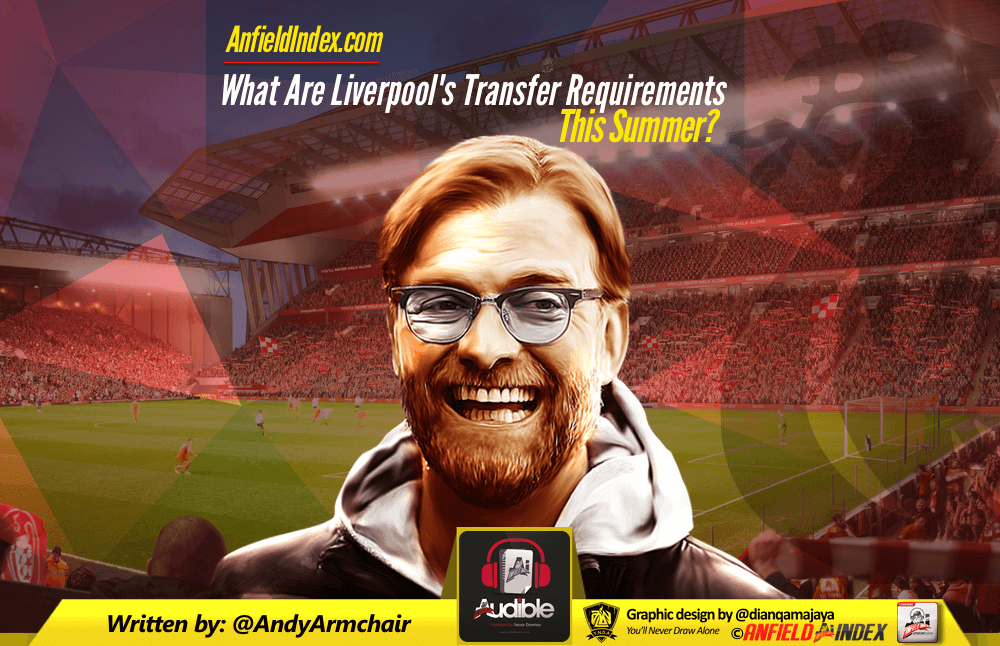 What are Liverpool's transfer requirements this summer?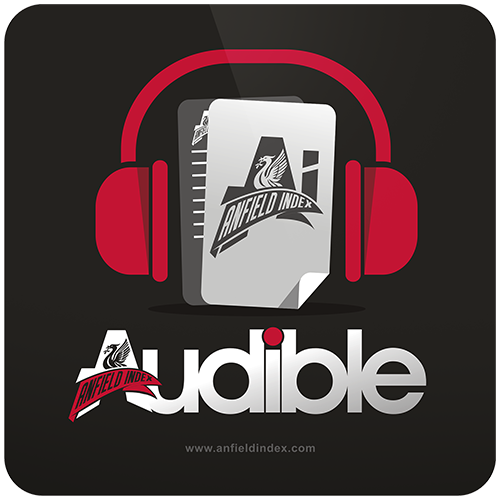 Listen to this article via @AIAudible !
There is a multitude of content available in relation to transfer rumours and deals this summer, whether they be prospective, completed or just idly speculated upon; but for the purposes of this article, I want you to forget potential target names and forget price tags. I know that is a difficult thing to do with your favourite team, especially given that football is such an emotive sport and the passion and personal investment involved in being a supporter. We all have our favourite players and ones we're less than amorous about, it's perfectly natural and it can cloud our judgement and skew our perspective.
This wide ranging opinion of a players ability and performance can also be attributed to associated transfer fees. The arguments over a player's perceived transfer value are there for all to see in the wonderful world of social media, but the fact is, much like a house, a player is worth whatever a club is willing to pay for them. Whether or not the buying club will gain value for money is another matter. So, I wanted to look at what Liverpool's requirements are this transfer window, without discussing potential target names or price tags.
Again opinions of requirements can be varied, so it's important to consider statistics, as these are facts rather than opinions.


Analysing the data above helps to identify trends and particular issues that the Liverpool management team will doubtless be looking to address. It's noticeable that Liverpool's performance to a massive dip during January and February. This coincided with two key players being unavailable for the majority of this period: Sadio Mane was away on AFCON duty and Joel Matip was injured. With another important member of the team, Philippe Coutinho, also missing some games through injury, it was a time when resources were stretched.

Over December and January, Liverpool averaged a game every 4 days. With Jürgen Klopp operating under the self-imposed constraints of having such a small squad of senior players, this accumulative period clearly impacted on performance. It doesn't take an expert analyst to recognise the addition this year of European matches from August to December and potentially beyond will impact recovery and training time, increasing the demand upon players. This is where the need to increase the number of senior players within the squad to facilitate squad rotation is a must.
Only 14 outfield players started 10 or more Premier League games for Liverpool across the entire season and were it not for the extended absences of Mane and Matip, that figure would conceivably have been lower.
Klopp is known to have a preference for working with a small squad, but the requirement for rotation is evident and will require deeper squad depth. Whilst this may mean opportunity for young players to stake a claim, the standard of quality and experience required for the demands of European football on top of domestic matches dictate more established options. What also has to be factored in is injuries; a number of senior players missed periods of the season through injury, including Jordan Henderson, Emre Can, Adam Lallana, Dejan Lovren, Daniel Sturridge and the aforementioned Coutinho and Matip, as well as Mane at the end of the campaign. Whilst these were not long term, they were at times impactful and particularly affected central midfield and the centre of defence.
The indication from Klopp that Coutinho will be moving into a midfield role this coming season does add to the options available there, but his profile is that of a creative and attacking option. The likely departure of the ageing Lucas Leiva and the ongoing injury concerns of Henderson mean a requirement for a central midfielder of established quality to bolster the options in that area of the pitch. Whether that be one of a combative style or a deep lying playmaker role will be down to the manager's preference, but the need for a sixth senior player to compete for one of the three spots in the team is clear; especially when considered that Coutinho and Lallana will double up as options for the attacking slots in the team, if required.
Even more evident is the need for defensive reinforcements and, quite bluntly, upgrades. Liverpool's defensive record is not good enough for a team wanting to win major trophies. Despite ending the season with four consecutive clean sheets, the pattern across the season was that Liverpool consistently concede goals and the real impact on results came when the team went through a period of struggling to score.
It is true that the style in which Liverpool play means that the centre backs can often be exposed, but this is where the profile of player is key. Without employing a system that heavily protects the backline, the requirement is for the centre-backs to be able to anticipate, read the game well, cover open spaces, be calm under pressure and strong in 1v1 situations. A mobile, intelligent, domineering and technically adept defender is the glaring need. Finding someone who fulfils the criteria will doubtless be costly as there are few who tick all the boxes. It should be worth noting that even if Liverpool can recruit a central defender of that profile, he is unlikely to turn the team into a tight defensive unit, but could trim 5-10 goals a season from the conceded column and that could be worth the same amount of points; as well make the difference in cup competitions. Bringing in a new first choice centre back should not only improve the defence, but also help to alleviate the issue Liverpool encountered when they were forced to employ Lucas in the centre of defence, where he was understandably exposed.
The other defensive issue to address is at left-back, where the right-footed James Milner was converted to cover last summer. His natural endeavour meant he covered the position admirably for the first half of last season, but inevitably struggled during the second half. His lack of natural defensive awareness was repeatedly exposed and his lack of pace and need to cut back on his stronger foot limited his effectiveness in attack. It created a lack of balance for the team that was sometimes painfully apparent. It would be of benefit to Liverpool, both defensively and offensively, to find a left-footed left back who is comfortable defending 1v1, good going forward and has good recovery pace. Whilst there aren't many great full-backs around in world football, there should be enough of sufficient quality to satisfy the requirement.
There has been a clamouring from some fans for a new striker this summer and the club have been linked with a few high profile names. However, goals were not a pressing issue for The Reds last season, despite nobody getting 20 or more because they were shared around the team. Having a number of potential scorers is a good trait for any side and certainly better than having the vast majority of goals concentrated to one or two players which makes it easier for opponents to target. So, despite Liverpool sometimes not being clinical enough in front of goal, in terms of priorities, a new senior striker is not a necessity, unless there is a departure in that area.
Much more pressing in the attack was a need to bolster the wide attacking options. This was particularly evident during the absence of Mane and his uniqueness in the squad. The recent acquisition of Mo Salah should help enormously in this area and it can be argued that one addition to this department might not be enough. Again though, prioritisation will play a part here and if after resolving the midfield and two defensive shortfall in numbers, perhaps another wide attacking option for the squad will be considered, if budget allows.
There you have it, Liverpool's primary need this summer is to bolster the squad with four players who fit a particular profile and at the time of writing, one of those spots has been filled. The secondary need could be a striker, another wide attacking player and perhaps another central defender. Of course, player sales can influence the necessity of doing further business, but the key will be to address those primary needs that were particular issues last season.
So, rather than names or price tags, it's all about Liverpool fulfilling their criteria requirements this summer.