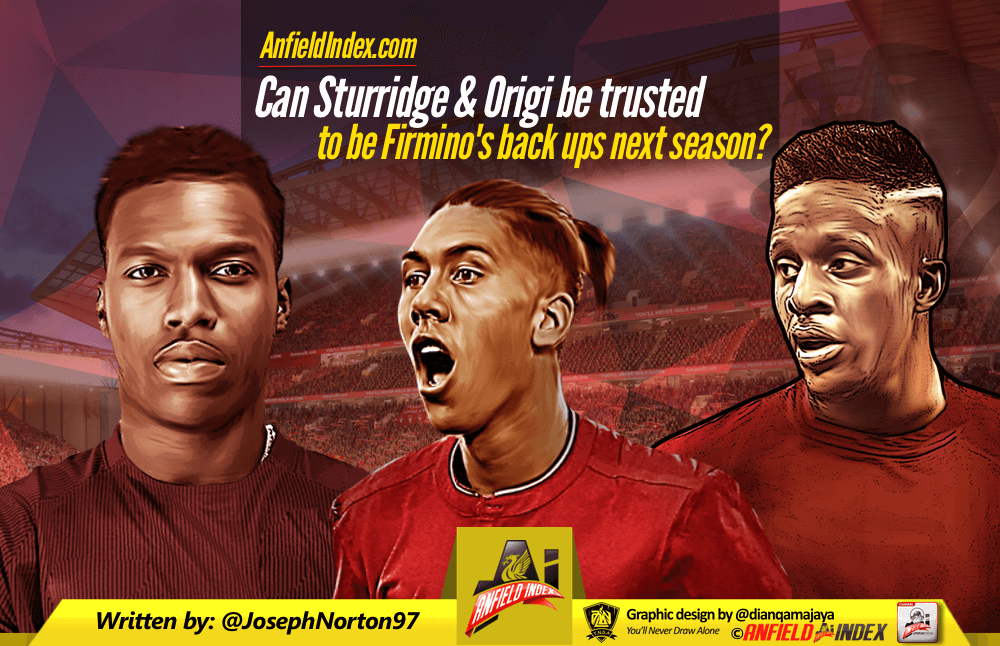 Can Sturridge & Origi be trusted to be Firmino's back ups next season?
With reports emerging that Klopp is happy with our frontline heading into next season it's time we took a closer look at whether the options of Daniel Sturridge, Divock Origi, Domonic Solanke and to a lesser extent Danny Ings are good enough and reliable back ups to Liverpool's new number 9 Roberto Firmino. Personally I'm a big fan of Firmino leading the line for this Liverpool team, he possesses every attribute a striker playing in Klopp's system requires, he holds the ball up well, links the play, has very intelligent movement and is the Reds best presser of the ball. Despite all these qualities, the one question mark that remains is whether Firmino can become more clinical in front of goal, making him the complete striker. The Brazilian has all the ability to become one of the best strikers in Europe so long as he works hard on his finishing which will no doubt improve with practice. Having said this, with the added demands of Champions League football it is imperative the Reds have a striker who can consistently compete with Firmino to lead the line and share the workload. As it stands, the two players who are going to be tasked with this heading into next season are Sturridge and Origi, however, can either of them really be relied on? Sturridge's injury record suggests that although he has more than enough quality to lead the line for Liverpool his body will let him down yet again meaning when we desperately need him, there is no guarantee he will be fit. And as for Origi, he has all the attributes to become a top striker but his weaknesses technically mean his hold up play isn't as good as it should be, his movement isn't particularly good or intelligent and his finishing needs improvement, as a result, the Belgian isn't suited to playing in a 4-3-3, therefore, how can he be relied on either. It would be unfair to include Solanke in this debate as he is not proven at this level but it is worth saying he has all the attributes to be a very good player and should he impress in pre-season he may have a bigger role to play next season than many fans may expect. As for Ings although he seems to be recovering well from his long term injury it is unlikely he will be 100% fit for pre-season, therefore, he shouldn't be relied on either. I will now take a closer look at both Sturridge and Origi, highlighting just why both of them can't be relied on.
As mentioned I am perfectly happy with Firmino being our first choice striker, apart from becoming a bit more clinical in front of goal, he is close to being a very complete striker and fits Klopp's system perfectly. However, as I've mentioned he cannot be relied on to start 50 games this season, especially because of the high energy style his game is based on, therefore, we need both quality and strength in depth in this position. There is no doubt we have enough depth in this area but do we really have enough quality? If Sturridge could be relied on to start 25/30 games a season we wouldn't be having this debate but he has shown time and time again he can't be relied on. When Firmino needs resting we need a player of real quality to come into the side and slot perfectly into Klopp's system, ensuring changing the striker doesn't have too much effect on the whole team. Sturridge started just 7 games in the league last season, making 13 appearances off the bench, much of this lack of playing time was down to him being injured which meant Klopp couldn't rely on him or trust him when we needed him the most. The Englishman started just 11 and 7 games respectively in the 15/16 and 14/15 seasons highlighting just how much football he has missed. The added demands of European football means Klopp needs a striker who he can rely on next season when Firmino needs a rest but Sturridge's injury record highlights just why he can't be trusted. If he could be relied on to be fit then Sturridge would provide perfect competition for Firmino and when the Brazilian needs resting I can't think of much better back ups in world football than Daniel Sturridge. Although he doesn't suit Klopp's system perfectly, his all round ability and goal scoring prowess means he is unsellable. Having said this, is not the case, the Englishman misses too many games of football and when we need him next season he will no doubt be injured. If you could rely on Origi to provide real competition for Firmino when Sturridge is inevitably injured then you could treat Sturridge's availability as a bonus providing the Reds with a perfect option off the bench or as a starter in domestic cup competitions and in games when the Brazilian needs a rest or the match isn't suited to Origi. I am one of Sturridge's biggest fans and if he was fit on a consistent basis there is no doubt he would be a world class striker but heading into a season where we are likely to be playing three games a week, Klopp needs players he can trust and rely on to be fit. Unfortunately this is not the case with Sturridge, therefore, as much as it hurts me to say it, may be time to sell him.
Divock Origi is an interesting one, he has all the attributes to become a really good number 9, he's fast, strong and is reasonable in the air but his main weakness seems to be his lack of footballing intelligence which seems to really effect his game. His movement against sides in particular that sit back is not good enough, he isn't anywhere near clinical enough and he doesn't link the play as well as he should, partly down to his poor movement and secondly because he doesn't hold the ball up very well because of his technical weaknesses. Having said this, Origi scored 7 goals in 14 starts last season which is fairly impressive. Because of the Belgian's weaknesses I believe he is best suited to playing in a two as I've mentioned before because his partner can hold the ball up for him meaning he can solely concentrate on stretching the defence and taking up good positions in the box. Some of his best performances have been when he's played up front alongside Sturridge in a diamond formation. But if Origi is to be Firmino's back up he has to be able to play in a 4-3-3 particularly against sides who play in a low block, at the minute this is not the case. You can't afford to have a back up striker who requires a formation change to get the best out of him and more importantly the team. A back up striker, particularly when you're playing in the Champions league and the league needs to be able to come into the team and slot almost perfectly into the system, ensuring this change doesn't completely change the way the team is use to playing. When Divock is playing well, he can play very effectively in a 4-3-3 against sides who leave space in behind because he is reasonably good at stretching defences because of his physical attributes, we saw this in the Europa league away at Dortmund the season before last when he was exceptional. Having said this, the majority of teams who play Liverpool will sit in a low block and ask the Reds to break them down, this is where Origi's weaknesses are magnified. If Divock can improve the weaknesses his game has then he may well turn out to be Firmino's perfect back up but there is no way this will happen over the space of a pre-season, it is something that will take a year or two to master. Because of his potential, the Reds should definitely keep the Belgian for another season because Liverpool is a club that gives young, talented players a chance, however, if Divock is to show no signs of improvement it is likely he will be sold next summer and no one could complain about this. For now I think Origi is a very good third choice striker who is perfectly suited to playing up front in a diamond in domestic cup competitions providing him with the perfect opportunity to master his skills. Imagine a front two in the cup of Origi and Sturridge with Adam Lallana playing behind them at the tip of the diamond. That front three will cause any defence problems let alone sides in the Championship and below. But if we are saying Origi is our third choice striker that would leave Sturridge as our replacement to Firmino and we've already discussed why this can't be the case. So the question is what should Klopp do?

As big of a fan of Sturridge I am, I think it is time we sold him going into a season where we could play up to 70 games should we go far in all four competitions – an ambition a club like Liverpool should always have – then the Reds need a back up to Firmino who one, has quality, two, can be relied on and three, fits the system. Unfortunately neither Origi nor Sturridge tick all of these boxes, therefore, one of them has to go. Because of Origi's potential I think he deserves another season to see if he can kick on and start to become the top player we all know he could turn out to be, therefore, it leaves Klopp in the difficult position of selling one of the best strikers Liverpool have ever had – just look at his goalscoring record. Should we sell Sturridge we would generate around £25 – £30 million which could go towards a striker who ticks all three of the above. Strikers such as Alexandre Lacazette or Timo Werner would be perfect signings providing real competition to Firmino. Imagine a Liverpool side that has either Firmino or Lacazette/Werner leading the line in all of our Premier league and Champions league games, we'd be a serious attacking force. This Liverpool side is just 3/4 players away from being very, very good, so let's go out and sign real quality in the positions we need to strengthen in, allowing Klopp and the team to go out next season and give every competition a right good go. The unbelievable quality Sturridge processes makes it difficult for Reds fans to contemplate selling him but if he can be replaced by someone who has close to the same amount of ability but is available to play 30/40 games a season then surely it is time we took the decision to part with Studge. Our manager is boss, so let's give him all the resources needed to mount a challenge on the title, an assault on Europe's biggest stage and a successful run in the domestic cups.