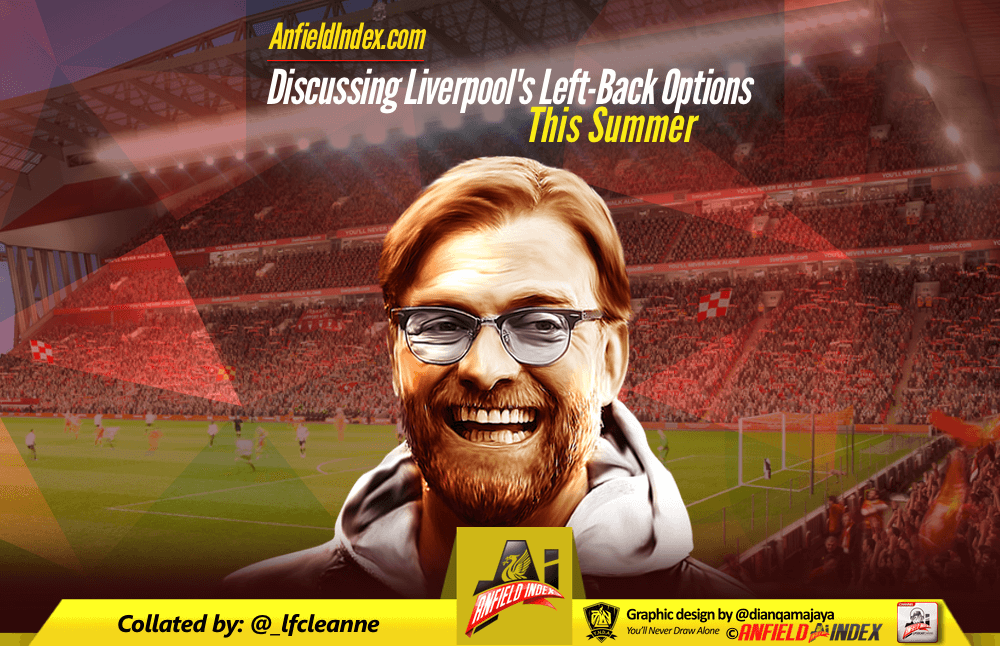 Discussing Liverpool's Left-Back Options This Summer
When the end of the year approaches, people come up with their wish lists for Christmas. That's exactly what the summer transfer window brings, too.
Liverpool fans are desperately rattling their brains for their wish list of potential players that could line up for the club next season to challenge on four fronts. At the heart of that will be a left-back recruit, with James Milner hardly a long term option despite a commendable 2016/17 campaign.
Here, I asked some of the Anfield Index Writers who they would like to see the club bring in to fill the hole in defence. Below are their players of choice, as well as mine.

Kieran Tierney [Leanne Prescott]
In an ideal world, our left-back for next season would be Benjamin Mendy. However, with the Monaco defender widely regarded to be set for Manchester City this summer, Liverpool will be made to look elsewhere. There's plenty of fresh talent in the full-back areas to choose from, but Kieran Tierney of Celtic gets my vote.
Making 40 appearances last season, Tierney was instrumental in Celtic's treble winning season, showing himself to be one of the most dependable players at Brendan Rodgers' disposal.
In those appearances, nine of which came in the Champions League, the 20-year-old registered 12 assists while scoring two goals himself. That quality in the final third would be more than welcome at Liverpool, with his ability to run up and down the flank akin to Jurgen Klopp's high energy philosophy.
The Scottish League is no way near the level of England's top flight but Tierney has shown plenty of promise. Klopp loves to sign young players and unleash their potential, and such could be the case here. For the same price as Liverpool value Moreno, the club could find themselves no worse off financially with a natural left-back in their ranks.
He's certainly an attractive candidate.
Ben Chilwell [Joseph Norton]
Ben Chilwell would be the perfect signing for the Reds at left-back, he's young, brilliant going forward and has an incredible engine on him. The 20 year old also has experience of playing for Klopp's close friend David Wagner at Huddersfield the season before last and as a result knows what's required to play in a high energy pressing team, which he would be asked to do at Liverpool. Although Chilwell isn't that tall at 5ft 8, he is very good in the air due to his powerful leap and great timing.
He won 68% of aerial duels in the 12 games he played in the PL last season, which is comfortably higher than Milner's 44% and Nathaniel Clyne's lowly 24%. As a result he would add some much needed aerial prowess to this Liverpool team. Chilwell is also very quick which means he can bomb up and down the touch line at will, although he doesn't have electric pace he is powerfully quick due to his strong build; his fitness is also very good which means he would be well suited to the high energy style Klopp demands of his players, especially the full-backs who are asked to constantly bomb up and down the touchline.
When compared with similar players in the Premier league such as Ryan Bertrand, Andrew Robertson and Aaron Cresswell, Chilwell's defensive stats are far superior and it is only Robertson and Bertrand who come close to challenging him in an attacking sense, however, the Foxes' defender's physical attributes mean he is much better suited to Klopp's style of play. Despite a difficult opening game in the U21 European championship against Sweden, Chilwell impressed in all of the other games he played in, putting in an exceptional display in the final group game against Poland.
The Foxes' defender has still got a lot to learn especially when it comes to his positioning and decision making but under Klopp's guidance I have no doubt he would fulfil his potential and become one of the top left-backs not only in the league but in Europe. Liverpool should act now before other clubs realise just what a special talent the Englishman is as I have no doubt in a year or so time he will become one of the best full-backs in the Premier League.
Andy Robertson [Alex Barilaro]
Much has been made of the defensive woes – and should Liverpool secure their top target in Virgil van Dijk – or someone equally as stable – then some of those catatonic woes will be alleviated. What Liverpool must do, however, is address the glaring weakness in the side when attacking, and trying to break teams down – the lack of impetus when attacking down the left. With a wicked left foot and the attacking drive of an energiser bunny, Andy Robertson would fit right into Klopp's system.
The ridiculous exposition about him playing for a relegated side – Liverpool bought Gini Wijnaldum from Newcastle after all, and countless other signings of similar stature have been turned into gems by coaches far less talented than Jurgen Klopp – Robertson provides width, an outstanding dribbling ability, and pace to burn. Combined with the electric Mohamed Salah and Sadio Mane ahead of him operating on one of the flanks, and with Phil Coutinho able to find him on the overlap, Robertson would be able to flourish in Klopp's system.
Where Liverpool looked stunted and out of ideas with Milner on the left, now they would have another attacking option – one who is able to take players on, has a cracking left footed strike – and most importantly: would be available on the cheap, so that deals for Naby Keita and Virgil van Dijk can be pursued. There's no point in spending over the odds for Monaco's Mendy when Robertson really isn't that far behind in reality, and when that money could go into a significant upgrade in his accompanying centre half. A young, boundless, dynamic fullback – akin what Klopp moulded Marcel Schmelzer into – Robertson would be an excellent addition on the left.
Benjamin Mendy [Tom Holmes]
Amongst rumblings that Mendy will move to Manchester City, there remains the grain of truth that a big money offer from Liverpool could still sway him to Merseyside. Left-back is the biggest problem area that Liverpool have, and they should categorically by throwing big money at the problem to solve it. At 22, Mendy is young enough to fit perfectly into FSG's project, but already appears to be well on his way to being one of the best left-backs in Europe.
With 8 assists in 29 games from left-back, Mendy has the attacking flair and threat required to bolster Liverpool in an area that seriously needs bolstering, and is a very good crosser of the ball, but he also has pace, strength and the necessary defensive skills to cover his teammates at the back. Signing Mendy is not just signing a brilliant left-back but sending a serious statement that Liverpool mean business next season.
Marvin Plattenhardt [Adam Petrucionne]
In 31 appearances for Hertha Berlin in the 2016/17 season Plattenhardt scored 3 and assisted 3.  He is 181cm (5' 11") to James Milner's 175cm which would be a pleasant addition to a Liverpool team that is lacking in height elsewhere on the pitch.
He is generally less involved for Hertha than Miler is for the Reds, but gets a respectable 1.6 tackles per/90, 1.7 clearances which are bound to go up if he can handle Klopp's pressing system.  Where he shines is with his free kicks.  He is a dead ball specialist with all seven of his career Bundesliga goals coming by way of free-kicks. I prefer signings that enhance the squad in two areas.  Beyond simply adding depth in a position where we're desperate for it, Plattenhardt's crosses and set-piece talents would make Matip and Lovren much more of a threat to score from set-pieces, as they had been before signing with Liverpool.