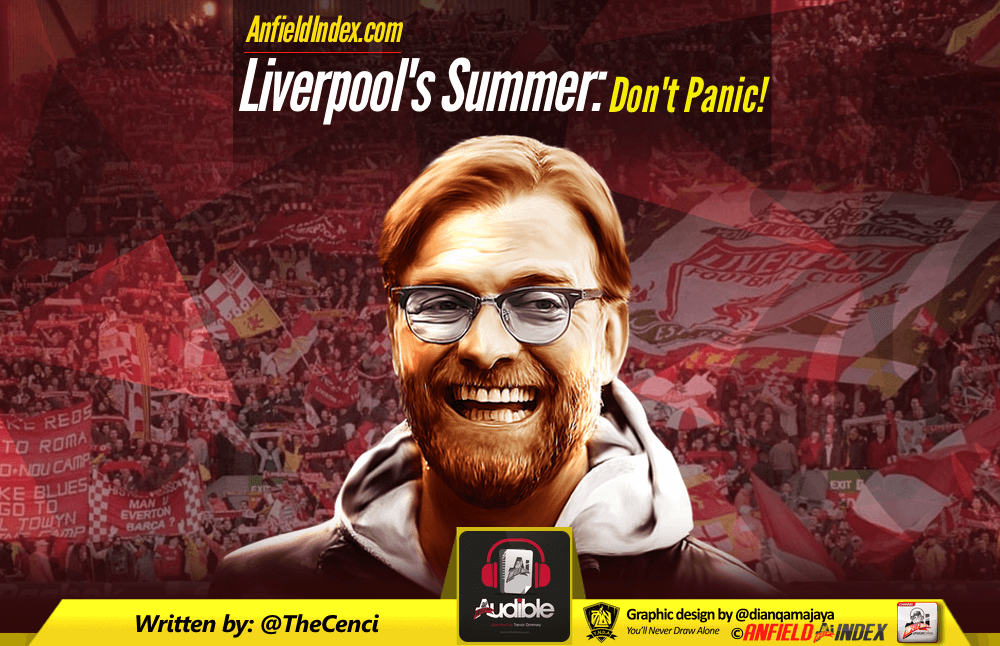 Liverpool's Summer: Don't Panic!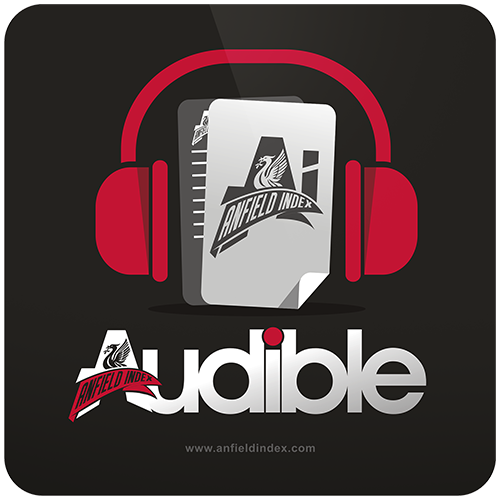 Listen to this article via @AIAudible !
There's something hypocritical about being a football writer.
Every now and then you'll pen an article calling for calm or even asking for silence of the bawling masses when 'the fume' gets a little too much. 'Everybody relax' you'll shout like a Roman emperor trying to hush the Coliseum while you make your mind up about who's living and dying today. This is all well and good but, of course, your actual words do nothing but add to the general mayhem around you.
Fume. Ask for calm. Fume increases because man asks for calm.

It reminds me in some ways of an incident at Anfield a few years ago when Martin Kelly returned to the first team after a long spell out. He was obviously nervous and still trying to find his feet and things just weren't going his way. He had a nightmarish ten minutes when even his simpler passes went astray and his crosses either hit the first man or floated harmlessly into the opposite stand.
One wag had had enough of this and roared 'Kelly! Get some fucking confidence, you!'
How do you gain confidence when someone is shrieking at you?
How do you ask people to stop shouting while shouting at them?
Yet this is what I will try to do here. I'm asking you all to shut up for a bit while talking loudly.
As I write this we are six weeks away – SIX – from Liverpool's opening game at Vicarage Road. Six whole weeks! That's a child's summer holiday and you know how long those seemed when we were kids. That's an ocean of time. An aeon.
Plenty of time to get things sorted before the men in red march into Hertfordshire.
I can only speak for myself here but I'm more than pleased to have a break. Maybe it's an age thing as I didn't always feel this way. There was a time when I would ring Clubcall (ask your Dad) twice a day to catch up with who Roy Evans was monitoring and then, when the time came, I would watch every single second of every pre-season friendly for my Red fix. I even travelled to some of them. Anyone who was at Peterborough v Liverpool in 2007 (0-0. I think we had a corner at one point) will know that it takes the most helpless of addictions to gladly engage with those things.
But as you get older – and this will happen to you – you appreciate the rest. You'll start to notice new things. Firstly, that knot of tension mixed with joy at weekends will slowly evaporate. Liverpool can't ruin your weekend in July. Of course, they can't give you joy either but it's a nice feeling all the same.
Then there's the sun. This hemisphere at least is awash with free Vitamin D at the moment and you can sit in it and drink and eat and see friends and loved ones. You're spared the weekly experience of sitting indoors and shunning all contact for a bit. Us addicts can stumble towards the light for a few short weeks and try that 'human interaction' thing we keep hearing about.
Well, okay, you can do all that and still have social media and people shouting at you on Anfield Index so if you simply have to scratch the itch there's plenty to keep us going, but my point stands.
The thing is, the overriding emotion from the, God help us, 'LFC family' is one of anger. Of fury. People are frantic at Liverpool's lack of transfer activity/away kit/new CEO's Twitter game/lack of Lacazette/anything really. Many are panicking that we won't get our targets and ordinarily, having sat through years of Liverpudlian procrastination in the market, I'd be with you all but… well, we don't kick off for years.
Six weeks. That's decades in dog years.
I'll go further on this.
There's absolutely nothing we can do about any of that list above. We, as fans, don't have a scintilla of say in how things go at the club. The only people who can are the committee (if that's still a thing), the manager, a handful of agents and the players themselves. No one else. Tweeting the owner or his magnificently coiffured wife won't change a damn thing. You're just shouting at the wind.
Oh, commentary is fine and the fume that went on about the Van Dijk fuck up was more than justified, but we can't sit in Naby Keita's kitchen and stare him out until he submits to our will. Yes, we can appear on his phone via Twitter, but I doubt he's going to make a move because Pete from Fazakerley said he should. No offence if you're a Pete from Fazakerley.
All I'm saying is that there's plenty of time to get angry about stuff and you can do that in the ground or in front of your telly if you want your voice to be (sort of) heard, but rocking back and forth to the point where foam spills from the mouth is a waste of energy. I'm thinking of your health here, reader. I'm thinking of you.
Don't get me wrong, once the season starts I'll be right with you. 'Why didn't we buy Mbappe?', 'Why don't you stay off Twitter, Moore, you dickhead?' 'Jesus, Moreno, how are you still here?' 'Call this tea? Tastes like Baldrick's coffee' etc., but until then there's the sunshine and trees and music and books and films and friends and the soft tear on a baby's cheek and…sorry, got carried away there.
I realise that if Liverpool consumes your every waking thought then this will be ignored and maybe you're scowling at me for even suggesting a holiday, but there is so much wrong with this world, so much misery. Why add to it with barbs and pointless arguments when we've got ten months to do that? Go and sort the garden out or visit that aunt you never see or buy books about Liverpool's 2015 season and novels about four friends growing up together in the 1990s. I can help you with those last two.
So, yes, this is slightly hypocritical of me as I'll be talking about footy over the coming weeks too, but it won't be on the edge of my every thought.
Enjoy your summer, enjoy your life and stop panicking.
Get some confidence, you!