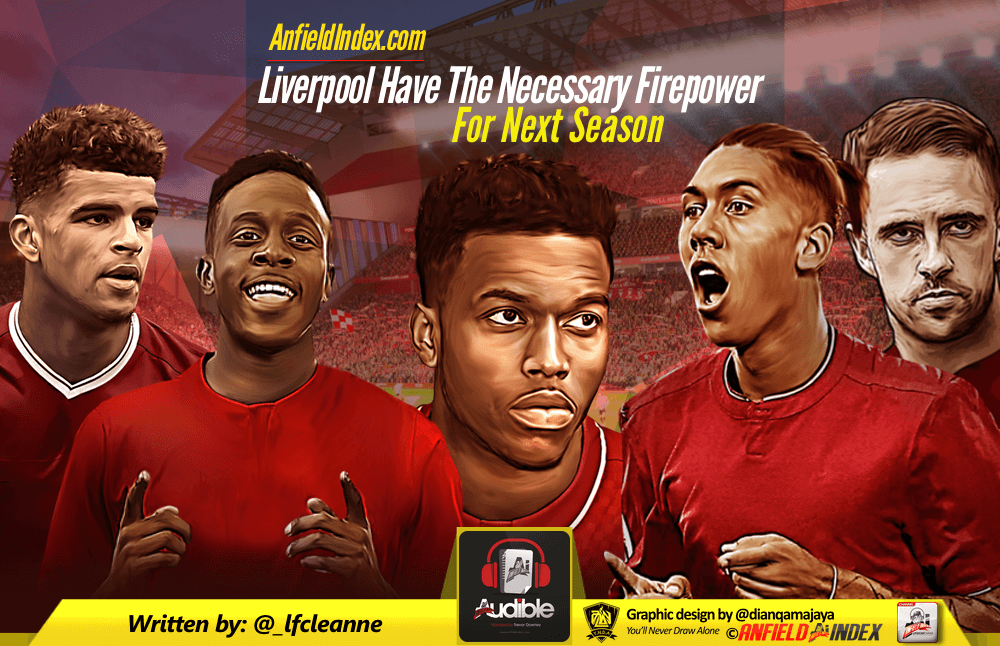 Liverpool Have The Necessary Firepower For Next Season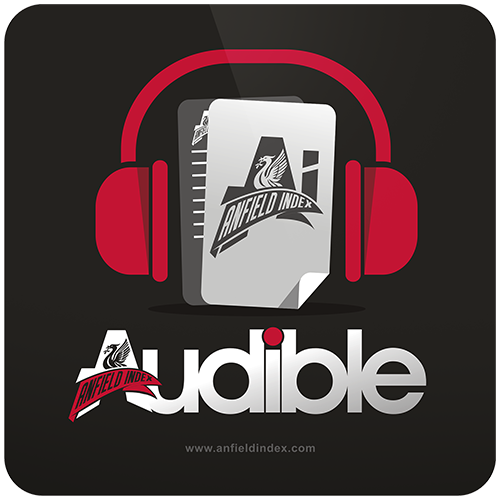 Listen to this article via @AIAudible !
With Liverpool set to hold firm and rebuff any approaches for Daniel Sturridge this summer, it's highly unlikely Jurgen Klopp will add to his striking options.
That shouldn't come as much of a surprise to fans despite their desires to see Aubameyang or Lacazette lining up in red for the upcoming Premier League season.
There are much more pressing needs that need to be addressed; left-back, centre-back and central midfield have already been outlined as the priority, leaving certain financial constraints over getting a new forward.

So then, with no new striker set to move to Anfield this summer, do Liverpool have the fire power they need to make a successful season?
Roberto Firmino
The Brazilian has become Klopp's go-to forward given his work rate and willingness to track back in support of his teammates. He's an essential cog within Klopp's system and while 11 goals during the 2016/17 season is hardly revolutionary, it's his off-the-ball play that have won the hearts of Liverpool fans.
Not to mention his iconic shirt celebration.
Creating an average of 2.23 chances per ninety minutes, Firmino was at the heart of Liverpool's free-flowing attacking trio that caused so many teams problems last season with their flexibility. In comparison, Arsenal's Alexis Sanchez created 2.18 chances per game while Divock Origi created 0.96.
One criticism of the 25-year-old will be his finishing ability. Unlike some of the top strikers in the division, Firmino doesn't possess that killer instinct in front of goal that Liverpool so desperately needed at times during the campaign.
Take the game against Arsenal at Anfield for example, when the Brazilian squandered numerous chances to put the game to bed before Georginio Wijnaldum secured the three points.
As Liverpool's new number nine, the pressure on Firmino couldn't be greater. But he has already shown during his time at the club that he is capable of rising to the challenge and his all-round displays will be crucial to Klopp's successes during 2017/18.
Daniel Sturridge
Second in command and likely to stay for another season on Merseyside, Daniel Sturridge is the world-class striker Liverpool need. His frustratingly frequent injuries aside, the England international's quality is undeniable.
Scoring a total of 7 goals for the season saw Sturridge achieve a rate of one goal per 152 minutes – higher than any other player at the club. That tells you all you need to know about what he can offer next season.
When he's in the team, Liverpool look like a completely different prospect. His movement and decisiveness in front of goal is second to none and as Klopp himself said, he has the ability to change a game in an instant.
That's the kind of player you need to keep around at your club and it's clear to see why the German wants Sturridge to remain at Anfield.
His fitness will forever come under scrutiny but if Jurgen Klopp can manage it in the way he did for the top-four run in, Sturridge could well play a key part in their bid to challenge on all fronts.
Divock Origi
The Belgian enjoyed a rather mixed bag last season, scoring 11 goals in 14 starts. Predominantly utilised from the bench, Origi made 20 sub appearances for The Reds, playing his part in seeing out a top-four finish.
However, while he remains a man with plenty of potential there were times when he appeared to really struggle, particularly as a lone striker. Up against physical centre-backs the 22-year-old often gets beaten down unable to make the ball stick.
It remains to be seen whether Origi will be shipped off on loan for the upcoming season but should he stay, he's proven he can play a part. With Liverpool set to battle on four fronts, he'll have an increasingly important role.
Danny Ings
Ah Danny. You've got to feel for the lad.
Since making a dream move to Liverpool, Ings has suffered two ACL injuries that have consequently prevented him from establishing himself under both Brendan Rodgers and, to this point, Jurgen Klopp.
The way in which he has handled himself through such harrowing setbacks is commendable and testament to the true professional he is. The English striker will never stop working and that never-say-die attitude is exactly what makes him such a great fit for Jurgen's style of play.
Liverpool can't rely on him week-in week-out, but Danny Ings' quality both in front of goal and off the ball via pressing will give more options ahead of the new campaign.
He hasn't yet been given a fair crack at the whip but should he manage to get a strong pre-season under his belt, he'll certainly add to Liverpool's firepower.
Dominic Solanke
The former Chelsea man marked the start of the summer incomings at Anfield and having impressed during England's World Cup triumph, there is plenty of optimism over what he can bring.
Securing the Golden Boot award for the competition, Solanke showed the exact composure in front of goal that saw him gain such rave reviews from Jose Mourinho and co. A lack of first-team chances saw him part ways with the London club but given both Sturridge and Ings' poor injury records, Solanke could find himself with more opportunities than many expect.
He's shown a ruthlessness coupled with incisive vision that will be good asset should Klopp choose to utilise them – particularly in the domestic cup competitions.
Liverpool may not have the killer name up-front that their rivals do; Chelsea with Costa, Arsenal with Sanchez, Tottenham with Kane and Manchester City with Aguero, but fans should be optimistic about the fire power at Klopp's disposal.
The prospects of a new forward doing the famous Melwood lean in the coming weeks is becoming more and more unlikely, but there will be depth and quality in abundance ahead of a demanding season.
Firmino tops the pecking order but Sturridge, Origi, Ings and Solanke can provide meat to the bones to challenge in four different competitions and make 2017/18 a successful one.
Roll on next season.