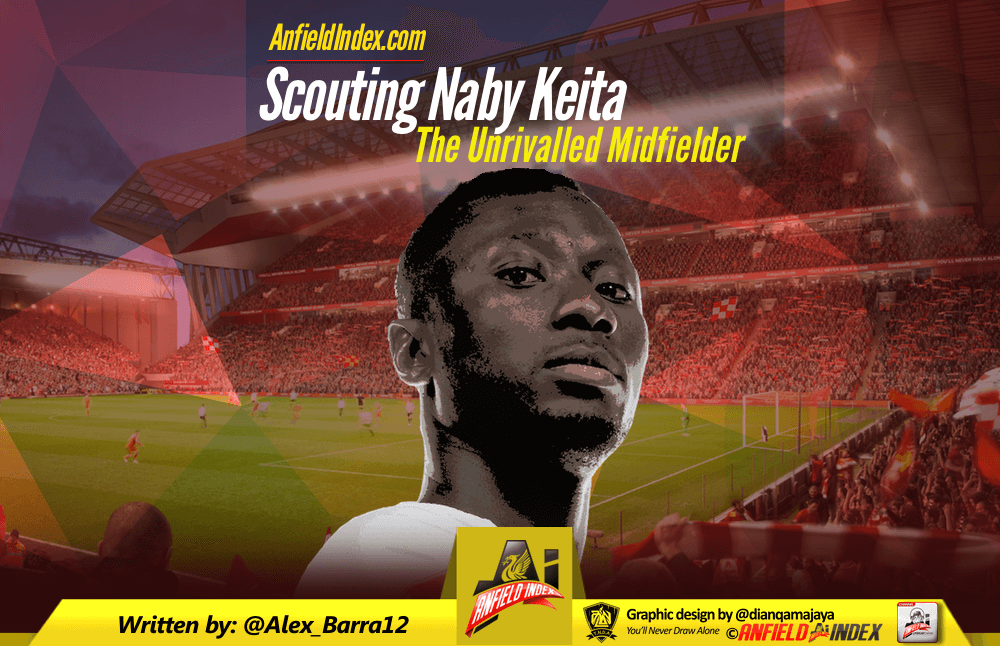 Scouting Naby Keita - The Unrivalled Midfielder
He's the talk of the town.
Will he ask for a move? Will Liverpool pay the money? Will Leipzig bend to a certain fee? Everyone seems to have their opinion on the Guinean midfielder who lit up the Bundesliga last season, breaking out onto the world scene.
So, is he worth all the fuss?
In a word: yes.
Style
Firstly, the concept of Keita only having proved himself over one exceptional season is a fallacy. What last season's performances at the helm of the midfield of the newly-promoted Rasenballsport Leipzig did was validate his exceptional performances at Red Bull's sister club. His time in Austria was fruitful, and the then 21-year old began to grow into the majestic, dazzling midfielder who's equally capable of dribbling past a trio of opponents as he is threading a ball through a centre-half and full-back to find a winger.
He developed a considerable defensive ability to his game and showed up when it came big. His goal against Dortmund in the second game of the season was somewhat defining as the money-fuelled Leipzig would ultimately finish above Die Borussen in the Bundesliga in their first season.
So it's no surprise that Keita would cost a pretty penny.
He's been compared to everyone from N'Golo Kante (a lazy comparison if there ever was one) to Deco, to Steven Gerrard to Frank Lampard. So what is Keita?
He's a phenomenal carrier of the ball, has a sensational eye for a pass, and has a bustling, energetic drive to retain the ball when an opponent is countering. Leipzig's fast-paced, action-packed style isn't coordinated enough to be called a proper press, but the fact Keita doesn't stop moving about is good evidence to suggest he'd fit into Jürgen Klopp's pressing philosophy. He's got the pace to burn other midfielders, especially when charging down a defender, and though the physical nature of the Premier League is overstated at times, there is a distinct lack of space in the middle of the park, compared to other leagues. That's where he fits best: in the tightest little spaces, with one or two touches on his belt, to work the ball quickly past a group of players.
He's best suited to playing as a box-to-box midfielder, but he has operated as the deepest lying defensive midfielder, and as the furthest up attacking midfielder too.
Strengths and Weaknesses
As a versatile, all-action midfielder with an eye for goal, there is a considerable amount of hyperbole and exposition regarding the potential signature of Naby Keita should it come to fruition. Is it justified?
On the whole: yes. His ability to carry the ball past players and then place an accurate, well-powered pass between the lines or between the centre backs. It's a perfect combination for a midfield looking to supply creative, pacey forwards. Timo Werner and Emil Forsberg were the ones to benefit from the dynamic, fleet-footed Keita, but imagining the pace of Salah and Manѐ, with the movement of Firmino ahead, would be a recipe for magic.
He's capable in front of goal – scoring 8 and assisting 7 (the same numbers as Adam Lallana last season) whilst also managing 2.6 tackles per game, and adding the gargantuan statistic of winning the ball back 180 times in the midfield third – the most times of any player in the Bundesliga last season.
His pass success rate doesn't quite stack up to the machinations of Gini Wijnaldum's ball-recycling ability – a cool 81% compared to Gini's 87% – despite making a similar amount of passes. But, his adventurous nature and forward-thinking mentality see him always look for an angle, a quick, incisive pass, sometimes forcing it more than he should. It can be construed as a weakness, but often Jordan Henderson and Gini Wijnaldum's conservative nature when it comes to using the ball is construed similarly.
In fact, his tendency to pass is rather direct and risky, which means having a pass success rate of 81% is quite impressive. Especially when he's driving through the heart of the midfield at speed, the ability to spray a pass is a necessity to stop opponents from countering quickly.
Though feisty in the tackle, Keita is largely redundant in the air, unable to command the centre of the park with his head. But make no mistake, he commands it in nearly every other way.
The key question
Will he move? Well, in this writer's opinion, yes.
The Bundesliga's a strange place when it comes to transfers – like a pyramid scheme where Bayern are well and truly perched on the very top. Dortmund will pry players away from teams who drastically over-achieve – see Maximillian Phillip from Freiburg this season and Marco Reus from Borussia Monchengladbach way back when. The likes of Leverkusen and Wolfsburg try to use their more significant pulling power (relatively speaking) to shop outside of Germany, while the rest of the Bundesliga tends to focus on the plethora of German talent in the league. It's changed somewhat lately – with the likes of Aubameyang, Guerreiro and Marco Fabian proving big signings do in fact work.
And then there's RB Leipzig – the new boys who are trying to prove themselves. Leipzig sporting director Ralf Rangick is adamant that the Red Bull-owned side won't sell their best players, and it will take an explicitly gigantic bid to pry the Guinean away. Will they sell? Probably, yes. They're businessmen, who could make a €80 million pound profit off of a player they bought from themselves a season ago. They're alleviating their self-imposed financial limitations; and if they're as clever as everybody assumes, they'll know they have to compete with Dortmund or Bayern's ability to invest in their squad.
If they don't want to invest in their squad, maybe they're not as financially capable as everyone thinks? In which case, €80 million would be far too good to turn down.
Guinean media – including former Red, Titi Camara – are adamant that he wants Liverpool, and that he'll likely take the iconic #8 shirt not worn since the colossal personality that was Steven Gerrard should his talks with the Leipzig officials go the way he wants. The 22-year-old is one of the few people available who could live up to the weight of that shirt.
There's no alternative – because the midfield isn't the priority that centre-half and left-back are for Liverpool – and nobody can really match what Keita brings. But rest assured, should Keita arrive, Liverpool would have their marquee signing of the summer.