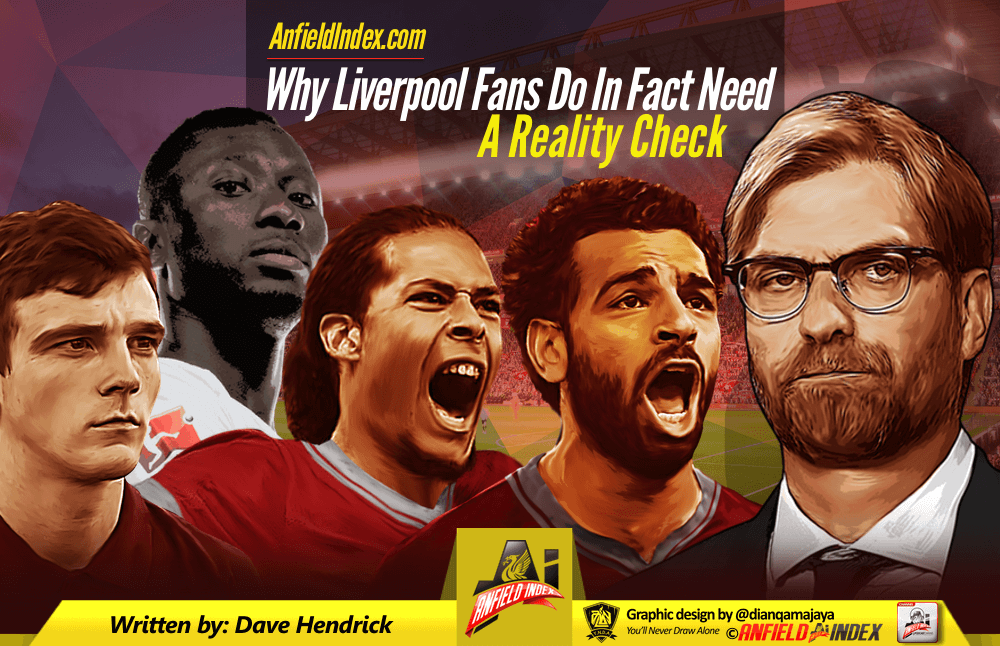 Why Liverpool Fans Do In Fact Need A Reality Check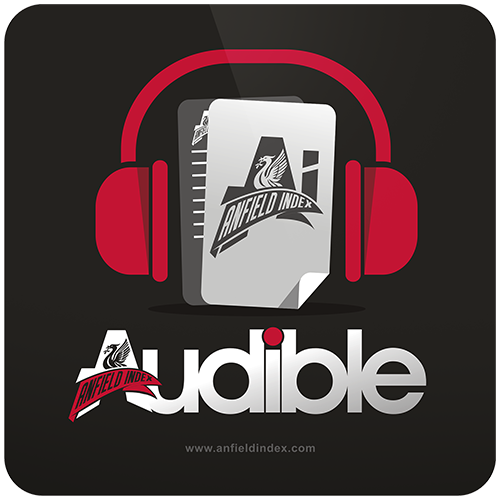 Listen to this article via @AIAudible !
I don't write columns very often. A combination of being too busy with work and not really being arsed make this the first thing I've written in a year. I normally prefer to just spew my thoughts en masse onto my Twitter account and leave you to figure out what I'm trying to say. But you've driven me to this. The following is YOUR fault. You know who you are. If you don't, maybe you relate to one of these.
You're the one cryarsing on twitter about deals not getting done quickly enough for your liking.
You're the one going on forums (in 2017, you're still using forums!!!) to write extended rants.
You're the one creating conspiracy theories about the owners not wanting us to sign big money players.
You're the one who actually wants us to fail to get Van Dijk and/or Keita, so you can moan about it.
Can you relate to any of them?
Maybe you relate to all four of them.  If that's the case, stop reading. Just stop. Have you stopped yet? Seriously, stop reading. Go get your family and go out for the day. Go walk your dog. Go have a wander around the shops. Do something else, anything else. Just leave talking or thinking about Liverpool behind you.

Now that those tin foil hat wearers are gone, let's talk about why I am subjecting the rest of you to this.
THE FUME.
The fucking fume. The never-ending, head melting fume that emits non-stop from the bowels of Liverpool's fan base. The fume about Van Dijk. The fume about Keita. The fume about the owners. The fume about Yorkie bars going from 6 chunks to 5. Ok, maybe not the last one but that's something worth fuming about! I know it's been about 10 years but did they think we wouldn't notice? Wankers!
Anyway, Liverpool. Fans are fuming that we haven't already signed Van Dijk, Keita, a left back, Gordon Banks, Pele and that fella from Dream Team who fancied himself as a bit of a ladies man.
I don't really understand it to be honest. What's the fume over? Are we getting left behind by our rivals?
We finished 4th last season despite losing Mane to AFCON for a month and then to injury for the last 6 weeks of the season or whatever it was. We finished 4th last season despite fielding a defence that more closely resembled The Two Ronnies doing a sketch with the Chuckle Brothers, than a functional defence. We finished 4th last season despite Emre Can and Phil Coutinho missing extended periods through injury. Despite having a small squad and losing Jordan Henderson for months on end. We finished 4th. And we've signed Mo Salah.
Mo Salah was one of the best wide forwards in Europe last season and his pace, creativity and finishing ability will fit perfectly into Klopp's Liverpool. Salah is better than Coutinho in a wide role, and his arrival means Coutinho will drop back and play in his natural position in midfield, likely replacing Adam Lallana. That means we've improved two positions in our team. Who else has done that?
Chelsea? Spurs? City? Arsenal? United?
Let's look at how their summers are going.
Chelsea have signed nobody so far. They've apparently got deals in place for Rudiger and Bakayoko, but those deals seem to have been in place for about two weeks now. They targeted Van Dijk, and got turned down. They targeted Lukaku, and it looks like he's off to United. They targeted Alex Sandro, and that deal doesn't appear to be any closer to happening than it was a month ago. So they've stood still. Even if they get Rudiger and Bakayoko done soon, that's not moving the needle massively for them. And don't forget, Diego Costa wants out and their Plan A to replace him looks like he's heading to United.
Spurs haven't signed anybody either, and the only big transfer rumours surrounding them involve players leaving. Kyle Walker is strongly linked to Man City, while Eric Dier is a known target of Mourinho at the other Manchester club. They stood still so far, and may actually take a step backwards this summer.
Manchester City have spent money, and Bernardo Silva is going to be a lot of fun to watch in the Premier League, but have they improved their team? Is Silva a nailed on, day one, starter? Maybe. If so, then he improves them because he's a better player than Sterling or Sane are right now. They also spent big on a goalkeeper for the second summer in a row, but this time they spent a world record fee on an unproven goalkeeper who may not settle straight away and might, as hard as it is to believe, be a step backwards from Claudio Bravo at first. They're linked with Kyle Walker, and Benjamin Mendy, and Dani Alves, and Ryan Bertrand. And have been for weeks. But none of those deals have happened yet.
Arsenal completed the signing of Alexandre Lacazette, who's fantastic, but may well lose Mesut Ozil and Alexis Sanchez this summer, as well as Alex Oxlade-Chamberlain. They're being linked with Thomas Lemar from Monaco, and Riyad Mahrez, but if they sign those two to go with Lacazette while losing Ozil, Alexis and Oxlade-Chamberlain, will they have improved? Not for my money.
United have added Lindelof and it looks like Lukaku is on the way. Lindelof is excellent, and an upgrade on Smalling, Jones, Rojo and Blind, but their defence was already their strong point. Making it better won't close the gap. Lukaku is a flat track bully and will score for fun against the dross of the Premier League, but they need a game changer for their big games and that's not him. Zlatan scored a lot of goals for United last season, Lukaku will probably score more but will that be enough to get them into the top four? They've been having difficulty getting deals over the line as well. Morata dragged out for weeks and they've now abandoned it. Perisic and Matic are dragging on as well. United aren't, in my opinion, going to have improved enough to challenge for top 4 even if they get Lukaku, Matic and the painfully average Perisic on board.
And what of Everton? Everton are doing a fantastic impression of Brendan Rodgers era Liverpool, spending loads of money on players that won't close the gap between them and the top 4. Jordan Pickford is a good young keeper, but that's all he is. He's not Lev Yashin. They've overpaid massively on the English Loris Karius. Sandro Ramirez is a talented young striker but if the plan is for him to be the main source of goals next season, they're in trouble. He scored 5 goals less than Liverpool legend Iago Aspas in La Liga last season. Michael Keane is a good young defender who would, without doubt, start for Liverpool right now. He's a good signing and it would be foolish to suggest otherwise. However, in typical Everton fashion they balanced out the good with the daft and spent 25million quid on Davy Klaassen. Klaassen broke through at Ajax tagged as the next Dennis Bergkamp, he leaves tagged as the new Siem DeJong. They're covering their spending by selling Lukaku, and potentially Ross Barkley as well. Their fans are talking up their chances of signing Oliver Giroud, Gylfi Sigurdsson and Virgil Van Dijk.
They're dreaming if they think Van Dijk would even consider them, Giroud is ok but that's about the height of it, and while I do like Sigurdsson he'd be a bit redundant in a team that already has Klaassen. He's also a downgrade on Ross Barkley. Barkley is a better allround player, and despite Gylfi being excellent at set pieces, Barkley is just as productive as him. They have the same combined goals and assist numbers across all competitions in the last two season. And Barkley is 4 years younger! Everton have spent a lot of money to improve very little. They might consolidate 7th but aside from the possibility of a decent cup run it's going to be a dull season for the Blues. Ah well, at least they have those billions to count!
So back to Liverpool. Klopp has already improved two positions in his team, and is looking to improve another 2 to 3 before the season starts. He's targeted a central defender and a central midfielder, as well as a left-back.
Virgil Van Dijk is the best central defender in the Premier League. He's elite, one of the best in the world. Klopp has made him his number 1 target, his priority. He would probably already be a Liverpool player, and I probably wouldn't be writing this, had some idiot not decided to leak the news that Van Dijk only wanted to join Liverpool in an attempt to remove Chelsea and City from the equation and ensure we got the player for a fee that was more favourable to us. That move infuriated Southampton and the two clubs are now engaged in a slow, protracted version of a waltz. Liverpool hoped they could do a tango, get Saints distracted and steal Van Dijk but they were too clever for their own good and now we are where we are. We'll still get Van Dijk, there's no doubt in my mind about that, but Saints want things to be on their terms and their timescale. They'll want a replacement in before clubs hammer them on fees because they have the Van Dijk money in the bank. They may even want other clubs to bid so that it looks like Liverpool just outbid them, they may even want the player to submit a formal transfer request so they can say they didn't want an unhappy player at the club. All of those things are fine. It will play out how it plays out, and Van Dijk will end up at Liverpool because Saints have to sell him.
Why do they have to sell? Because that's their place in the food chain. Every club has one, and that is theirs. Saints are a great club, well run, clever people in the right positions and they scout well, buy well, develop well and sell well. That's what they do. They're a stepping stone club, and I don't mean that in a disrespectful way. I'm a huge admirer of what Les Reed and Ross Wilson do there. They're masters at identifying and recruiting talent at good value and then, once that talent has had 12 or 24 months in the hands of their coaches, selling them for a big profit. That's one of the main selling points Saints have when they approach a young player. Join us, you'll get better, you'll get a platform to shine and then you'll get a move to a top club. That's how Saints have been successful over the last few years. And that's how they'll continue to be successful. They can't do that without keeping players against their will, not when those players have clearly outgrown the club and are ready for Champions League football. People can give the examples of Wanyama and Schneiderlin until they're blue in the face but Saints lost money by hanging on to those players for an extra year. They'd have gotten at least 10million more per player had they sold them a year earlier. And what happens if Van Dijk gets injured next season? He missed half of last season and his value held, it won't hold if the same thing happens again. How much is Virgil Van Dijk worth coming off a torn ACL? 40million? 30million? That's not a gamble Saints can afford to take.
What about Keita? We're getting lots of conflicted reports on him. The local press, who've been well out of the transfer loop for over a year now, are basically just repeating what Leipzig say publicly and trying to spin it as what's going on behind the scenes. The foreign press seems to have more of an idea, and before people dismiss the Guinean journalists just remember that it was the Egyptian journalists who had the Salah deal every step of the way. Who know what's happening? Oh that's right, Jurgen Klopp and Michael Edwards know what's happening. They know what's happening with Keita deal as well as the Van Dijk deal. They haven't walked away from either, not even a little bit. Why? Last summer Liverpool tried to buy Dembele, couldn't get him and immediately went for Gotze, couldn't get him and the same day went for Mane. They tried to buy Zielinski, couldn't get him and immediately went for Wijnaldum. If they felt either deal wasn't there for them, they'd walk away and move on to the next target, but they haven't. Why? Because what gets said publicly is very different to what gets said privately, in the room, between the parties.
I think we will end up with Keita but it won't be easy. It was never going to be easy. I think he will have to force the deal, he may even have to threaten not to play. That worked for Sadio Mane when he forced his way out of their sister club in Salzburg. If that's what it takes, so be it.
There's lots of talk about Leipzig of late, and I think certain people need to settle down with the hyperbole.
Let's dive into some of it:
"Red Bull owner Dietrich Mateschitz has 15billion in the bank"
No he doesn't. Not even slightly. He has an estimated net worth of 15billion. That means that if he was to sell off EVERYTHING he owns, and the stock market was kind to him, and he could find people willing to buy his football clubs and his Formula One teams, then MAYBE he MIGHT be able to put 15billion in the bank. Though even then, with the taxes he'd have to pay, it would fall substantially short.
"Red Bull want to build a Super Club"
Let me just go ahead and call bullshit on this one. It's garbage. It's utter nonsense. There are four "Super Clubs" in the world game. Barcelona, Real Madrid, Manchester United and Bayern Munich. And that's it. And that's how it will remain.
To be a Super Club you need to have a rich history, people have pairs of socks older than RB Leipzig.
To be a Super Club you need to have commercial appeal and marketable, RB Leipizig have nothing of the sort.
To be a Super Club you need to have a massive global fanbase, RB Leipzig have about 7 fans.
Get the fuck out of here with this Super Club nonsense. It's crap, it's fiction. Bayer Leverkusen and Wolfsburg are owned by entities far richer than Red Bull. Neither have built Super Clubs, neither have tried to be anything they're not, both get their best players cherry picked by the top clubs in Europe. The only team that has been challenging Bayern consistently over the past 25 years is Dortmund, who almost went bankrupt trying to do it. That forced the governing bodies in Germany to change the ownership rules, and those rules prohibit Red Bull from pumping enough money into Leipzig to even make them a big club, let alone a "Super Club".
"Liverpool fans complained about Sterling forcing a move to Man City, now they want Keita to force a move to their club. Will they feel bad for Leipzig fans?"
Yes, yes I will. I'll buy them all a tin of biscuits each, and write them a nice note.  NEXT!
"Leipzig have said very clearly that Keita is not for sale."
What club has ever publicly said that one of their players is for sale?? NEXT!
"When Ralf Rangnick says something, he means it. He's a man of his word."
Since when? Tell the fans of Hoffenheim and Schalke that he's a man of his word, see what they have to say.
And on, and on goes the nonsense. What it comes down to is that Leipzig are at the same spot on the food chain as Southampton. They're a stepping stone club. Players go there to get themselves in the shop window and secure a move to a big club. No player, with the possible exception of Robbie Keane, grew up wanting to play for RB Leipzig. No player signs there with the intention of staying long term. If they try and force players to stay against their will, they'll soon find themselves struggling to attract players. And they can only go to the Salzburg well so often before it dries up as well.
And let's not forget that Keita has a buyout clause for next summer that is much lower than the fee Liverpool are willing to pay this summer, and that, if they insist on holding on to him, Bayern Munich will probably buy him and he'll spend the remainder of his career torturing them. Sell him to Liverpool and they might never have to play against him.
Leipzig need to be realistic, and Liverpool need to be persistent. Keita has made it clear to both parties, he wants out of Leipzig and into Liverpool. Someone will eventually blink, let's just hope it's them.
[Side note: What if Liverpool agreed to buy Keita now for his release clause next summer, and loaned him back to Leipzig for a year? Possibility? Maybe? Would probably lead to fume but who cares. It's not ideal but as worst case scenarios go, it's a pretty good one]
So all of that brings me back to the fume.
Fume about getting left behind. See above, nobody else has done much either
Fume about protracted transfers. See above, nobody else is getting deals done quickly either.
Fume about the owners "targeting players with no intention of signing them, just to say they tried". I told you to stop reading before but if you're still here, just leave the house. Go for a walk. The owners don't target players. And if you think Jurgen Klopp is the type to put months and months of work into making transfers happen, and then accept it when the club don't match his ambition then you just don't know enough about the man. He would quit if he got the slightest inkling that was the case.
Fume about Oxlade-Chamberlain not being signed yet. Settle down. See above. Arsenal have a lot going on, so do we. It might happen, it's not the end of the world if it doesn't.
People fumed about not signing Ryan Sessegnon, the same people would have fumed if we'd spend £15m on a 17-year-old left back from the Championship.
There'll be fume when Andrew Robertson is announced. Tantrums will be thrown that we've signed a fella from Hull. Well let's just head that fume off straight away.
Take away Marcus Babbel, the best fullback we've had at the club since the 80s, and the rest of the good fullbacks we've had since the early 90's are:
A young lad we signed from Crewe – Rob Jones
A lad we signed from Fulham who'd been at Notts County only a few years before that – Steve Finnan
A Norwegian lad none of us had heard of from Monaco – John Arne Riise
An unknown Spaniard from Deportivo LaCoruna – Alvaro Arbeloa.
And an injury prone Brazilian lad that we got for free – Fabio Aurelio.
It's not where they come from. It's what they can do. And it's what they do for us. Robertson has a lot of potential. No, he's not a signing to jump and down over, but he's not one to have a tantrum over either. Everton signed Seamus Coleman for 65 grand from Sligo Rovers, he went on to become one of the best fullbacks in the league, Robertson is a similar type of player to him. Robertson is young, good going forward, has the potential to be decent defensively and is regarded as a clever player. He'll also likely be playing next to Virgil Van Dijk, which will help him massively.
At worst, Robinson plugs a hole at leftback for 12 months and then becomes the back-up when we sign someone else next summer. At best, we have leftback sorted for 6-8 years. There's no downside to the signing. He's cheap, talented and he's better than James Milner.
So stop fuming. Settle down. Relax. Have a bit of patience.
The last time we were in the Champions League we signed kids and dross. That's how it was before Klopp. This time we're targeting, and signing, quality. What would you prefer? Links to the likes of Ashley Williams or links to Virgil Van Dijk? Links to the likes of Leon Britton or links to Naby Keita? Signing Christian Benteke or signing Mo Salah?
The owners aren't perfect, far from it. Liverpool aren't great at transfers, far from it.
But save the fume until the window is closed. If, by the time the Jim White has left the building, you think we've had a bad window then feel free to have a tantrum – though if we've signed Salah, Van Dijk, Keita, Oxlade-Chamberlain and Robertson and you're having a tantrum, you're just a bad bellend
In the meantime, don't put too much faith in local journalists. They had no clue last summer – they were all given the Mane story at the same time on a Sunday evening, immediately after Gotze turned us down, and they knew nothing about Wijnaldum until the deal was practically done. The same is true of this summer. Out of the loop on Salah, out of the loop on Van Dijk, out of the loop on Keita, out of the loop on Robertson, out of the loop on Oxlade-Chamberlain. Not their fault, but the club have stopped feeding them info.
Don't put any faith in national journalists, most of them are awful.
Don't put much faith in "ITKs" because with the exception of Graeme Kelly and 1 or 2 others, they're just blaggers. A couple in particular are great for comedy value but they're 100% bullshit artists.
Put your faith in Klopp, he's earned it. Put your faith in Edwards, he hasn't earned it but deserves the chance to.
Or just turn it all off until the window closes. No more twitter, no more Sky Sports, no more newspapers. Bin them all off until it's over. It's not good for your health to fume about things like this, not when the club are making the right moves. If we were signing garbage I'd be on the front lines with you, but I'd rather we go all out for the right players and fail, than sign garbage.
Enjoy your summer, go on holiday, spend time with your kids, do your garden, whatever. Just don't fume about things we aren't fully informed on. I fumed about signing Mane last summer, I was completely wrong about him. I fumed from the day we were linked until the day he terrorised Arsenal's back 4 at the Emirates. I thought he would go the same way as the other flops from Southampton, instead he became our Player of the Season.
I learned my lesson. Learn yours.