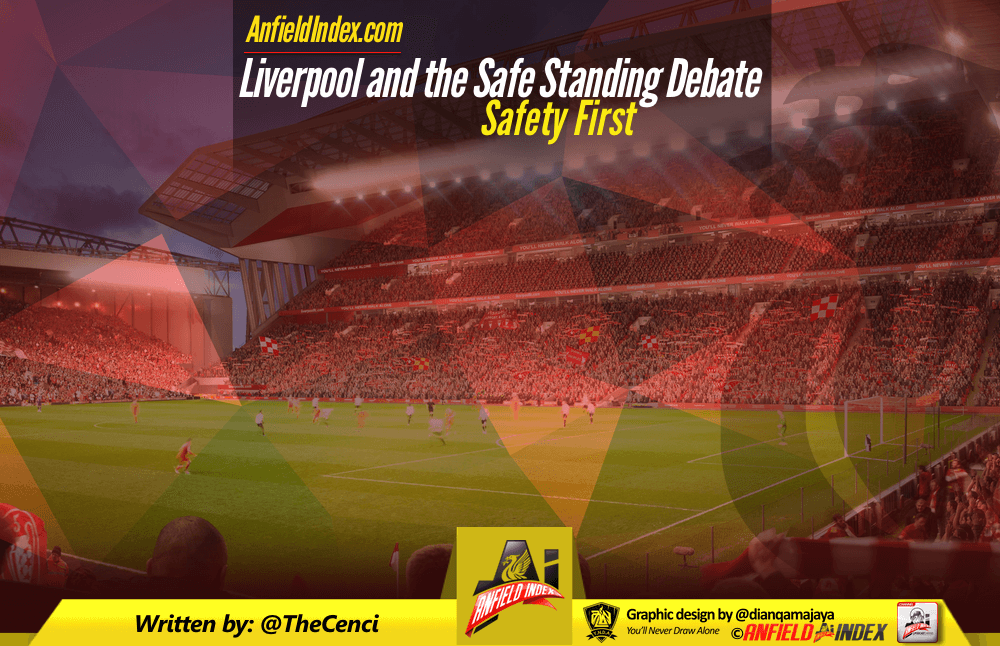 Liverpool and the Safe Standing Debate: Safety First
Last week the newly elected Metro mayor of Liverpool, Steve Rotherham, expressed an interest in a safe standing section at Anfield. If accepted it would put the club on a par with other clubs around the continent. People will always mention Borussia Dortmund and point to the noise that their standing section creates but it's also been introduced closer to home, noticeably at Parkhead, home of Celtic.
Of course, ours is the one club where the debate takes a more serious and sensitive topic given what happened in 1989 and the subsequent accusations. The club can be forgiven for being reluctant to even address the issue given that 96 of its fans were unlawfully killed on a standing terrace.
The Taylor Report of 1990 said once and for all that the issues of Hillsborough were not about standing at all, but one of overcrowding and incompetence. The Football Spectators Act meant that grounds had to be modified into all-seater arenas to improve safety. Liverpool were one of the last big clubs to tear down their standing terrace back in 1994.

When the bulldozers moved in they brought an era to an end. No longer could you arrive at the ground with your mates and stand with them. It's strange that only 25 years ago you could just turn up on the day and watch the Reds without planning it in advance.
Let's not overly romanticise this though. The building machinery also ended decades of being shoved around, literally, from pillar to post, of being pushed into crash barriers and of being sent hurtling down the steps into either them or aggressive men who weren't keen on you flying into them and would push you back.
I can remember one game where I was talking to a mate about something or other. To make my point I turned towards him causing a man behind me who was leaning lightly on my right shoulder. I hadn't realised that I was practically propping him up and the second I moved he stumbled past me, as did about 70 other Reds.
The standing Kop was great but sometimes it was uncomfortable. Not that I cared. I was 24 when it was destroyed and I'd love to be on there again despite being twice that age now.
The thing is, modern safe standing isn't about a return to those times.
The key word – and one that is largely ignored – is the first one.
Safe.
There is, in fact, some standing at Anfield, but it is in the main part allowed on an ad-hoc basis. Every now and then those on the Kop and Annie Road end will stand if it's a big game. The stewards may make a limp attempt to get people to sit but it's generally regarded that it's allowed on special occasions.
Those who were at the Dortmund game would agree that standing certainly helped with the atmosphere and, on the domestic footing, it's also unthinkable to take to your seat when Everton or United come calling. The club tends to turn a blind eye on such occasions though low key games tend to see the stewards barking orders while walking around the lower part of the Kop ushering people back into their seats. This is because there is no law as such which makes supporters sit down. It is the ground regulations which do that.
I can remember standing at a League game in 2009 during the run-in when the Reds were in with a chance of the title. A steward came over and told me to sit down. I looked at him like he was some sort of zoological specimen and said 'We're trying to win the League here, mate.' I was told to sit down nevertheless. Then we went a goal down and no one told us to sit down again that night.
There's an opposite story too. On one dismal home game against Portsmouth, I was in the top left of the Kop. The man at the end of my row was standing, leaning against the wall as there was no one behind him. He was totally oblivious when a steward shouted down the row.
'Mate! Mate! Can you sit down, mate?'
The man didn't hear him and carried on watching the dullest first half in living memory.
'Hey mate?!'
One lad near me was annoyed at this and chimed in, telling the steward:
'Leave him alone will you, lad. He's trying to get some kip down there.'
Of course, there's a certain amount of 'danger' (as opposed to safety) to standing in a seated area. I was in the Kemlyn Road stand for the Juventus game in 2005 and had the perfect view of Luis Garcia's wonder goal. I was looking at Gianluigi Buffon over his shoulder and saw the perfect arc through the air as it left Luis' foot and flew past the 'keeper. I leapt high (we were obviously standing that night) and had no idea what I did for the next minute or so as I was lost in the giddy reality of being 2-0 up at home to Juventus. For me, that was the moment that Istanbul seemed possible and I went utterly berserk.
I'd started that minute in Row 7 and by the time I'd stopped hugging strangers and shouting at the sky I was in Row 10. I'd somehow been dragged backwards over three rows and I couldn't tell you how I got there. I don't remember a thing about it.
I remember much of the next day though. The pain was everywhere. Both shins (legroom is at a premium there and I'm a shortarse), the backs of my knees, my hamstrings and my sides (I think I scraped a seat as I went backwards horizontally). Of course, I didn't complain. I was privileged to be there and what are a few war wounds when you're prepared to give your all for the cause?
But, of course, there are people there who don't want to have thirty lads jumping over them no matter how important the goal. I've done it since too.
I'm afraid I more or less took out a pensioner in the same stand when Gini Wijnaldum scored the third goal against Anfield last season though he didn't seem to mind at the time. He was too busy waving his walking stick at the away fans. He must have been seventy years old and he was shouting all sorts at the Londoners with his stick above his head. I loved him from that moment.
But there's a difference between this and safe standing. As Gareth Roberts points out in this excellent article about Celtic (https://www.theanfieldwrap.com/2017/04/liverpool-and-safe-standing-the-celtic-park-experience/ ), the safe standing area is a railed off section with plenty of room for like-minded people to sing, dance and celebrate without bruises being a necessary evil. They are not hemmed in like sardines and there are no shin-high natural crash barriers to do any harm. In fact, the barriers are placed between each row thereby preventing a cascade effect. This is by its very definition – safe.
Such areas can add to the atmosphere too and Lord knows Anfield needs that. Last season's League Cup game with Burton Albion meant that the travelling Reds could stand with their mates rather than see us dotted around the groups in individual seats with strangers and it added an excellent atmosphere to a fairly basic encounter. For one game it was like the old days, with one side of the stand singing at the other. You can't really do that on the Kop these days. You can barely get the Kop to sing at all – something the manager has pointed out more than once.
The Football Supporter's Federation has been at the forefront of the Safe Standing Campaign for years and states their aims as:
"To persuade the Government, football authorities and football clubs to accept the case for introducing, on a trial basis, limited sections of standing areas at selected grounds in the stadiums of Premier League and Championship football clubs."
Adding:
"The FSF's Safe Standing Campaign has also used public facing petitions and Parliamentary events and Early Day Motions to highlight the case for safe standing to the authorities, clubs and politicians. Dozens of clubs support the Safe Standing Campaign and the Football League backed safe standing in February 2014. Support from the political world is growing too – the Welsh Assembly gave their support in July 2014 and we will look to build on that."
They list a number of clubs who are either support the motion or are prepared to discuss the possibility. The Football League have been very vocal in their support of safe standing and, more recently, the Premier League have consulted their clubs. As things stand, Liverpool are have not moved the debate forward.
Of course, Hillsborough is always at the back of people's minds when this issue comes up but, again, the disaster had nothing to do with standing per se. Trevor Hicks of the Hillsborough Families Support Group, who lost two daughters in Sheffield that day, is unbending in his stance against the policy. In 2016 he told Daniel Taylor of The Guardian that the sport should not pay heed to a "vociferous minority who live in the past."
Emotive words and it's difficult to argue with a man who lost more than I ever could, but living 'in the past' seems an odd accusation. He also stated that the all-seater stadium has seen more families and young people coming to the match as things are much safer than when we were crowded into pens like cattle. This misses the point. Nobody is calling for a return of uncomfortable and (occasionally) dangerous stands or anything similar. Nor are they asking for one to be used over the other. It's still possible to have a safe standing zone AND a family area.
Trevor also added: "We are against any attempts to go backwards. In very simple terms, we think it would be a retrograde step. It is a point of principle and we believe all‑seater grounds are much safer."
Again, that's fine but these seem to be opinions rather than evidence based claims.
The truth is that there are different demographics at the game these days. I can only speak for myself but when I was 16-18 I only ever took a seat at the match on special occasions. I was Kopite first and foremost. When we played Manchester United in 1986 the Kop was an all-ticket affair and I missed out so went with my friend's Dad in the Main Stand. My mate and I would have given anything to have swapped those seats for two on a loud and raucous Kop, singing and bouncing. I mentioned this to one of my lecturers at the sixth form college I attended. He was in his early thirties then and had a season ticket in the Kemlyn Road stand. I asked him why he chose there and not the Kop.
'I like to watch the game, mate.'
I did too, but I loved the camaraderie of MY stand. I was with my people, standing on a terrace that meant something intangible. I was there in unison against a temporary enemy at the other end of the ground. That meant something at that age – still does at times. That's not living in the past, merely a recognition that people go to the games for different reasons. Now I'm older I too 'like to watch the game, mate' but I'd love to be able to do so while standing in a perfectly safe environment with twenty or so mates within singing distance.
And it really does help the atmosphere. Look at the difference between a bog-standard home game and bog standard away. At Anfield, there may be the odd song from the back of the Kop but the singing seldom lasts for ten consecutive minutes. Go to almost any away game, however, and you'll see something different. At those games where stewarding is less strict people tend to stand with their mates and get things going – from light-hearted piss-taking to a full repertoire of songs.
This seat moving isn't just a practice of the young, however. At West Brom, last season a man in his early 60s was in my seat and advised me to just 'budge up a bit.' I did without question. He wanted to be with his son. It's just that it's easier to build an atmosphere there.
As Robbo states above, it means that the ground can create a cacophony for even the most routine of fixtures.
Moreover, this is about choice. There has been survey after survey about this issue and it's not a 'vociferous minority' who vote in favour of safe standing. No one is saying that they'd like standing to replace seating. We'd just like the option.
Safe standing isn't a retrograde step, nor is it an impassioned plea to return to the days of people pissed in your pockets before sending you hurtling head first into the fencing below. It's merely a nod to the possible coalescence of voices in the ground and, if handled correctly, can be as safe as any other part of the stadium.
Maybe even safer in some respects.