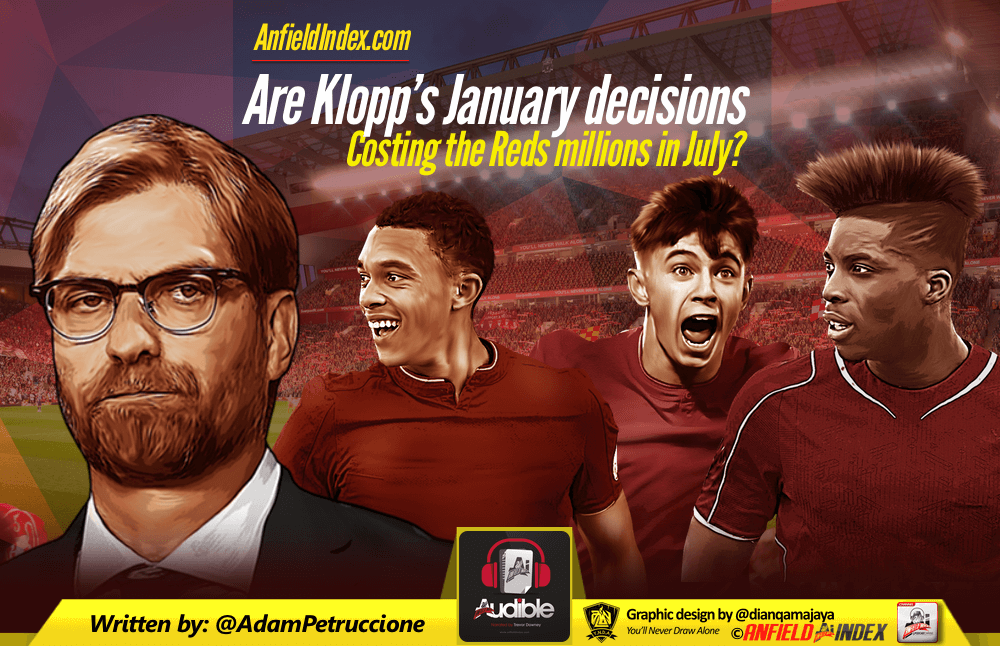 Are Klopp's January Decisions Costing the Reds Millions in July?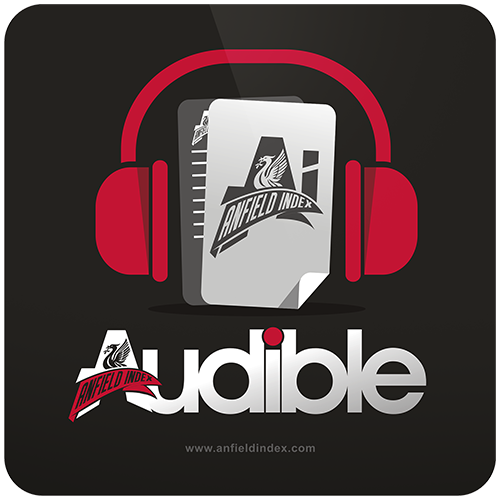 Listen to this article via @AIAudible !
If you want to make a Liverpool supporter sick to their stomach, ask them to think back to January.  It was not a fun month.  What was looking like a juggernaut of a team lost Mané to AFCON, Coutinho and Matip to injury and suddenly we were struggling against lower league competition.
Klopp did what he could to right the ship and eventually found a formula that wasn't as entertaining, but brought results and a finish in the Champions League places. However, the manager's decisions in those winter weeks may be costing the club untold millions right now in the transfer window.
Going into the summer any casual supporter could see that Liverpool needed one wide player to at least avoid catastrophe in the matches where Mané is absent and another centre-back to add to a thin and inconsistent group.  And, even the biggest James Milner fan knows that Liverpool need an additional left-back to at least caddy for the 32 year old over a 55+ game season.

After those three glaring needs though, the areas where the club needs to buy in the transfer market are the subject of much debate.  Why is it unclear?  In that congested January schedule where most top-six teams were testing their young prospects in the League Cup, the FA Cup and in the League, Liverpool barely gave their elite youngsters any run, especially Ovie Ejaria, Harry Wilson and Sheyi Ojo.
| | | |
| --- | --- | --- |
| | Total Minutes | Starts (Subs) |
| Alexander-Arnold | 432 | 7(5) |
| Woodburn | 360 | 4(5) |
| Ejaria | 429 | 5(2) |
| Wilson | 25 | 0(1) |
| Ojo | 104 | 1(1) |
Alexander-Arnold was given a decent amount of appearances compared to other Premier League debutants whose teams were in similar situations like Chelsea's Kurt Zouma (6 starts, 8 subs).  As a result of seeing him perform on the pitch we're not shopping for cover at right-back.
Klopp's decision not to bring on Ojo and Wilson though, even in matches against lower league competition as starters or even as subs late in matches already decided was confusing from a strategic standpoint at the time, but it looks even worse now that we're making important calls on who to buy, who to sell and who to loan.  Despite an obvious lack of speed in the team in Mané's absence, Ojo was left out.  Despite a clear lack of goals in the team over that period, Harry Wilson was left out even as he was tearing up the Under 23's.
So now when we're prioritising our transfer targets, how highly do you prioritise additional depth on the wings?  How much do you spend?  Are any of the trio of Woodburn, Wilson and Ojo ready to supplement Mané and Salah?  Liverpool's coaching staff sees these players every day in training, so you'd hope that they have an idea, but did they miss a real opportunity to test them against real opposition?  Can they handle coming out of the tunnel in some European capital with everything on the line?  Can he handle key minutes against a stubborn opponent Anfield, in front of a nervous home crowd?
We would like to think that all four would perform well if given the chance.  It's a shame they weren't given time when the risk was so low.  Playing the veteran you know who is at 70% of their normal capacity versus a top rated academy product shouldn't be a drop-off if it is at all.
Similarly in midfield where we often turned to an injured Emre Can or an aging Lucas, would Ejaria's size and physicality not have been a plus for some of those matches?  While we chase Keita and Oxlade Chamberlain for already stacked midfield positions, Ejaria must be wondering what might have been and what will be.
If, as it has been reported, Ojo is sent out on loan and we buy a player like Oxlade Chamberlain to fill his spot as our reserve winger, what does that do to the rest of the budget?  And does that block that position for the foreseeable future for Ojo, Wilson, and Woodburn?
Imagine if an extra ten or twenty million GBP were the difference between signing one of our top targets or not and we're unwilling to spend it because we have it budgeted for positions that Ojo, Wilson or Ejaria could potentially cover. For a club that many complain doesn't spend enough, we seem in no hurry to push these low-cost youngsters forward.
From the glass-half-full perspective, let' assume that the Van Dijk and Keita sagas end positively… Is a versatile pro like Oxlade Chamberlain or Keita Balde the next target?  That would push estimated transfer spending from the "wow" category to the, "pick me up off the floor" range.  Perhaps Klopp has already made an assessment of Ojo, Wilson and Ejaria and just wants to get a positive loan deal to pump their value going into next summer.
Calculating the career trajectory for our Academy stars would simply be guesswork at this point and that's a shame given the chance Liverpool had in the middle of the season to test them against real competition.  Hopefully Klopp knows best.