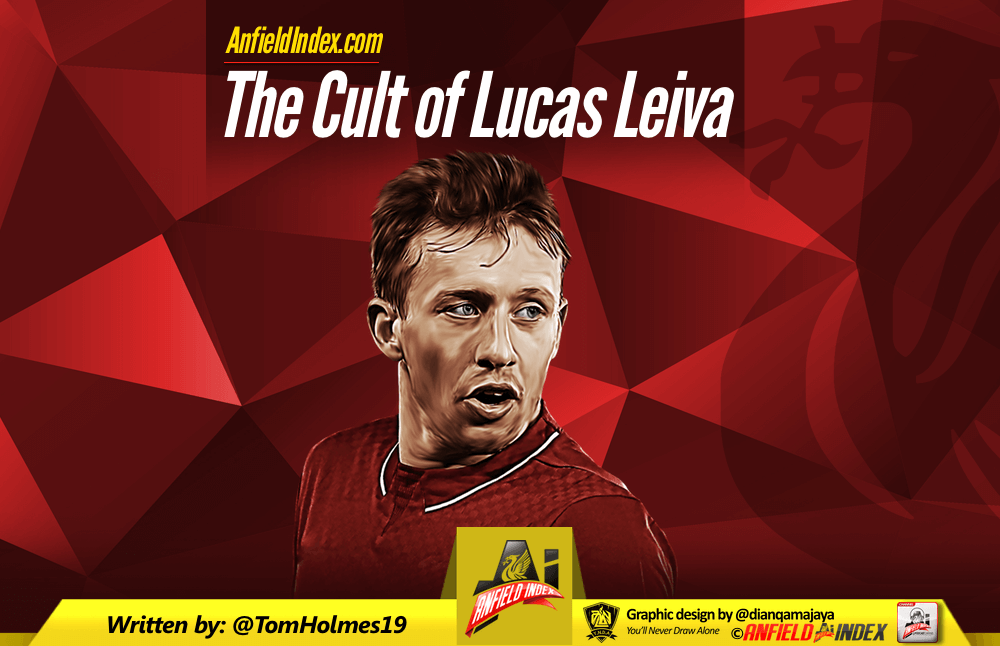 The Cult of Lucas Leiva
Liverpool fans are an emotional and nostalgic bunch. We feel the need to eulogise our players to the point where there always needs to be someone at the club who can be considered a legend. With Lucas Leiva the longest standing player at the club and the only member of the first team who was around the last time we won a trophy except for our captain (and God knows our fan-base will refuse to acknowledge Hendo as a good player now, let alone a legend), it is Lucas who is currently, strangely, being eulogised.
And that's not to say Lucas hasn't done Liverpool a service over his decade at the club, but it is fair to say that to think of him as being a great player for the club is simply not accurate. Liverpool have had many great players over the last ten years, but Lucas simply isn't one of them. He's an okay defensive midfielder who's had a couple of good seasons at the club and plenty of below average seasons. He was poor for a handful of years after he joined, then had a few decent seasons before fading out of the limelight again in recent years.
So why is Lucas bizarrely seen as, a sort of Dirk Kuyt or Xabi Alonso like figure, someone who has given his all for the club and has been an extremely good player for us over a number of years?

Well, part of it is as I say, the need to have someone. With Gerrard and Carragher both retiring, the likes of Reina, Kuyt and Alonso also all gone too, and even Luis Suarez has now departed, Liverpool fans need someone to embody the club. They need to have a player on the pitch who represents Liverpool Football Club. And Lucas, having been around the club for ten years, is seen as that player.
Another reason that Lucas is seen as a great amongst fans is that he's the only player left from the Rafa Benitez era when Liverpool were regularly and consistently competing for trophies, and of course, won several trophies. Although Lucas only won one trophy at Liverpool, the 2012 League Cup final which he didn't feature in (although Henderson started that game), the fact that he played alongside Gerrard, Torres, Alonso, Kuyt et al in their prime means that he has the nostalgia factor attached to him that makes him almost a great by osmosis.
And a third reason is that Lucas absolutely loves the club. Whilst his loyalty per se hasn't been tested in a way that Gerrard's was in 2005 since Lucas hasn't been linked to a bigger club than Liverpool, he's also turned down the opportunity to leave to get more game time. Moreover, he's a popular figure amongst the fans on social media with his signature quote: "unlucky" as well as his usage of it to troll Everton fans.
So has Lucas earned some of the love that comes his way, or is he a perennial underperformer who has struggled to contribute over the last decade? Well, the answer is somewhere in the middle. Certainly, Lucas has always played second fiddle to technically superior players: Gerrard, Alonso and Mascherano in the early stages of his Liverpool career; Henderson and Emre Can in the later stages and um…Charlie Adam?
Lucas has never been a hugely successful player at Liverpool. He had a poor start to his Liverpool career but found himself elevated by the departures of Alonso and Mascherano, along with the lack of quality replacing them in order to excel in the team between 2009 and 2011, starting 32 games in both the 2009-10 and 2010-11 season.
The problem is that Lucas' better seasons came when Liverpool were at their lowest point. With the likes of Henderson emerging as a real talent, Gerrard a stalwart in the side and Liverpool signing some genuinely classy players since 2012, Lucas has increasingly fallen away in terms of significance to the side. Lucas can still do a job in defensive midfield, but simply put he is a huge step down on Liverpool's available options and as a converted central defender he is simply a disaster. Whether he can't cope with a high-tempo based game or simply isn't that good, Lucas' performances in the Jürgen Klopp era have been synonymous with every backwards step Liverpool have taken.
Lucas isn't a bad player, far from it, but he's not a particularly good one either. Which makes it strange that Liverpool fans have chosen him to make as the new "legend" of the club. Especially when we consider that Martin Skrtel was abused consistently on social media before he left last summer despite being at the club for 8 years, engaging in some of the club's highs but never really rising above average or being able to shake his liability tag. Certainly, there were periods where Lucas and Skrtel together was a recipe for conceding goals, yet with Skrtel gone, Lucas seems to have gained a new level of reverence.
Liverpool fans are a nostalgic bunch, but maybe we should let the idea that Lucas is a Liverpool hero die, especially if that false perception continues as we concede more goals with him on the pitch in 2017/18. He's not good enough for the club, he hasn't been for several years now, and it's okay to accept that.