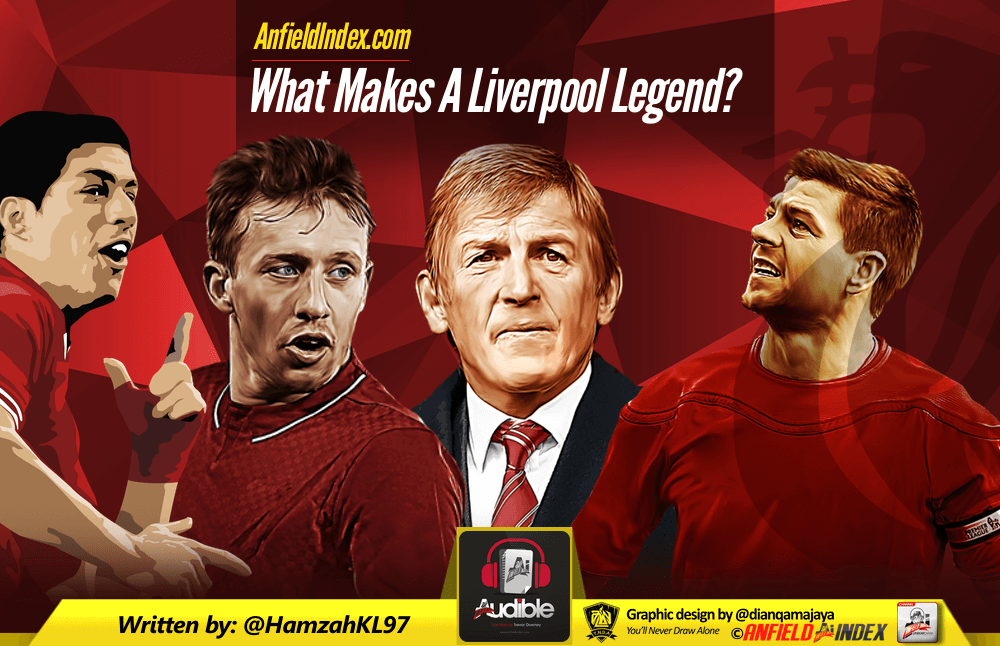 What makes a Liverpool legend?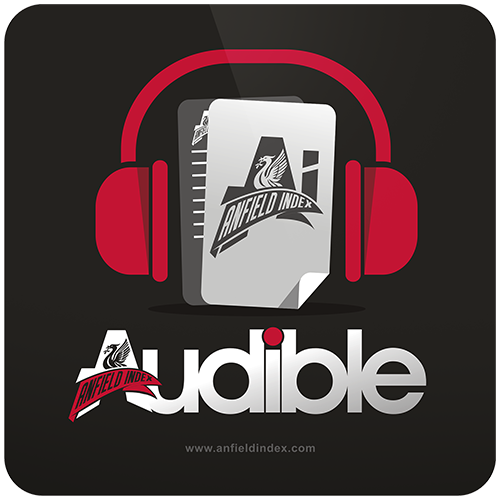 Listen to this article via @AIAudible !
It's an interesting question and one which, more than anything else, I'd just like to discuss with you readers.
If you're interested in sports other than football, over the past few weeks you may well have heard or seen some 'legendary' players, teams or performances: there was Mohamed Amir's bowling spell in the Champions Trophy Final against India, India's own Virat Kohli – an indisputable legend in the making – or maybe the New Zealand Rugby Union team, and its current captain, Kieran Read, or perhaps Roger Federer, Rafael Nadal & Novak Djokovic, all of whom were playing at Wimbledon.
You may have noticed a certain Andy Murray is missing: he has only three Grand Slam titles to his name. Hence, one may question whether he is an all-time tennis legend. It seems the relativity and context to achievements certainly plays a role in whether he is considered one, as when judged against British standards, and the inability to produce a British Wimbledon champion since Fred Perry, Sir Andy Murray is a definitive legend of the British game. The value of this point is to see the importance of how the number of titles may not be an absolute determinant of status and that whilst titles may be considered an indicator of legendary status, the number itself is only one factor amongst others.

Now, this brings us very nicely to the discussion of what makes a Liverpool legend: is it titles, individual success, longevity, the player's skills or qualities or something else entirely?
AI's Simon Brundish & Tom Holmes looked into this matter on Twitter, in response to claims that Liverpool stalwart Lucas Leiva was a 'legend'.
Intrigued by the debate, I pressed for what constitutes being a 'legend'.
Tom set out his parameters for what he felt may indicate what defines, or contributes to being, a 'legend':
'Success, dedication, pure skill… are all factors, but also fan perception and sheer joy watching someone play are all part of it.'
Whereas Simon set out his simple four-point criteria:
'Success, involvement in said success, performance, longevity.'
So, to the matter at hand: is Lucas Leiva a legend, when judged against the criteria?
In terms of success, Lucas has a solitary League Cup success to his name, and he did not even feature in the final. However, this was also to be Luis Suarez's only success with Liverpool, a player who frequently is mentioned alongside de facto legends, such as Gerrard and Dalglish – so it may be revealing to look at whether Suarez is a legend too, later on in this piece.
For now, the discussion is limited to Lucas, and it's clear his involvement in the League Cup success of 2011-12 was very limited. But Tom's point regarding 'dedication' cannot be overlooked, and Lucas Leiva is a player of immense determination.
Following his arrival from Gremio, Rafael Benitez attempted to remould him, from a box-to-box midfielder into a defensive one. At times, it was clear Lucas was struggling, but his determination cannot be arraigned; not only this, but he soon became a fan favourite, no doubt helped by those LFCTV videos in which his pronunciation of the word 'unlucky' soon became a meme. In interviews, he has described his family as Scouse and detailed how he feels scouse too. It's clear that he is popular, and he remains the last remnant of the Benitez and pre-FSG era – having served under five different managers at the club. To put this into context, Lucas has played more games than 'God', Robbie Fowler. Fowler, though, was native to Liverpool, a goalscoring prodigy, and a contributor to five trophies that Liverpool won.
The criteria set out seem to be accurate in defining a legend, so far. Lucas may have longevity on his side, but to consider him alongside players such as Gerrard, Dalglish, Fowler, Rush etc., may be a step too far for the Brazilian.
However, the criteria fails to reflect popular opinion in certain cases, such as that of Michael Owen. Owen scored 118 goals in 216 games for Liverpool, a record remarkably similar to Fowler's 236 appearances, and 120 goals. Unlike Fowler, he had one more title with Liverpool, and contemporaries considered him to be one of the best English strikers of all-time. Both his and Fowler's longevity pale in comparison to that of Carragher, Gerrard and Callaghan, but when it comes to that 'sheer joy', Owen is up there with some of the very best. However, the manner of his departure and subsequent signing for Manchester United has seemed to sever his ties with Liverpool FC rather deeply, and despite his own contribution on the pitch and satisfaction of the majority of criteria set out, his 'legendary' status as a Liverpool player is questionable, as the fans' opinion shapes the discourse of what is/n't 'legendary'.
Broadly speaking though, the criteria does seem to conform to the popular understanding of what a club legend is. But where do immensely talented or successful players, who only featured briefly, lie within Liverpool FC folklore?
Players including Torres and Suarez, and even Gary McAllister all have a right to claim a degree of legendary status.
McAllister for instance only played 55 games for Liverpool but managed to contribute to, and secure, 5 titles in that short time, in which he developed into a fan favourite. Averaging 11 games per trophy puts him in the all-time great territory, but you would rightly be hard pressed to find an all-time midfielder list with McAllister ahead of Gerrard.
Torres meanwhile won nothing with Liverpool, but was a huge fan favourite, and blitzed through previous goalscoring records. Indeed, only after around 18 months at the club, Torres was selected as the 50th greatest Liverpool player of all-time in The Times' 'The 50 Greatest Liverpool Players' piece.
Similarly, The Telegraph compiled a similar piece in March 2015, in which Suarez featured higher than Alan Kennedy (40th), Phil Neal (31st), Torres (23rd), Owen (22nd), Carragher (19th), Clemence (13th) and Alan Hansen (10th).
Is Luis Suarez a legend though? He does not quite have the longevity with the club, nor does he have the definitive successes either, indeed his best season can only really be described as a bittersweet one for the club. That being said, there are very few players that have played for Liverpool that managed to bring joy and excitement to the fans at the frequency that Suarez did, and there would not be too much consternation if he featured in an all-time Liverpool XI, as one of the most talented players to have worn the famous red jersey. That being said, if Suarez's claim to legendary status is mainly based upon one season, and flashes and patches of brilliance preceding that, where does that leave Sturridge, who contributed immensely to that season, and still remains at Liverpool, or Coutinho too, who has now blossomed into Liverpool's best player, now? It's curious as despite Sturridge's 21 goals in 2013-14, or Coutinho's big-game performances, leadership and goals since Suarez's departure, the normal fan would be considered deeply misguided if they argued either player was currently a Liverpool 'legend'.
Arguably, any Liverpool player involved in a major success is a 'legend'. The Liverpool teams that dominated domestically and in Europe are widely considered 'legendary' and are composed of such players – but where do players such as Riise, Garcia or any other player involved in the 2005 Champions League victory feature though, considering they were part of one of the most legendary finals in footballing history. Surely they all have a claim to being a legend, but then again, placing Djimi Traore alongside Kenny Dalglish seems extremely strange.
There are certain players that are undisputedly regarded as legends for Liverpool though: Dalglish, Gerrard, Souness, Barnes, Rush, Hansen, Molby and so on; but as we've moved into an age of fewer local youth prospects, and greater numbers of quality players, who stay at the club for shorter periods, our old definitions and standards may need to change: as for players like Alonso, for example, his contribution differs vastly to that of Alan Hansen.
The issue is, the term 'legend' is used far too frequently, and in far too broad a context for us to definitively point out which players are legends. There are undeniably legendary performances from many an LFC player, such as Jerzy Dudek's inspired Champions League final display, which will stick with many a fan to their grave. However, this is where must distinguish between the varying types of 'legends', for there are those that are remembered for individual games, titles or performances, those that satisfy the criteria laid out above, whilst there are also others that have gone above and beyond the call of the club and the city, and some that simply rewrote the history books with their numerical contributions. The question is, is there really a way to define a legend? For when it comes to titles, decorum, leadership, and contribution off the pitch, there is only one player that stands out – Kenny Daglish. But when we look at on-field quality, dedication, and leadership in tougher – in terms of footballing challenges – times, Steven Gerrard certainly has a claim to being the greatest, and most legendary player for Liverpool.
The truth is, there are very different types of Liverpool 'legends', and it's their own individual attributes and qualities that contribute to them being 'legends'. For now and for the future, this discussion will continue, and I only ask that you readers will offer me some insight into what you feel makes a Liverpool legend too.