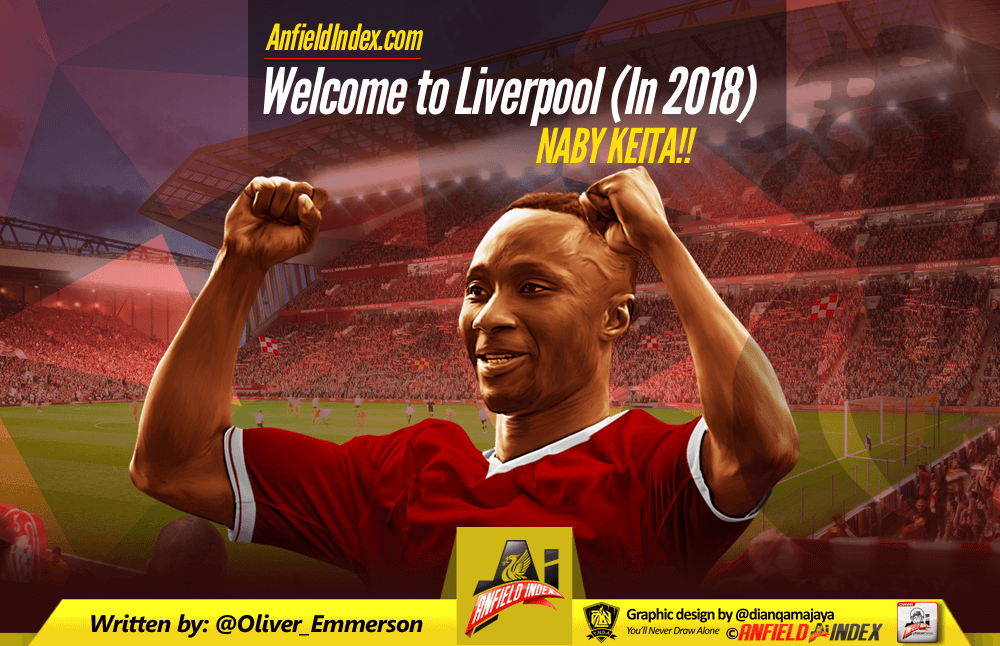 Welcome to Liverpool (In 2018), Naby Keita!
We've got him, he's ours. I feel like a child who has just wandered downstairs on Christmas Day, and so should you.
Naby Keita is a Liverpool player. A Red. A Scouser.
Admittedly, many people – myself included – hadn't heard of him this time last year. But, if a week is a long time in politics, then a year is a long time in football.
Indeed, politics has played some role in the transfer, with the rare way in which the selling club, RB Leipzig are funded.
Red Bull, dead set on being the best in the world at drinks, football, F1, scrabble and tea making, wouldn't sell. "No, no no" screamed the club, until their resistance broke.
It's good business from Leipzig in fairness to them, they've made a huge profit on a player that has only had one full season in a top five league, and kept him for another year whilst receiving a little over his release clause.
However, given the public stance of the German club in the weeks that have gone by, Liverpool have walked in and firmly crushed this particular can of Red Bull.
Credit must go to the owners and those that they employ. Money has been put down and a very tough deal to complete has been done despite much resistance.
Getting a deal done in such a way where, Liverpool may buy a Thomas Lemar, and pay £30M less for Keita in a year than they would have done this summer – whilst ensuring no other club gets in the way in the proceeding 12 months – is a move that'd we'd laud another club for doing. No supporter saw this coming, not even those using the android app for bet365.
Whether it's something of a 'turning point' in FSG's tenure of the club may depend much on whether or not Liverpool land Virgil van Dijk in the remainder of the window, but credit where credit is due – the Yanks did well.
There is still work to be done. A gaping hole at centre-back needs filling, another body or two in the front six could do with coming in. However, smashing the club record – something that is overdue and may be done again before the window ends – on one of the Bundesliga's hottest talents, deserves praise.
Despite the impressive performances of Adam Lallana, Jordan Henderson, Emre Can and Gini Wijnaldum last season, Keita will walk straight into the side with no room for excuses in a year's time, assuming he keeps up the form that has made Liverpool so interested.
With the potential to be the best midfielder in the world, he's a player that could well transform Liverpool into a next level side.
Fans elsewhere may mock the fee. You've got to ignore it in the current climate. When our 'getting noisier' neighbours are splurging £40M+ on a 27-year-old from Swansea City, it puts things into perspective a little.
Coming into the summer, centre-midfield would have been one of the last position's that Liverpool fans would have expected the club to upgrade in.
But when a game changer becomes available, it changes the game.
To an extent, of course, Keita wasn't available. He wanted Liverpool though, he wanted Klopp. We wanted him, and we've got him.
Welcome to Liverpool, Naby.
If you're looking for more content on Naby Keita you can read more articles here.