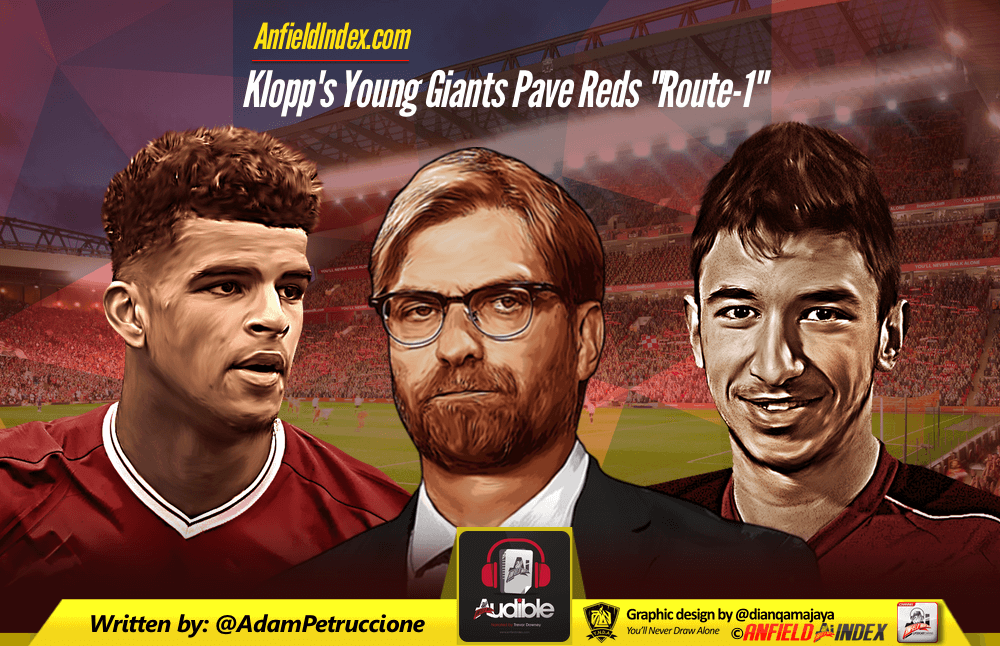 Klopp's Young Giants Pave Reds "Route-1"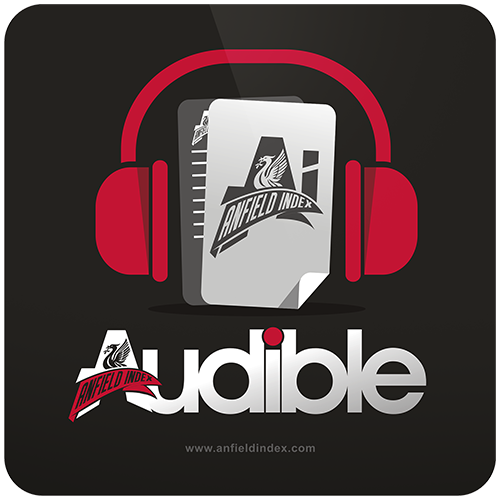 Listen to this article via @AIAudible !
Impact off the bench. Not since Ryan Babel nearly a decade ago have Liverpool had a reliable impact sub.
For Jurgen Klopp it hasn't been for a lack of trying.  During his first few months with Liverpool he made use of Benteke, Steven Caulker and even goalkeeper Shamal George as an auxiliary striker off the bench.
Liverpool's manager hasn't been afraid to get creative when the Reds have needed to chase a game.  However, last season because of injuries and the make-up of the squad, Klopp lacked the ability to really change games from the subs' bench.  Even when the squad was relatively healthy the options available were largely like-for-like subs or awkward fits for his system.  We were often left frustrated against low-block defences with no options available to make a breakthrough.
Enter the twin-towers, Marko Grujic and Dom Solanke. At 6'3" and 6'1" respectively, these two football behemoths have not only the size to punch through a parked bus, but the athleticism to do so without completely disrupting the flow of the team.
In Liverpool's first preseason game against Tranmere, Grujic started and was deployed in much the way that United uses Fellaini.  The Serbian would patrol the edge of the box, posting-up defenders, making himself an easy target for entry passes.  He was able to turn and shoot or lay the ball off into dangerous positions for his teammates.
On the 33 minute mark, Grujic saw the Fellaini comparisons and raised them.  Cutting in from the left, Marko took a simple Sheiy Ojo pass and rocketed it into the corner from 25 yards, bringing the visitors at Prenton Park to their feet.
In the second half, Solanke made his Liverpool debut as the striker, receiving the ball on either side of the box and forcing several saves, including one that lead to Chirivella's goal to make it 3-0.  Similar to Grujic, Dom's size is the obvious threat, but his movement surprises opponents.  He is a target man who doesn't need to be stationary.  When defenders brace for a physical struggle he can just pivot and sprint away.
If we've learned anything as Liverpool fans it is that guessing what Klopp will do with his personnel is no easy task.  But if Grujic and Solanke continue to show promise as the pre-season opponents improve, the manager will have a new and potent option to bring one or even both off of the bench to break Pulis-esque defences.
United saved many points last season pairing an ageing Zlatan with a limited Fellaini late in games.  Morinho didn't care about the criticism of his "route-1" football, nor should he since it was largely effective.  With the signing of Lukaku and months long chase of Inter's Perisic, he clearly believes size matters in the Premier League.  If Klopp calls upon Grujic and/or Solanke late in games it has the potential to be just as impactful as Jose's style without being quite so hard to watch given the duo's movement.
The remaining weeks of the summer are sure to bring further additions to the squad and there is every chance that Marko and Dom will be pushed down the pecking order so far that we won't see them until the cup games start. Most 20/21 year-olds wouldn't be relied upon to change games for Champions League teams, but based on the early returns, these aren't just your average kids.
And wouldn't it be great for a manager who famously was forced to use Steven Caulker to pull a late game miracle at Norwich, to have two young giants to call upon the next time any opponent dares to park a bus anywhere near Anfield.