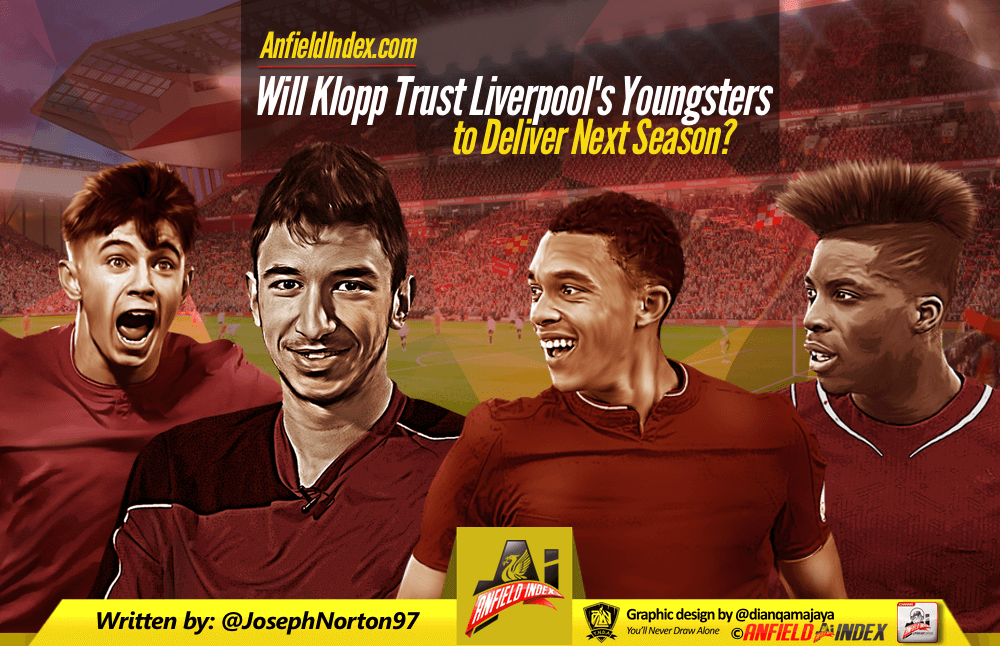 Will Klopp Trust Liverpool's Youngsters to Deliver Next Season?
Having watched Klopp very closely over the past year and a half, it has become clear that there is one trait that he values above anything else and that's trust. A player can have all the ability in the world but if the German doesn't trust him to fit into his system and to play the way he wants them to then you simply won't have much of a future at Anfield. Klopp is so particular about both his defensive and offensive tactics that he will not tolerate anyone who won't listen to his ideas and start to implement them on the training field and more importantly on the pitch, this is the exact reason why Mamadou Sakho for example is unlikely to have a future at Liverpool.
But if the Reds are going to compete on all four fronts next season then Klopp will have to start trusting the youngsters and his squad players a lot more than he'd did last season. How many times last year did we see the German not make a change before 70-75 minutes, this was because although his starting eleven were beginning to tire, he trusted them to execute his game plan rather than relying on someone off the bench such as a Divock Origi or Marko Grujic, both of who have quality but didn't quite have his full trust. This only reinforces how important pre-season will be for the Reds as it allows Klopp to implement his tactics on his squad meaning he should have greater belief that his growing squad can implement the playing style he desires. The only way Liverpool will be able to challenge in all competitions next season will be if the German rotates his squad and believes in a very talented pool of youngsters our academy continues to produce.
There were probably two players who had breakout years last time out, the first 18 year-old Trent Alexander-Arnold who started 7 games in all competitions and impressed in both the League Cup and particularly on his Premier league debut at Old Trafford when he was up against the electric Antony Martial – dealing with the whole situation incredibly well. The other was 17 year-old Ben Woodburn who became the Reds' youngest ever goalscorer when he sealed a 2-0 win over Leeds in 2016. Alexander-Arnold appears to be the closest player to making the breakthrough into the first team as he is now pushing Clyne for the number one right back spot and will be expected to play up to 30 games next season. Most of these games will be in domestic cups and a Premier League game in a three game week in order to keep Clyne fresh and injury free. Should Trent continue his impressive development he should also be considered as first choice right-back at home against teams who sit in a low block such as Burnley or West Brom as his offensive output far surpasses his team mate's. It seems as though Klopp really likes Trent and is growing in confidence in him, therefore, if the Englishman continues to impress in pre-season the German must rest Clyne when needed ensuring he is as fresh as possible and also contemplate using Alexander-Arnold in games which are more suited to him, to get the very best out of both of them.

Although I think Klopp really likes Woodburn, who is clearly a very talented and intelligent prospect, I think the Welsh international may struggle to start more than about 10 games next season because of the competition for places in the attacking third. It looks as though his best position is in the number 8/10 and the Reds are blessed with strength in depth and quality in that position, therefore, I find it unlikely Woodburn will feature that heavily this season even in the domestic cups. However, if the Reds are to pick up a few injuries the boss must believe in Woodburn's quality and allow him to implement his tactics as he's shown he has both the quality and temperament to do so.
Marko Grujic, although he is not a youngster as such is another one who Klopp seems to really like but didn't trust at the back end of last season. When the Reds' midfield three was missing Lallana, the lack of creativity and attacking flair was startling and the Serbian would've been a perfect player to bring in but for one reason or another, I think trust and possibly a few fitness concerns, Klopp was reluctant to play him. After another pre-season under the German, should Klopp find himself with a similar scenario then he should believe in Grujic's class and play him so he can demonstrate to everyone just what quality he possesses. If the Reds do complete the signing of Keita, then even with European football it is unlikely the Serbian will be required to play in Premier League and Champions League games but due to Klopp's high energy style the boss should contemplate having a domestic cup team compromising of all the non-regulars in these games. Grujic clearly falls into this category and therefore, I would expect him to play a big part in both the domestic cups. Having him in midfield alongside the likes of Adam Lallana and Gini Wijnaldum will ensure the Reds can really mount a challenge on all fronts.
As for players such as Joe Gomez, Ovie Ejaria, Harry Wilson Ryan Kent and Sheyi Ojo, their roles next season seem slightly unclear. Due to Liverpool's lack of options out wide I do think at least one of Kent or Ojo will be kept and should be trusted to come into the team should Klopp want a like for like replacement for either Salah or Mane. Having a winger who can replicate Salah's and Mane's pace and dynamism is crucial if the Reds want to succeed, particularly in the league and Champions League as emphasised by how much the Reds missed Mane last year when he was at AFCON. I am not for one minute suggesting Ojo or Kent are anywhere near the level of our two first choice wingers but having at least one of them as back up would make sense as both players will need resting in games other than the league cup and FA Cup due to our high energy playing style. Therefore, having one of these players start say 5 games in the league to simply replicate our two flying wingers attributes will allow the team to play the same way in the majority of our games next season.
There is no doubt that Klopp is brilliant at developing and integrating youngsters into the first team and I think one of the main reasons he's so weary of playing them in too many high profile games is because he rates them so highly. The German seemed to be reluctant to play the likes of Alexander-Arnold or Grujic last season because he didn't want to hamper their development by putting them in pressure situations which could really set them back. However, after having another pre-season to work with our talented group of youngsters and because of the number of games we will have to play next season, the boss must trust them to go out and implement his tactics, allowing them to develop and grow as players on the pitch rather than just on the training field. Should Klopp show a similar reluctance to play the youngsters alongside the first-team regulars like we saw in the league last season when we were struggling, then the Reds will find it difficult to compete on all four fronts. However, if the German continues to integrate them into the first team then we should see a Liverpool side that has real good chance of winning more than one trophy. Liverpool has always been a club that develops top quality youngsters so let's keep it that way and use it as a strategy to cope with the added demands of Champions league football.