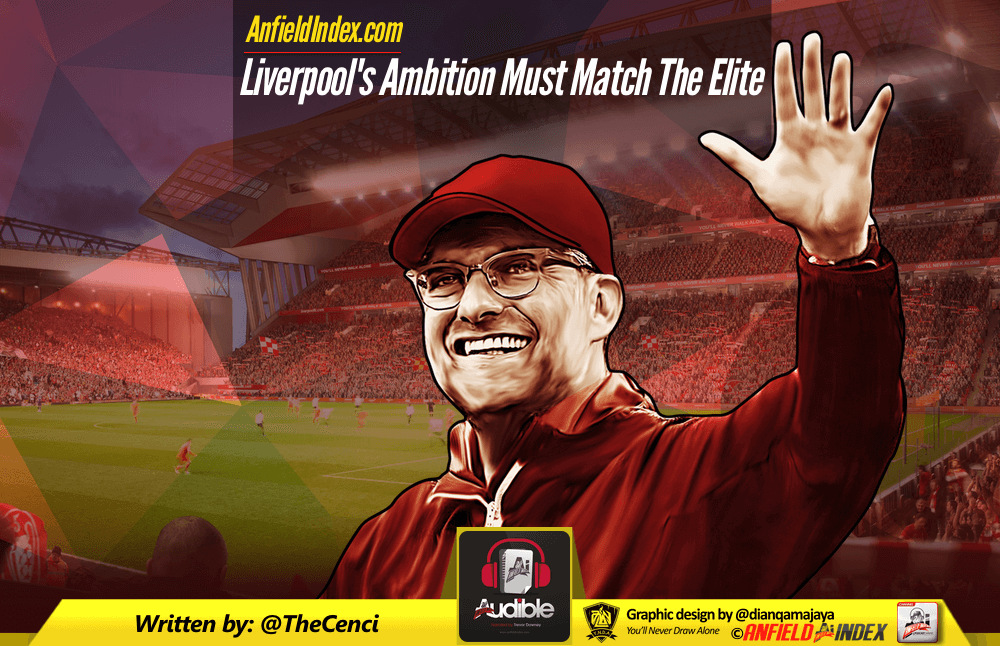 Liverpool's Ambition Must Match The Elite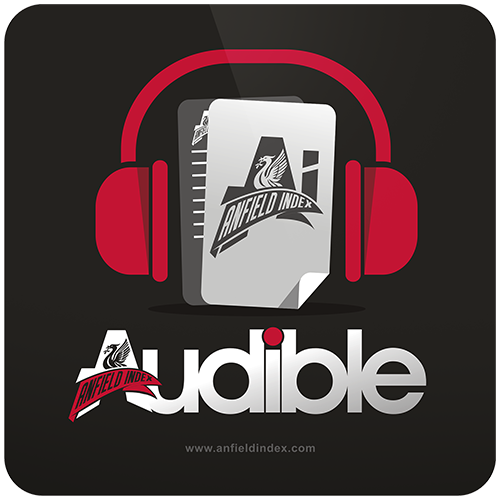 Listen to this article via @AIAudible !
I'll say this at the outset.
I'm in two minds about writing this.
Back in April, fresh from the derby win at Anfield, I wrote about Ronald Koeman's comments of satisfaction at the Blues' performance and how they deserved better from their 3-1 defeat. I did all I could to follow his reasoning and wondered what he had seen that was denied to me as Everton pretty much gave up once Origi scored the strangest long shot of the season, but there you go. Anyway, in the days following that game the DJ Mike Parry from Talksport, possibly embarrassed and keen to divert attention from the result and performance, announced his disgust at actor Daniel Craig's appearance in the Main Stand and spouted some guff about James Bond belonging to the nation rather than to a single club.
Of course, my column was made against a soft target. Parry knew full well that James Bond is fictional while Craig is a real human being with a life and football club away from film sets and sound stages, but I added his observations to Koeman's.
Well, Parry has been at it again and though I feel uneasy about giving him more column space, I feel I have to. See, this time he's come up with this beauty.
"I think Everton will easily finish above Liverpool .. by 3 .. Everton can challenge for the Prem Lge title .. can win it …"
Easily? You haven't won at Anfield in 18 years, Mike. Well, if that's his opinion then fair enough. Why two minds?
Well, I have a bit of an unwritten rule about this sort of thing.
For those unfamiliar with his work, Mike Parry hosts a radio show with his fellow Mike – Mike Graham – in the graveyard slot of 1am-4am. 'The Two Mikes' are fairly benign though Graham recently used the hashtag 'Murderers' when arguing with a Liverpool fan about Heysel (he apologised afterwards).
Anyway, Parry is an Everton fan, as you'd assume, and a big advocate of everything Blue in this world. Again, fair enough. No law against that.
My unease about writing about covering him again is that, like many on that station (though by no means all) he is a shock-jock by nature and would say anything to stimulate a debate on his show or interactions on Twitter. Again, I'm fine with that and if people are happy to feed the beast then that's up to them.
But my own personal rule is to avoid feeding time in the DJ pen. I much prefer to leave them to it and not add to their scalps. I've already done it once so twice would be unforgivable. Granted, this is an unfair comparison, but it would be like trying to reason with Katie Hopkins. She doesn't want your argument, she wants your time and outrage as it fuels her career and that comes before anything resembling a genuine conversation about ideas. Mike Parry is no Katie Hopkins but he too exists on 'debate' and controversy.
But his tweet has got under my skin a bit, I can't deny that, so I'm here again.
It was made to annoy people, of course, but there's something about it that I find quite admirable. Yes, admirable. Oh, this is largely accidental as I suspect his motivation is more click based rather than any attempt to demonstrate insight or even support, but I can't help but agree with his right to say it.
See, I'm all for Everton fans – genuine Everton fans that is, not the man who read The Sun on the Tube on his way to Wembley, had his photo taken while reading it and had no problem with tweeting a photo of him doing just that despite his allegiance – talking about their team finishing above us. What's more they should extend that to wanting to win the League. They should be ambitious. They should be thinking 'Why not?'
I mean, alright, it may not be based on anything resembling reality, never mind probability, but every fan of every club should be looking at the impossible dream rather than accepting that they belong at a certain level.
Everton tend to end up with a top eight place and have a crack at the Europa League. That's their station, if you like. While that in itself is not the worst position to be in there's nothing wrong with looking above it. Ambition is important regardless of status.
So while it's fine to take the piss out of him for saying that (and I did), I'd hate to be someone who limits his club's ambition to a mean. Aim high. Higher.
The same goes for the Reds.
I want Liverpool to go into the new season wanting – even expecting – to win the League.
Not go close. Win it.
We may be far away from Chelsea and Spurs in terms of consistency, but we know we have the firepower to beat them on any given day. Of course, we took four points off both of them last season so when it comes to eleven versus eleven we can stand against them and, well, anyone really.
We have the ability, but usually lack the gumption.
Over the years the club have looked at the lesser target, of top four, of qualification rather than the golden sun. I'm fairly sure that when Liverpool chose to prioritise a second successive top four place back in the summer of 2014 rather than an all-out assault on the League, they wrote Brendan Rodgers' death warrant. We bought bodies rather than talent and all the momentum gained in the final months of that incredible season wilted like a hothouse flower. Liverpool went back to mediocrity because we thought that being in The Big Cup was enough. Well, it isn't enough. It will never be no matter how much you shout the word 'stability'.
That's not to say that getting fourth place on the last game of the season wasn't a hell of an accomplishment. We've done brilliantly for a club who decided not to buy in January when we were in a real Championship conversation. We may have fallen over the line to some extent but we've got there and that deserves credit, but it's a step on the path, not the destination.
Jurgen is absolutely right to say that Champions League qualification is the very minimum requirement now and that we should be looking down the path for bigger and greater times. Yes, we should be looking at the League title.
And, as in Everton's case, though not quite as marked, there's much against that happening but if you don't want to BE there then you've simply no chance of ever winning the thing. Everton won't win the League and we'd have to have a pretty nightmarish season for them to finish above us, but they should at least be aiming to be there rather than hoping for the usual top six finish and 'beating the Redshite'.
It'll be interesting to see if our club announces a target for the new campaign. I hope they don't as it should always be the same thing – the League. Sure, a domestic cup and even the Champions League would be great, but we exist to add to that 18. As the man said 'that's our bread and butter.'
So I find myself in the unusual position of supporting Mike Parry even though I suspect he doesn't mean it.
I doubt I'll sleep tonight.