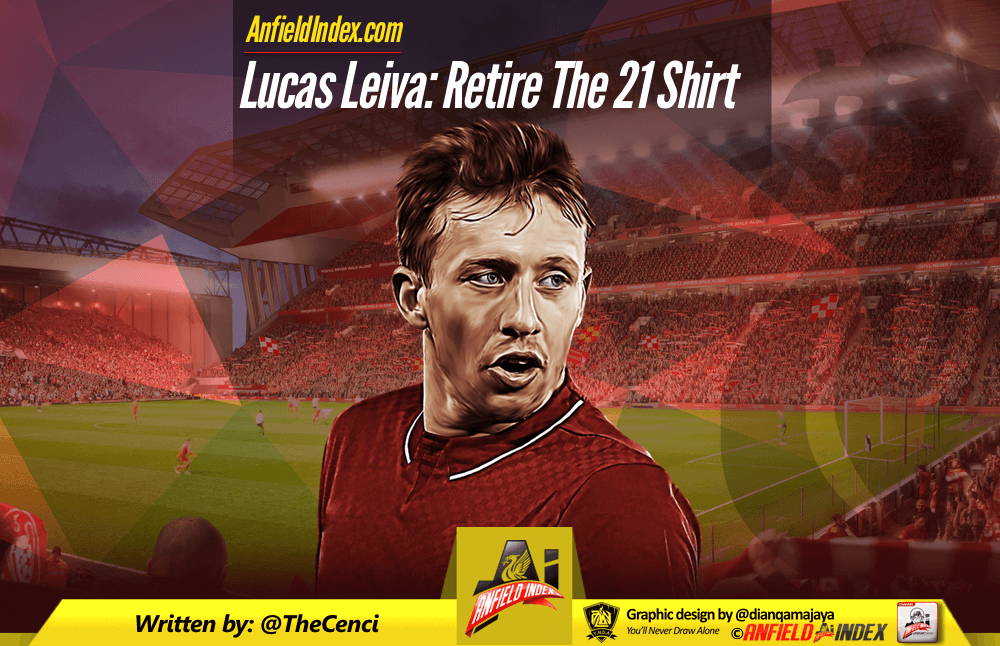 Lucas Leiva: Retire The 21 Shirt
"People just don't know just how good Lucas is" – Rafa Benitez, 2009.
Well, I think this is it. He's finally gone.
On Sunday, Lazio tweeted a photo of Lucas Leiva holding one of their scarves and unless he bought it at the airport and just happened to have been spotted by the Roman club's photographer, it signals the end of his Liverpool career. After ten years and 344 appearances, he's finally relinquished the number 21 shirt for good.

Of course, he's rumoured to be on his way for at least half of that time. As far back as 2011 when he did his cruciate ligaments in a surprisingly run-of-the-mill League Cup win at Stamford Bridge, fans and pundits have been saying that he'll be first out of the door when we cull 'the deadwood'.
Some will be ecstatic at this news. Many viewed his emergence in the latter part of the last decade as a form of insult to the shirt and colleagues. Never as flashy as Xabi Alonso or as cut-throat as Javier Mascherano, Lucas was always one of those 'Yes, but what does he do?' players.
Bought from Gremio for £5m (20p in today's transfer market) in 2007 he was bought initially by Rafa as a box to box midfielder, but, given whom his captain was back then, that role was never really needed so he was stuck in front of the back four.
His first goal – arguably his best, though that Bucharest goal took some beating – came in the odd game against Havant & Waterlooville in the third round of the FA Cup. His looping effort into the top right corner at the Annie Road end was seen more of a temporary aberration rather than a sign of things to come and he looked more surprised than anyone that it had gone in. That was also to be Martin Skrtel's debut and he would spend the next nine years fighting the Slovak for the Most Divisive Player award.
You either hated Lucas or you got on with him, like he was a mate. There was seldom any middle ground.
Things didn't improve once Xabi headed off to Madrid and we were left with the curly-haired Brazilian and the perma-knackered Alberto Aquilani. Lucas was used as a stick to beat Rafa with time and again once the gloss of the 2009 League challenge had thawed out to become the mush of 2010.
Lucas had spent much of that great season as the whipping boy and, when he was sent off at Goodison Park in the 76th minute of a Cup replay – a game we went onto lose to Dan Gosling and ITV – it was the final straw for some.
I can remember having heated discussions with a neighbour on the Kop around that time. This mouth-breather booed his name when it was read out as a substitute. I took umbrage at this and gave him several reasons why he was a tit. I told him that booing was the wooliest thing in the world, that doing it to a Liverpool player was stupid and still, that doing it before a game was worse as it was largely traditional to voice a platform of support as they took to the field and, most of all, that booing a man who wasn't even in the starting XI was a spectacularly dumb thing to do. We glared at each other several times for the next two hours. The other fan and I. Not Lucas. He'd spent this time busily tucking into a Lucozade bottle while sat on the bench, oblivious to the brouhaha he had caused low down on the Kop.
In one of Roy Hodgson's first pre-season games, the Brazilian was made captain. The poor lad just couldn't get a break anywhere.
It was under Dalglish where he hit his best form. That Chelsea cup tie saw him run the game and, though many may rub their eyes at this statement, his name was sung loudly on the terraces. Lustily, even. The Reds bossed the game and cruised to a 2-0 win with even Martin Kelly scoring. Chelsea played some big lummox called Lukaku that night and I predicted that he was too big and immobile to do anything in this country. We'd best leave that there.
But, of course, that game came with injury and it was an age before he returned to regular football despite Charlie 'no tackling allowed' Adam taking up the central midfield role next to the captain.
Later, in the doomed and downright ridiculous documentary, Brendan Rodgers persuaded his team to 'Do it for Lucas' and that gave an indication of just how popular he was in the dressing room, particularly with the South American players. Though the jury was out for many Reds, the first team clearly loved him. He was everyone's friend.
This was more than evident at Jurgen Klopp's debut game in charge at White Hart Lane when, at the end of the game, he sought Lucas out and they had a right old laugh as they discussed the 0-0 draw on the pitch. Klopp seemed curious to ask for his views before dishing out his customary hugs to all and sundry regardless of shirt colour.
Jurgen never really saw the best of him, of course, but the (by now) wily old campaigner scored the only winning goal in a nine game January 2017 with a header at Plymouth. By this point he was clearly labouring in midfield unless he had a runner with him and was pushed further back to play as a centre half. He was always last choice there but against the right opposition he was imperious. True, a modern day Thierry Henry could have had him on toast but when it came to defensive headers, he could more than hold his own.
And it was in his aerial ability in which he helped Liverpool the most in his swansong years. Not the tallest lad but one with a prodigious leap when needed. More than that though, he could manage the game well, knew when to smile at the referee in a Sami Hyypia way when he'd been caught leaving a foot in on an attacker and how to quietly rile an opponent who fancied himself a bit. The dark arts.
But that's in the past now. He was never going to get past Emre, Jordan or Gini in the central three next season and, if we're serious about buying a starting centre-back, he was unlikely to even become fourth choice there. He's earned that move and I, for one, hope he does well.
There are two incidents that will always make me love the man. One is at Anfield, the other at Villa Park. You're probably ahead of me here.
Firstly, there was the game at Stoke when he was getting dogs' abuse from the away support when he warming up as a sub. We went a goal up just as the Brazilian arrived at their end. Ordinarily, you'd expect a small celebration and even a hug if the scorer was near, but Lucas had other ideas. A huge grin spread over his face as he dramatically Henman fist-pumped in front of them, not caring about media training or a Corinthian spirit. Good lad.
The final word should be about his part in Rickie Lambert's goal celebration at Villa Park in January 2015. Here:
https://www.youtube.com/watch?v=YUClozk2qRk
It's not just that he goes mad when Lambert secures the points – points we desperately needed – but the fact that he tries to go into the crowd, realises he has no opening as he's blocked off by his own teammates, runs around the other side and launches himself head first into the away end, like a local Italian ultra who became a player at his boyhood club. That's how much he loved the club. That's how much he loved being here and that's how much I love Lucas Leiva.
Of course, he wasn't Mascherano or Gerrard or Alonso, but I love having people at the club who celebrate goals that way. Not for me the casual raised finger or cool, aloof gesture. The lad wanted to be with our fans as he knew what it meant to us because he WAS one of us.
Goodbye, Lucas. If we replace you with someone who has half as much heart as you then we'll do okay.