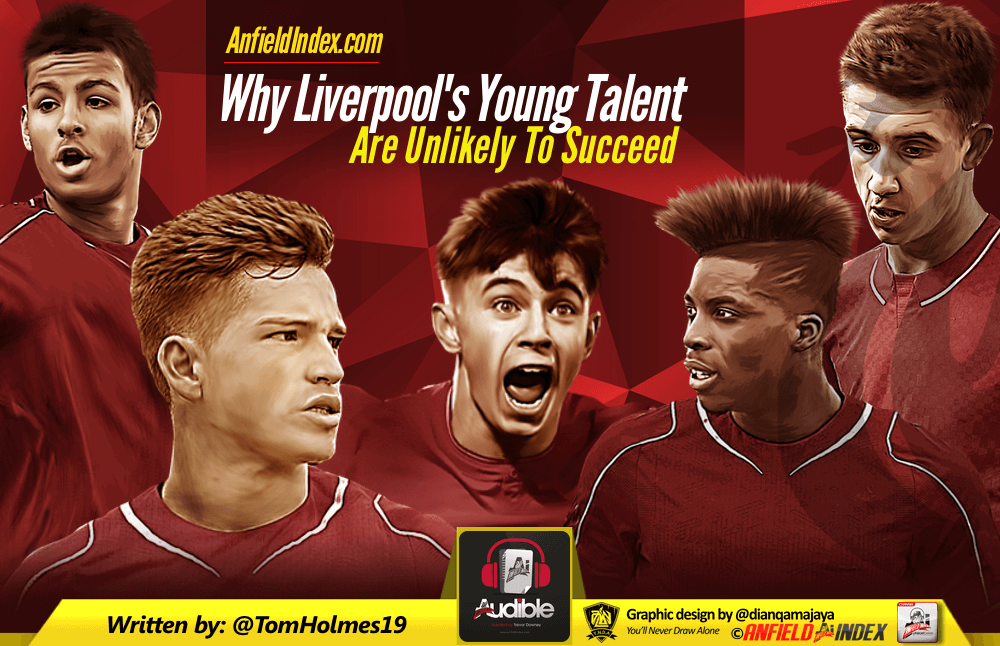 Why Liverpool's Young Talent Are Unlikely To Succeed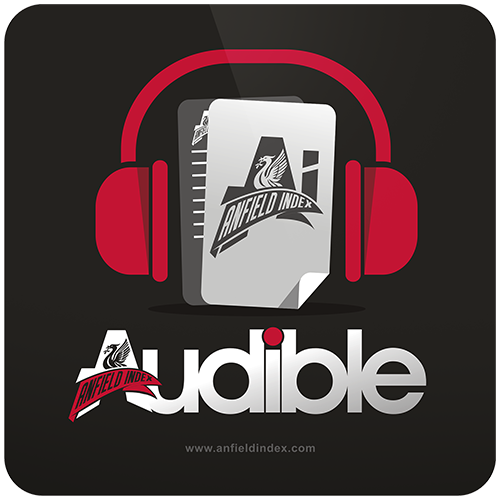 Listen to this article via @AIAudible !
A lot of discussion in pre-season has been made of Liverpool's young talents, and how much they are likely to feature for the club next season. But the sad truth is that the majority of them simply have no future at Liverpool Football Club, and it's okay to admit that.
Looking at the current clutch of young players, and focusing specifically on those who have been in and around the first team, or have been touted as such, there is only really one young player with a clear route into the first team and perhaps two more who may have opportunities further down the line. That means that the majority won't play significant minutes for Liverpool, and that's not the end of the world.
Naming names then, the current core of prospects is as follows: Trent Alexander-Arnold, Ben Woodburn, Joe Gomez, Ovie Ejaria, Harry Wilson, Ryan Kent and Sheyi Ojo. There are more of course, the likes of Rhian Brewster who are a bit younger and still in the U23s, but those are the core seven. Of those core seven, I would wager that at most two, if not one, end up having a substantial Liverpool career.

Wilson, Ejaria, Kent and Ojo are all either 19 or 20, which means that they are all at the point in their careers where they will need significant Premier League minutes to kick on. However, to be blunt, none of them are good enough to secure a Premier League loan. Both Ojo and Kent have had Championship loans in the past, with mixed results. Kent received high praise from Barnsley fans, but scored just 3 goals in 44 games, whilst Ojo's loan move to Wolves was considered a failure by those who followed him regularly. It looks likely that both players will be loaned out into the Championship again and from there, the most likely scenario is that they are sold permanently, either to a lower tier Premier League side or possibly remaining in the Championship. Both lads are quick and talented, but neither have the cutting edge in their game to make it at a club like Liverpool – see Jordon Ibe.
Wilson was scoring goals for fun in the U23s last year, but is now 20 and has failed to make a single Premier League appearance for Liverpool, and needs to be loaned out to a Premier League club. Again, this looks unlikely, with only former manager Brendan Rodgers registering any interest over at Celtic. If Wilson stays at Liverpool, it seems he is behind many players, including Ben Woodburn, in the pecking order, and it's hard to see how he gets a run in the first team.
Ovie Ejaria is another who is running out of time. At 19, he has played just six minutes of Premier League football for Liverpool, despite playing reasonably well in the five cup starts he was given. His other main problem is that he is a central midfielder, an area in which Liverpool are already stacked. With six first team options ahead of him, Ben Woodburn playing a role there in pre-season and Klopp still looking to bring in another option in central midfield, it's hard to see how Ejaria makes significant minutes for the team this season.
There are more names that haven't made it and won't make it. Kevin Stewart is off to Hull, having made just 11 Premier League appearances for the club, and 24 in September; Cameron Brannagan is likely to leave having played just three games for the club and at 21 has only one loan spell at Fleetwood under his belt; Connor Randall is also 21 and has three Premier League games under his belt and will probably be sold. Pedro Chirivella is another young midfielder with no future at the club. Jon Flanagan has made 40 appearances for the club, but that's across seven years, as he's 24 now, and failed in his loan spell at Burnley last year. Andre Wisdom has finally been sold.
So amongst all of these names, all of these academy players who have little to no hope of breaking into Liverpool's first team regularly, who is likely to buck the trend? Well there are three names whose futures aren't entirely hopeless: Trent Alexander-Arnold, Ben Woodburn and Joe Gomez.
Starting with Trent, whose prospects are the only ones that appear somewhere close to clear. Liverpool only have one first team right-back in Nathaniel Clyne, who is and will remain first choice in that position for the most part. But with Clyne unlikely to feature in all of the 50+ games we're expecting the club to play this season, Alexander-Arnold at just 18, has a clear vision of starting games in the Premier League. Exactly how much game-time he gets in 17/18 is unclear and largely irrelevant, he will get games and he will get the opportunity to prove that he is good enough to start for Liverpool. Given that he's probably the most highly regarded of our academy prospects, there's every chance that he is.
The other two are tricky for different reasons. Joe Gomez is only 20 but considered the fifth choice central defender at the club. With Klopp looking to bring in another big name in that position over the summer, Gomez is likely to remain fifth choice. But with Ragnar Klavan ageing, it will be interesting to see whether Gomez gets more chances further down the line, and I'd expect him to still feature in the lesser cup competitions. I would say that it's unlikely Gomez has a long term future at Liverpool, but not out of the question. Personally I don't get the hype, I've not seen him play particularly well when he's been given the chance, but who knows.
The reason Ben Woodburn is tricky is his age. At just 17 it's too early to make an accurate prediction on how good he will be, or how many minutes he will get over the next five years. That said, the fact that Klopp wants him training with the first team for me can only be a good thing, and the fact that Woodburn appears to be the young forward that Klopp rates the highest is also exciting. I'm not going to lie, I think this kid is dead, dead good, but is he good enough to break into Liverpool's team, especially if we continue to improve into a top side in the next few years? It's simply too early to say.
So of Liverpool's young prospects, there is only one, perhaps two, that you can say have a clear future with the club, and the majority will either be loaned out indefinitely or cast to the wayside. And to be frank, that's fine. Will I be sad to see the back of the likes of Ojo, Kent, Wilson etc.? Not really. It sounds cutthroat but although they're all undoubtedly talented players, Liverpool are aiming to be one of the best sides in Europe, and if we can't find space in our squad for talented youngsters then that just means we have a really, really good squad.
Of course it's a shame that so many of these young players are playing for Liverpool but will probably end up not having a career at Liverpool, but that's the nature of football. Football is a cutthroat sport, and at the very top level, which Liverpool is aiming to be, you have to make cutthroat choices. If a player isn't going to be in the top ten in Europe for his position then there shouldn't be any room for him at the club. And yes it is harsh that so many of these young players never got the opportunity to prove themselves at Liverpool, and yes it is harsh that someone like Joe Gomez can get a serious injury that prohibits his development. But again, that's football. If someone misses a pivotal developmental year in their career through injury then that is a crying shame, but they can't get that year back.
My point here is that Liverpool are trying to build something special and only the very special talents will have what it takes to be a part of that. Are Trent Alexander-Arnold and Ben Woodburn very special talents? Quite possibly. Are Ryan Kent and Sheyi Ojo? Almost certainly not. Football is a cruel sport and so few youngsters actually break through into the first team. How many youth prospects at Liverpool have gone on to succeed at the highest level in the last few years? Raheem Sterling is one for certain; Suso is another that stands out, having moved to AC Milan and now being linked with a £20m move to Tottenham. Martin Kelly and Jonjo Shelvey have made Premier League careers but neither of them are playing at the highest level. Danny Ward still has a chance at 24 but it's hard to rate his future prospects.
So overall, that's two players that have come out of Liverpool's academy in recent memory that are good enough to play for Liverpool, or a club on a similar level to Liverpool. Which just goes to underline exactly how hard it is for these young players to make the grade. And that's okay, because if they're good enough, they'll go on to play in the Premier League, even if it's not with Liverpool. And whilst it's a shame that so many young players will never get off the ground with Liverpool, that's just the nature of football. Today we're talking about Kent and Ojo, but in several years they'll be forgotten as they ply their trade for the likes of Hull or Newcastle.
So will Trent or Ben be able to buck the trend and make a career for themselves at Liverpool? I hope so, I like them both a lot. But I won't be surprised if Klopp goes out and spends £20m on a right-back next summer and that's the end of that. Because that's just the nature of football.