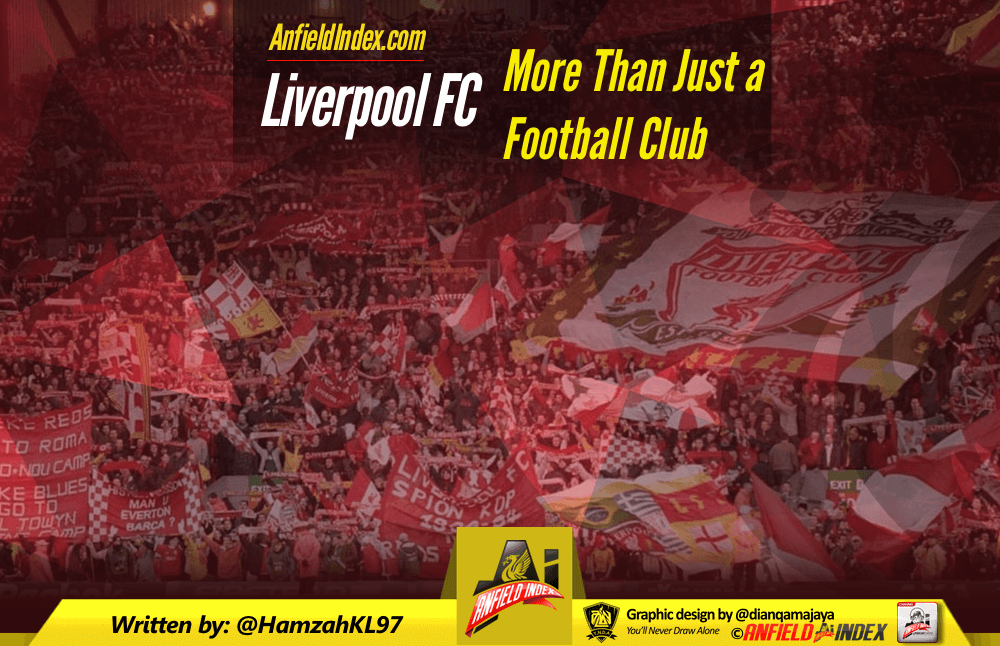 Liverpool FC: More Than Just a Football Club

On Thursday afternoon, Liverpool FC's Twitter account tweeted a video of the new CEO, Peter Moore, detailing how Liverpool FC would be a proud member of Liverpool Pride:
Reds go rainbow in support of Liverpool Pride: https://t.co/N8w6f3HmJh pic.twitter.com/mbqpmXrYpV

— Liverpool FC (@LFC) July 20, 2017
I was not prepared for the comments that followed in response to the tweet. Similarly, the same type of comments were directed at Peter Moore, who also tweeted the same video. Initially, taken aback, I remembered that intolerance and homophobia within football are something that, even now, in 2017, is a prevalent issue.
I started jotting down my ideas for an article and the hypocrisies of intolerance, but then suddenly stopped.
'Should I really be discussing socio-political issues on a football site?

'What if I get abuse on Twitter for this piece too?'
I decided to check with AI's owner, Gags Tandon, whether this piece should be published, bearing in mind the vitriolic response the official club account received for a simple statement of support. He responded immediately:
'Yes do it
AI is diverse itself
Proud of it
Many voices from many parts of the world'
So, here I am, a British Anfield Index writer and representative, putting forward my case for progressivism, and detailing some of the historical issues within the club: and I'll start off with looking at an argument that is often used by covert homophobes, racists, or similarly minded people: that "this [a socio-political point (often a statement of support for a minority group, or a celebration of a religious occasion)] is not relevant to Liverpool". This argument is used to mask an underlying issue, instead, attempting to reframe the discussion around whether the principle of the post is justified or relevant.
Well, if you really know anything about Liverpool the city, or Liverpool FC, you'll be aware that both are inseparable from socio-politics and sociopolitical struggles. As one of the major imperial cities, Liverpool, like the rest of Britain, was a facilitating component within the British Empire – an empire that functioned oppressively on racial lines.
In more recent times, you may have seen a banner that featured Jeremy Corbyn this season, at Anfield – something that polarised fans. In a piece for WorldFootballIndex, I explained the relationship between sport and politics, and how Liverpool FC, through tragic events such as Hillsborough, or the ideology of the godfather of LFC, Bill Shankly, have been inextricable from one another for years.
Liverpool fans who responded negatively to the video may or may not be aware of this, and that is understandable, however, what is not understandable is how these fans are happy to support a team, and watch a sport, that is global in every sense of the word: built upon the demand for Liverpool across the world, from minority groups, such as the LGBT community.
Without the wide-range of support from different sects across the world, Liverpool FC, the Premier League, and football would not be what it is today. Just like any other fan, LGBT fans purchase merchandise, cheer when the team scores, and sit in solemn silence when the team loses. These fans across the world are a source of strength for the club, and like every other fan, should be valued. In a commercial footballing world, any attempts to engage with the local community should be lauded and encouraged. The contempt with which foreign fans, online, or at Anfield, are subject to is shameful.
The unpleasant response to the video was hardly unprecedented though: for those that remember players such as John Barnes, now recognised as one of both Liverpool's and England's greatest players, signing for Liverpool, racism and intolerance was something he faced across his career, in spite of his phenomenal footballing talent. Indeed, there's an infamous photo of John Barnes backheeling a banana thrown at him, when playing against Everton, at Goodison Park.
Liverpool's first black player, Howard Gayle, received just as tough, if not worse treatment, and endured a negative relationship with Tommy Smith, who frequently called him 'n****r', whilst he was also the butt of "jokes", such as this one, made by Bruce Grobbelaar, who commented 'Ready, steady, pick up your lips. Run.' when Gayle trained with decathlete Daley Thompson for sprint exercises.
What is the relevance of these old stories you may ask? What I'm attempting to do is to try to draw attention to the hypocrisy of such discrimination and the structural issues that were overt, only a few decades ago. Homophobia is just one of many instances of intolerance that we regularly see on responses to official LFC posts on Facebook or Twitter.
Intolerance is not exclusive to certain fans, however. For instance: many Muslim fans, that I know personally, were upset when Liverpool signed Israeli international Yossi Benayoun, because of the Israeli government's relationship with the predominantly Muslim region, Palestine. However, that blinkered and blanketed view was soon ripped apart as his tireless efforts saw him become one of the most appreciated players at Liverpool, at the time. Indeed, it takes only the slightest bit of scrutiny before discriminatory preconceptions fall apart.
Now though, discrimination has developed into a different form: it's covert; instead of throwing bananas on the pitch or singing discriminatory songs, those that still harbour discriminatory beliefs attack principles or institutions. For instance, when Liverpool FC announced the construction of a new prayer room in the Main Stand, which would likely to cater disproportionately for Muslims, considering their religious requirement to pray 5 times a day, the "argument" was that Liverpool FC should not need prayer rooms, and that people should pray elsewhere. The same "argument" was used when some Muslim men were pictured praying near some stairs, inside Anfield.
Official LFC Facebook posts that pass on good wishes for those celebrating religious holidays such as Diwali, Eid, Hannukah etc., are broadly inundated with positive well-wishing comments from fellow supporters around the world, yet those are always the comments that gain traction, which engage in the covert discrimination I've mentioned earlier.
The argument that follows supposedly goes along the lines of "the club should be a football club, and focus solely on what happens on the pitch". However, Liverpool FC is indebted to its fans that share a variety of faiths, are different races and whose private lives do not impinge on their right to support Liverpool FC. For the club to grow, and be more successful it needs to be even more open, and encompassing, only then will it increase in size, and increase its revenues. Not only is it illogical and regressive to try and make the club introverted, by pushing against support for events such as Liverpool Pride, but it is financially misguided too.
Liverpool's squad includes players from all around the world, of entirely different faiths. It is only a matter of time before there is a high-profile, and high-quality openly homosexual player available in the transfer market, and I imagine fans would be deeply disappointed for such a high-quality player to turn down the chance to join Liverpool FC, in fear of abuse – the same way black players are reluctant to play in Italy or Russia, for instance.
The club has attempted to move with the times, with examples ranging from the players' canteen providing halal food for players like Can, Mané and Sakho, the new open-faith prayer room and being part of key initiatives such as Kick it Out. It's now time for that small minority of fans to do likewise – Liverpool can be a leading light in football and sport, both on and off the field.
Whilst there are still institutional issues that remain today, the club has come a long way since the 60s in terms of progressivism, and, as always, the philosophy of Bill Shankly remains relevant. He once stated that:
'…fortunately there is nothing like the Rangers-Celtic situation in Liverpool because the supporters of Liverpool and Everton are a mixed bunch whose religion is football.'
For that, Liverpool fans should be grateful, as we see on Derby Days, supporters are quite happy to go along to the match with their Everton supporting friends or family members; if you can walk with a blue-nose, there's no reason for any fans to not express their support for people of different denominations and their search for equal treatment.
Fans should not focus on the issues of religion, race, sexuality or any other factor, as ultimately there are other fans, players and club staff that care deeply about the club and contribute to it, with these diverse backgrounds.
As Eric Cantona said:
'You can change your wife, your politics, your religion, but never, never can you change your favourite football team.'
Many fans do not choose their football club, they are born into it, and if they do choose one, they stick with it for life: football clubs are unlike almost anything else, and they have the ability to unite and bring together people that may never have imagined being together.
Football truly is a global language; many a fan has been on holiday, and spotted a fellow supporter, sporting a Liverpool jersey – suddenly you've struck up a conversation, and are the best of friends – this sort of engagement and inclusivity is a strength that should be celebrated, and only comes about through the club reaching out to different people around the world.
As Liverpool FC has grown, so too has its fanbase. The club now has a duty to repay the fans' faith and support, with its own offering of support and openness. Intolerance has far too long been a barrier to progression: Liverpool has a team of South Americans, Africans, Europeans etc., and looks stronger than ever before: it's time to embrace change, and push forward.