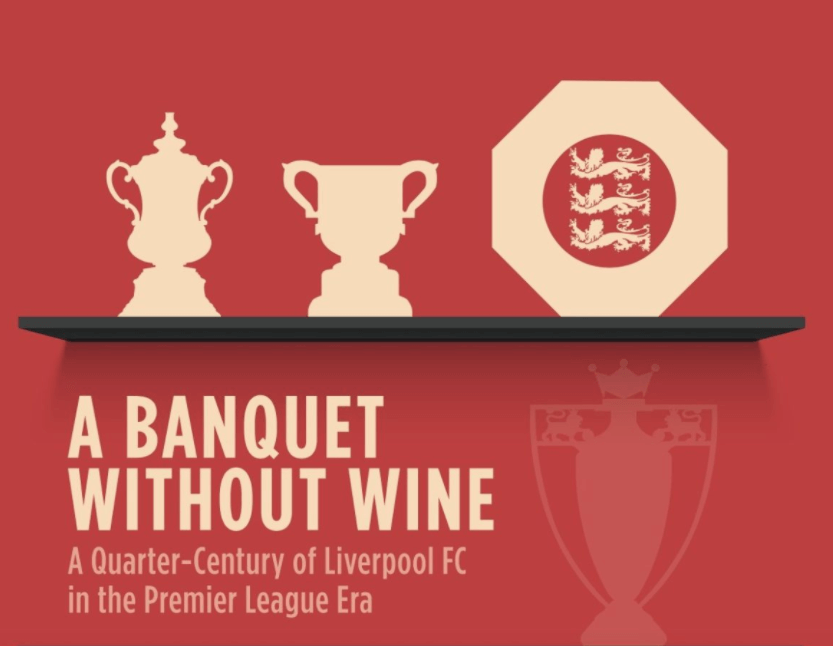 A Banquet Without Wine - Book Review
A Banquet Without Wine by Anthony Stanley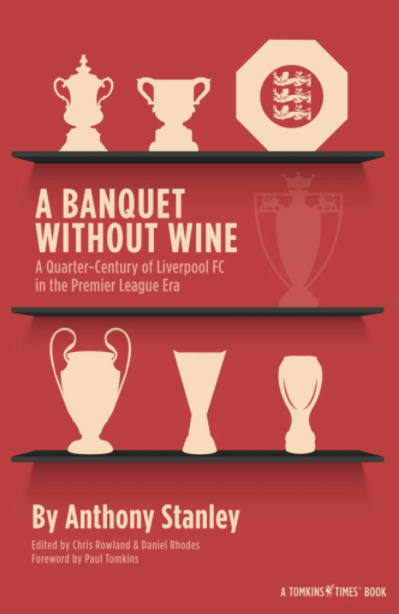 Book Review by Shane Clancy for AnfieldIndex.com
This was a monumental undertaking for Anthony Stanley. The book provides a fast-moving, yet brilliantly detailed history of our great club in the Premier League era.

First things first – there is only one specific requirement to guarantee your love of this book; you must be a Liverpool fan. Jeez, even if you're just a football fan that should do it.
Anthony has made a pretty impressive debut here, all the more remarkable when you consider how his writing came about via Paul Tomkins' foreword anecdote.
A hell of a lot of work has gone into this publication. No stone is left unturned as Anthony takes us down memory lane time and time again.
But this is not just some nostalgic trip for old folk like yours truly. If you were born in the 90s or after the turn of the century then this book will fill in many of the blanks for you in your quest to understand the heartbeat of LFC. I got to watch and rewatch VHS tapes such as 'Liverpool: Team of the Decade' (said decade being the 80s) – you get YouTube and this. Yes, YouTube will give you the quick visual "fix", but do invest your time in Anthony's work here. You won't regret it.
The book starts in a dark place, it has to. The Premier League was inaugurated in 1992 and the club and city of Liverpool were still reeling in the aftermath of the Hillsborough Disaster. Anthony discusses Kenny's final months and how his departure came about the year before England's top tier was rebranded from the old Division One.
Anthony's words take us on a journey, as every book should. From the early 90s, we are taken on a mostly linear path, chronologically speaking. As a fan who is lucky enough to have memories of supporting the Reds since the late 80s, I found myself eagerly looking forward to each coming chapter.
As I settled into the early chapters I just couldn't put it down – the tales of the Roy Evans era, followed by Houllier's entrance, Stevie Gerrard, the treble-winning season in '01, Houllier's heart scare (which by Anthony's account was far more serious than I initially realised), Rafa's arrival, Stevie Gerrard, a certain night in Istanbul, El Nino making a name for himself, Stevie Gerrard, that fantastic '09 season and title challenge, the Hicks & Gillette debacle, FSG's takeover (then known as NESV), Kenny's return after Hodson failed at the helm, Stevie Gerrard, Suarez's signing, the hiring of Rodgers, his capture of Coutinho and Sturridge, Suarez's rise to superstardom, the rollercoaster ride that was 13/14, Suarez's departure, Rodgers' burnout, Stevie Gerrard, Klopp stepping in, and right up to the present day. It's all in there, folks.
There are many highlights for me to recall from Anthony's work. As much as I would like to write more about these parts, I'm wary of spoilers and believe me, you're better off reading Anthony's account of each occurrence.
Those that stuck out for me were:
McManaman and Fowler breaking through under Souness

The honest assessment of Roy Evans' time in charge

The Fowler/Owen conundrum – one which has festered within my mind for two decades now

The story of how Sami Hyypia was discovered

Houllier's dressing-room berating of Paul Ince

How Houllier brought Liverpool into the new millennium with regards to dietary considerations and training methods

Fowler's drunken phone message to Houllier in 2000

The memories of 2001

The Rafa years

Hicks & Gillette – the disaster of where we were and how we've come back from the brink

Everything about the 13/14 season
Anthony is talented enough to describe the glory and pain of being a Liverpool fan in his own words. The work itself will, at times, exhaust you emotionally. You will put the book down to scan your own memories of Fowler's genius, of the Torres and Gerrard partnership, of the '09 Rafa team, and of Luis Suarez. At the start, I said that Anthony's book took me on a journey. It did, and even though it was the mainly linear journey I mentioned (from the early '90s to present day), it is the sea-level of this journey that fluctuates mostly. From the almost unimaginable highs to the desperately unbearable lows. This is what being a football fan is all about. We don't do monotone and playing it cool. We're in it for good or for bad, until death do us part. I need a book to make me feel something, just like I want my team to make me feel something. Anthony achieves this, and he does it very, very well.
When all's said and done, I don't think I can do Anthony's book justice in this review. All I can do is heartily recommend that you read it. Read it soon. It's a perfect appetiser for the season ahead.
I will leave you now with a quote from the chapter 'Her Sad Captain' – a fan just can't shake off the sadness of coming so close in 13/14, yet not being crowned as Champions. In her head, she sees Gerrard sitting in her home. To console her, Stevie calmly points out that "We should celebrate the glory of Icarus trying to reach the sun, rather than mourning his fall."
KINDLE A Banquet Without Wine: A Quarter-Century of Liverpool FC in the Premier League Era
PAPERBACK A Banquet Without Wine: A Quarter-Century of Liverpool FC in the Premier League Era