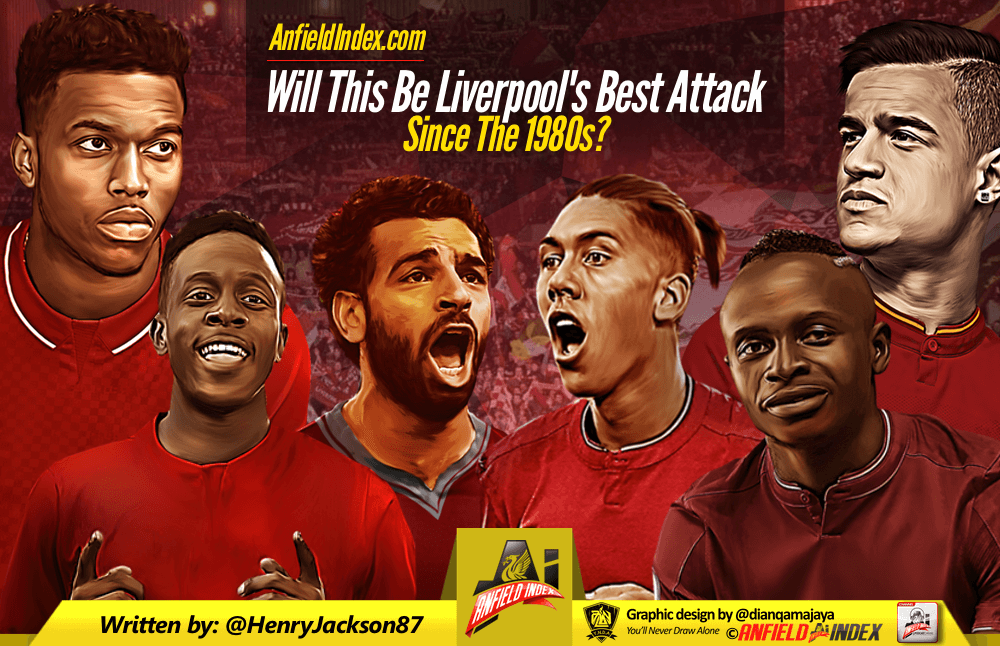 Will This Be Liverpool's Best Attack Since The 1980s?
The opening 45 minutes of Saturday's Premier League Asia Trophy final win over Leicester City were unbelievable.
There was a frightening pace to the game, especially compared to the usual slow speed of a pre-season friendly, and Liverpool looked irrepressible for the most part.
Jurgen Klopp's attack-minded lineup saw the quintet of Adam Lallana, Philippe Coutinho, Mohamed Salah, Roberto Firmino and Divock Origi all start, and some of the football was exceptional.

The creativity, confidence and interchanging that the attacking players showcased brought back wonderful memories of last season's brilliance, prior to injuries, fatigue and form derailing the Reds' campaign, and both Salah and Coutinho scored goals of the highest order.
With summer holidays allowing some welcome respite and fitness now heading towards optimum levels by the day, every Liverpool supporter should be grinning from ear to ear at the thought of the quality that should be on show at the start of the new season.
Such zip and entertainment value within the squad has not been evident since autumn last year, and there is still one major positive: Sadio Mane is not even available yet.
Liverpool's reigning Player of the Year has been missing since leaving the field at home to Everton at the start of April, and he will make the Reds' attacking unit even more devastating upon his return from a knee injury.
Origi has his plus points, and can be a good impact substitute, but as Saturday's evidence showed, he is not on the same wavelength as those around him. His unpredictability can prove frustrating, and his touch and general awareness continue to be his downfall in a side littered with clever footballers.
Shifting Firmino into his preferred central role, rather than a left-sided berth that can stunt his brilliance, is a must, while Mane coming in for Origi is a complete no-brainer.
To have the speed and directness or Mane and the hugely impressive Salah on either flank will be something to behold, and could make up for many years without two genuinely top class wide men.
Liverpool's rivals have mastered this in the Premier League era, whether it be Ryan Giggs and David Beckham at Man United, Arsenal's Robert Pires and Freddie Ljungberg or the Chelsea duo of Arjen Robben at Damien Duff, and it can be such a potent weapon.
With Firmino using his intelligence and guile down the middle, it is a first-choice front-three that will cause any defence in Europe huge problems.
That may sound like the sort of hyperbole that can, at times, make Liverpool fans victims of mockery, but it really is a trio that has everything in its armoury to wreak havoc.
We haven't even mentioned Coutinho yet, who assuming he doesn't break our hearts and join Barcelona this summer, is someone we may be about to see right at the very peak of his powers.
His performance against Leicester was extraordinary, with the Brazilian not only scoring and creating a goal, but looking a menace every time the ball was at his feet. It was only a friendly, but the swagger to his game was that of someone well aware of their genius.
Like true Liverpool greats before him, namely Steven Gerrard and Luis Suarez, he looks ready to hit the truly world-class level that only a couple of handfuls of the world's players can match.
In a team full of superb attacking talent – I haven't even mentioned Daniel Sturridge yet, and he is a fantastic option to have – Coutinho should be expected to usurp them all, enjoying the kind of impact the likes of Eden Hazard, Alexis Sanchez and Suarez have had in recent Premier League years.
Inconsistency is the one thing that has plagued him during one of the most productive Liverpool careers of this decade, but if he can turn up on a weekly basis, the sky is the limit for the 25-year-old.
While making any predictions in football can be a potentially foolish exercise, we could be about to witness the Reds' most exciting attack in almost 30 years.
The side of the late 1980s that ripped teams to shreds at will is widely seen as Liverpool's most entertaining in history, with John Barnes, Peter Beardsley, Ray Houghton and John Aldridge a unit that wowed the masses.
Since then, there haven't been a huge amount to rival that wonderful frontline, with the Suarez-inspired class of 2013/14 the closest we have come, as well as the magnificent duo of Gerrard and Fernando Torres in the late 2000s.
The quartet of Lallana, Coutinho, Mane and Firmino showed last season that they can be magical when they click, and the addition of Salah only makes them an even more frightening proposition.
To have players of the ability of Lallana, Sturridge and Origi unsure about how much playing time they will earn can only be a good thing. Depth is essential, and Klopp is ensuring it doesn't once again prove to be an achilles heel for his side.
You can never predict what injuries could occur, or which players could struggle for form, but current evidence suggests Liverpool are about to become even more of a force in the final third from this point on.
Sustained success will not come their way until defensive issues are resolved, but even if those shortcomings remain a thorn in the Reds' side next season, what is happening at the other end should be pretty special.