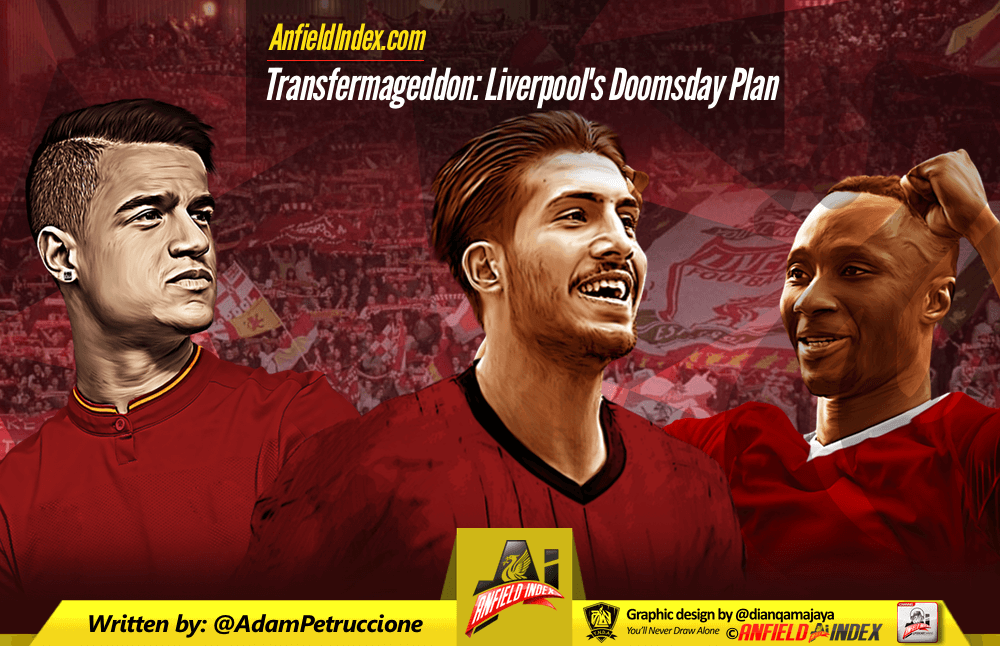 Transfermageddon: Liverpool's Doomsday Plan
A week from August.  Less than three weeks from Liverpool's opening match of the season.
The Reds have signed one of the best forwards in Italy, a promising young left-back, and stole a striker prospect from a rival.
Our two biggest targets in terms of value and publicity have become quite elusive to acquire while at the same time, two European giants, Barca and Juve, are now circling ominously over midfield stars, Phil Coutinho and Emre Can.

Tick tock.  Tick tock.
I know many of you are thinking it.  Football and fatalism have gone together since the sport's invention.  After all the club fought through to get back into the Champions League, all the promises from the club of a free-spending summer… what if it all goes to hell?
Imagine…
Naby Keita signs an extension.  Leipzig announce they've broken their wage structure to keep him.
Southampton remain resolute and never invite Liverpool back to the bargaining table for Van Dijk.
Coutinho becomes the obvious Iniesta replacement, joining Neymar in Barcelona.
Emre Can, seeing things aren't going Liverpool's way, packs his bags for Turin and Juventus.
Liverpool are left holding a bag of cash bigger than what City have spent, but have no takers worth splashing it on…
Taken individually, these events are each relatively likely.  In combination, less so, but what if!?!  What would Edwards, Klopp and Co do if everything went the way so many Twitter naysayers have predicted since May.
BREAK GLASS IN CASE OF EMERGENCY
In the event that Liverpool are stripped of two of their brightest talents while failing to acquire two others you will be able to use the steam coming from Jurgen Klopp's head to power all of Merseyside.  The journalists and ITK's alike have agreed that there are no alternatives to Keita and Van Dijk.  If the events above came to pass, that story would change in a hurry.  There would be an emergency meeting to reprioritise targets based on a budget of 250 million GBP.
Full-back, Keeper and… well that's it.  Those are the positions we could feel okay about in this nightmare scenario.
Centre-back, Attacking Midfield and Holding Mid would be thread-bare going into the Champions League season and even Striker would look quite different with the rest of the squad gutted.
I'm not sure exactly what would happen in this kind of transfer-mageddon but here are three ITK-Free educated guesses at the strategies Liverpool might consider.
"THE MIDDLE FINGER" 
If all goes to hell, the front office, back office, supporters and janitorial staff will all be ready to fight, packed with hundreds of millions in ammunition and left with little time to spend it. These signings would shake up the football world, return our strength at each level of the pitch and tell the world we're not going out like that.
Dele Alli – 125M – Take our frustrations out on a rival and shatter the British transfer record for one of the few who could replace Coutinho's productivity from midfield.
Andrea Belotti – 110M – There are few strikers who are such a good fit for Klopp's pressing system that he would move Firmino to the bench.  Stealing Belotti from under the noses of AC Milan would again take an eye-watering sum, but a Mané, Salah, Belotti attack would be enough to make some of our frustrations away.
Javier Mascherano – 10M – We'd have to be able to demand something back in the Coutinho deal, right?  The former red would fit nicely in Lucas' former role, swapping deep midfield for centre-back depending on squad needs.
Eliaquim Mangala – 5M loan – A few short years ago, Mangala was Van Dijk, sure to tip the balance of the Premier League in City's favor for a decade.  Well that didn't happen, but he looked back to his old self in Valencia, and if we're to resurrect anything out of this disaster, Klopp proving that Pep got it wrong.
"MONEY BALLS" 
The pressure on FSG in a scenario where all their promises are falling down for all to see… It would be immense.  We've seen thus far that Fenway Sports Group do not succumb to pressure easily.  Having seen that their super-recruiter manager and crack staff had failed, I wouldn't be surprised if they called in all of the scouts and made a wish list of the top young talent like they did in 14/15.
Davinson Sanchez – 30M – If you can't get Southampton's top player, why not try and beat them to the player that they were probably hoping to sign with our money.  Sanchez has the calm nerves and fluidity of Matip with the athleticism of Lovren in a yet to be refined package.
Renato Sanches – 40M – There are few with a higher ceiling than the young player of the tournament from last year's Euros. He's not Naby or Phil, but he can press like the dickens and then it's just a matter of what you can build on top of that.
Ante Coric – 30M – If we're set on having a true box-to-box, do it all midfielder and can't get Naby or retain Phil, pinning our hopes on Sanches would be risky.  Coric is the hedge to that bet.  Less physical, but more fluid, he could knit the plans for our dynamic midfield back together.
Julian Brant – 40M – What did we say about not guaranteeing minutes?  That's no problem now Julian.  Brant would fit well into a rotation on either wing.
Kylian Mbappe – 110M – To close out the summer, why not put all of our remaining chips in for a player who we've been rumoured to be keeping tabs on throughout.  Mbappe might not fit together perfectly with two other speed merchants up front, but boy it would be fun to watch them try, wouldn't it?
"THE BILLIONAIRE'S BIN"
With all of these players moving during the transfer window and Liverpool barely getting a sniff, there must be several from the buying clubs who see their minutes limited with the World Cup around the corner and could edge for a move.
Anthony Martial – 55M – The unthinkable.  A United to Liverpool transfer.  It would make so much sense though.  Martial could fill in on the wings or as a central striker and had been regarded as one of the best prospects in the world before he was introduced to "Morinho ball."
Mateo Kovacic – 45M – Kovacic, like James Rodriguez, has been buried on Madrid's bench.  However, in his limited minutes he has put up some of the most impressive defensive stats in Europe.  He would go a long way to pasting over the giant hole left by Emre Can.
Oxlade Chamberlain – 30M – The much rumoured deal is finally consummated before the window shuts, providing Liverpool with depth across the attack and giving the Ox a chance to prove he can be a difference maker in midfield.
Kalidou Koulibaly – 75M – He won't come cheap if Napoli know they can turn the screw, but an aggressive bid could still bring in one of Europe's best CB's.  Less impactful in the air than VvD, Koulibaly could still anchor any defense and dictate play from the back.
Blaise Matuidi – 45M – Pushed aside by recent big name additions at PSG, Blaise could complete a forward rotation worthy of his name.
So there you have it.  If the transfer window turns on it's head; after you've blocked every ITK known to man, know that someone at Melwood will dust off some emergency plans crumpled in a folder.  Klopp and Edwards will stop trotting out the line that they're happy with the players they have if it comes down to it.  And the transfer fax machine will finally be rebooted at Liverpool.
Which emergency transfer plan would you choose?