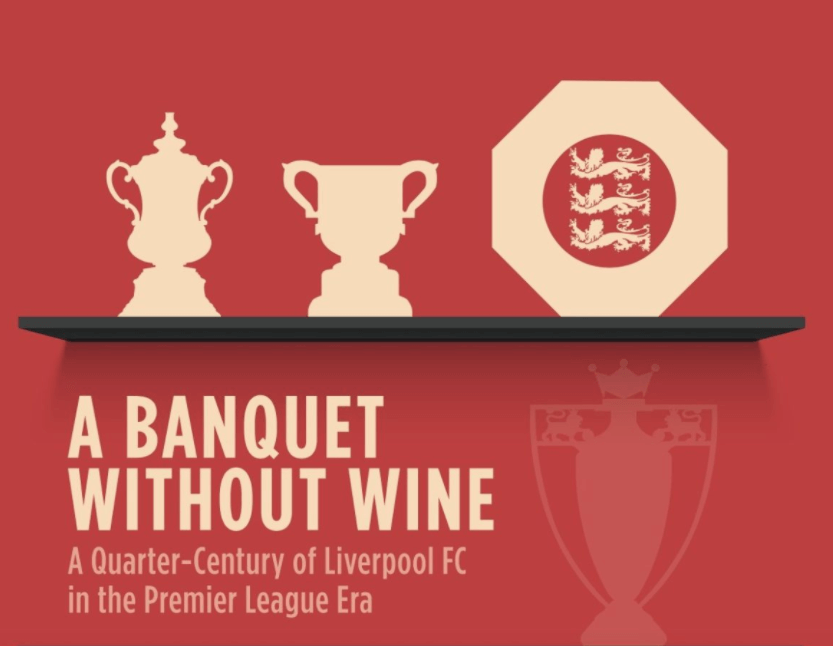 Reviewing A Banquet Without Wine - A History of the Reds in the PL Era
When offered the opportunity to read an advance copy of A Banquet Without Wine, I eagerly accepted; it was a welcome break from the academic historical literature which my studies demand, and, given my experience with previous works from The Tomkins Times, my qualitative expectations were high. Beyond that, I remained open to hearing an interpretation of Liverpool's recent history, that I, like many fans, have lived through, and is well versed in.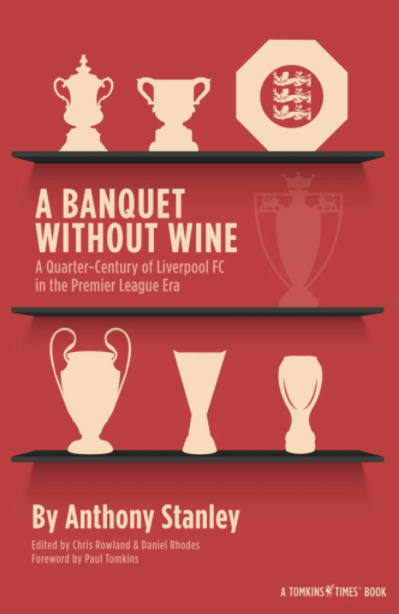 For Liverpool fans, the story detailed within A Banquet Without Wine is by no means an unfamiliar one. The Premier League is celebrating its twenty-fifth birthday, and whilst the second most decorated club in England, Liverpool FC, is invited to the celebrations, it is not one of the guests of honours.

The challenge for Anthony Stanley with this particular project was to compile a book, from which the overriding narrative for fans is negative (due to Liverpool's lack of success, relative to the days preceding the Premier League). Not only this, but Stanley would have to grapple with discussing the changing footballing world which took shape as Liverpool FC evolved, and how this affected Liverpool FC, without breaking from discussing those at the heart of the club, such as the fans, managers and players.
Despite these challenges, Stanley has produced a piece of literature that is grounded, detailed, intriguing, and beyond anything else, refreshing. Most fans can remember landmark achievements, such as the 2001 Treble, or the 2005 Champions League success, but these events, and many others are retold through the clearest of lenses.
Clarity and simplicity defines this work, but do not for one second underestimate the value of that. Far too often the commentariat are engrossed or distorted by their own passion, or through the heat of the moment. Very often, in all types of historical literature, the proximity of events to the time of writing can lead to over-exaggerations or the dismissal of more subtle, underlying factors. The triumph within this piece is that Stanley manages to separate the perspective of the narrative from that of the impassioned fan, when required to do so. Nowhere is this clearer than his assessment of Robbie Fowler, 'God'.
Even now, Liverpool fans remain bitter over Fowler's departure, and whilst that bitterness amongst some fans is made clear, Stanley discusses the practicalities without ever aligning himself to one side. In a world of opinion, fiery autobiographies, and harsh, but almost always contradictory personal accounts, the fairness in Stanley's approach is more than welcome, it is necessary.
Stanley has avoided the ensnarement of polarising issues, instead following the teachings of Hegel and his dialectical method: he presents the thesis, then the antithesis, and from those warring viewpoints that so often divide fans, he synthesises and creates a balanced and nuanced viewpoint that is so very rare in football. So often footballers and managers are judged on titles alone, but football and the careers of players, managers and clubs are so much more than just titles. Stanley's analysis of Roy Evans in particular – and Liverpool over the past twenty-five years – does exactly this, instead of focussing on the failure to secure a nineteenth league title, the reader is introduced to the changing nature of football, expectations, behaviour, commercialism and other prevalent issues during the nineties that have affected Liverpool, to this day.
That is not to say Stanley has detached himself or the narrative from the emotion of football, far from it. The writing resounded deeply with me when discussing the players I grew up watching. Alonso, Torres, Suarez and Gerrard all have their stories, all of which will make each reader react uniquely, when they recount those old memories. Indeed, I could not help myself watching videos on YouTube of all four of them, for a few hours, as I moved through the chapters.
But for all the beauty, elegance and happiness that these players and their displays evoke, there are moments that are truly crushing.
A bittersweetness lingers throughout much of the book; the reader will always be aware how title tilts in 2008/09, and 2013/14 end, or the Champions League and Europa League finals of 2007 and 2016. However, this book is more than just the chronicling of Liverpool's recent history. This is an essential piece of reading for any young, or old Liverpool fan, and readers will realise the subtlety in which Stanley is celebrating Liverpool and its compelling story over the past twenty-five years, as they progress through the book.
This is a piece of literature which I would deem necessary to all Liverpool fans' education, a staple retelling of stories that deserve clarity, and which have immense emotion behind them. Perhaps Stanley's greatest strength within this book though lies not with the story telling, or the analysis, or even how it tugs the reader's heartstrings, but instead with how it makes the reader think.
Any writer could have added to the mountain of literature describing Liverpool over the past twenty-five years, what sets this piece apart is its purpose. It informs, and engages with the reader, challenging preconceptions and holds a new light to controversial periods or events.
A stimulating, reflective and detailed piece of work, A Banquet Without Wine is a thoroughly enjoyable, but essential read for Liverpool fans.
KINDLE A Banquet Without Wine: A Quarter-Century of Liverpool FC in the Premier League Era
PAPERBACK A Banquet Without Wine: A Quarter-Century of Liverpool FC in the Premier League Era