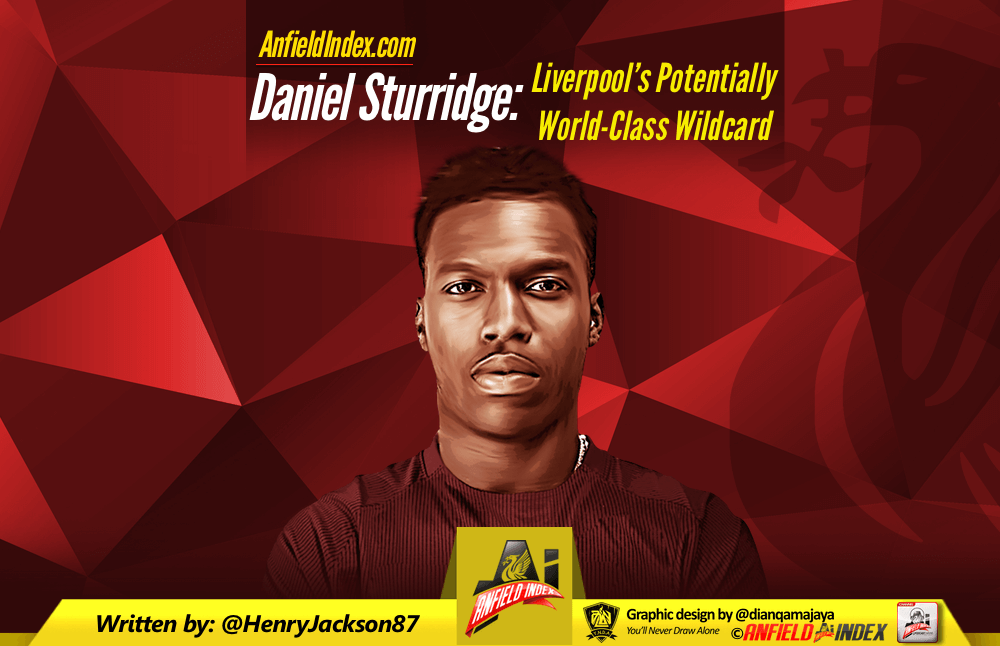 Daniel Sturridge: Liverpool's Potentially World-Class Wildcard
There were a couple of moments at the end of last season that seemed to save Daniel Sturridge's Liverpool career.
By the time the crucial trip to West Ham rolled around on May 14th, the general consensus was that Sturridge's continued fitness woes had left him surplus to requirements, with a move elsewhere likely this summer.
Then the vital 4-0 win at the London Stadium happened.

Moment number one for Sturridge was, unsurprisingly, his expertly-taken goal that gave Liverpool a 1-0 lead, in a match so important to their top-four hopes.
The ease at which he took it was glorious, latching onto Philippe Coutinho's inch-perfect pass before bamboozling Adrian with the type of quick feet 'proper Ronaldo' would have been proud of.
No other player in the Liverpool squad possesses such ice-cold ruthlessness in front of goal, and the 27-year-old's opener was one of the most important strikes of the entire season.
We had spent the season watching the likes of Zlatan Ibrahimovic, Sergio Aguero, Diego Costa, Harry Kane, Alexis Sanchez and Romelu Lakaku bail out the Reds' rivals – now it was Sturridge's turn to show how invaluable a natural goalscorer can be.
Moment number two came in the second-half.
It was far from the greatest thing Sturridge has ever done, or ever will do, on a football pitch, but it was a moment that proved to us he's not finished after all.
The England international stood before Aaron Cresswell, and rather than cutting inside onto his left foot, a burst of pace took him past the left-back on the outside, which eventually led to Divock Origi making it 4-0.
So many of us felt convinced that Sturridge's pace had completely gone, having endured such wretched luck with injuries, but that single moment was proof that there is still plenty to offer in that area, when fit.
Having painfully failed to keep a ball in against Southampton in the League Cup semi-final second-leg four months earlier, this was suddenly a player with an extra spring in his step.
Pleasingly, it looks almost certain that Jurgen Klopp will retain the services of Sturridge this summer, with the Liverpool manager speaking glowingly about the striker recently.
"It's the best condition since I've been here. I came in October 2015 and I think Daniel was injured," he said.
"Last pre-season was after a tournament and all that stuff, a short break. This year he has had a proper break and now is in good physical shape."
Klopp's comments should excite anyone of a Liverpool persuasion, and while it is a horrible cliche that exists within football, Sturridge really could feel like a new signing next season.
Not since his explosive 2013/14 season alongside Luis Suarez have we seen the former Chelsea man close to his fittest – what a positive it would be to have him back to somewhere close to that level.
Bafflingly, Sturridge still struggles to earn plaudits from the majority, which is very sad for a player of such astounding individual ability.
Sixty goals in just 119 appearances, many of which have come when carrying an injury, is a stunning goal return, and he is one of the few Liverpool players capable of winning a match on his own.
Sadly, you always feel that Sturridge's latest setback is never too far away, but as the 2017/18 season approaches, he can be used as one of the Reds' most effective wildcards in history.
If you go into the campaign expecting him to be missing sporadically, which without sounding harsh, we should expect, then anything else should be treated as a bonus.
When everybody is available, it is still hard to justify finding a regular starting berth for him – Roberto Firmino should be the first-choice central striker under Klopp, bringing more to the team on and off the ball than Sturridge – but having the luxury of introducing the Englishman when legs are tiring could be priceless.
The fact that Liverpool will be in four different competitions also increases the likelihood of Sturridge playing more of a prominent role, with tight Champions League matches tailor-made for him to be the difference.
Liverpool's downfall so often over the years has been a complete lack of options from the substitutes' bench. If the starting lineup experienced an off day, who could come on and save the day?
Finally, it looks as though Klopp is solving that issue, with options everywhere you look, if you exclude centre-back for the time being.
If Sturridge can keep himself healthy, he will be as big an impact player as anyone for Liverpool this season. Few players in the Premier League are as lethal in front of goal, and his unpredictable nature makes him a nightmare for any defender.
It is great to see Sturridge's stay at Anfield lasting longer than many predicted – the hope is that we are set to be treated to more memorable moments from the silky striker in the coming weeks and months.