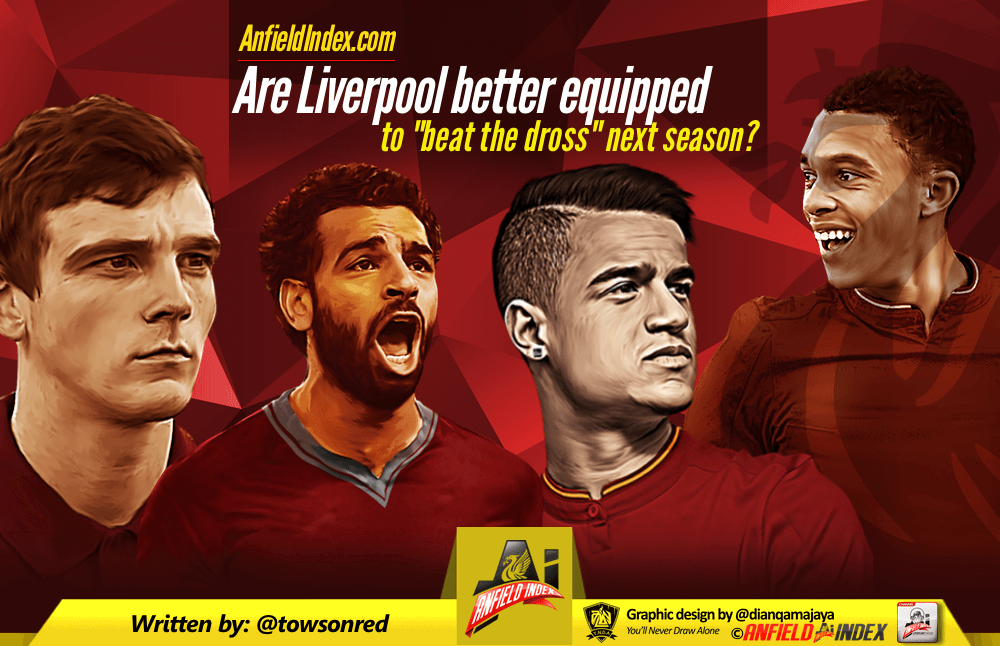 Are Liverpool better equipped to "beat the dross" next season?
"Beat the dross, win the league." A well-known mantra from AI's own Simon Brundish describes the ability of title-winning teams to brush aside, on paper, so-called inferior teams. It may seem a simple concept, but it is born from a simple fact: there are more "inferior" teams to play over the course of a season than "elite" teams. Indeed, Alex Ferguson's title-winning United teams were not immune to losing big games to their title rivals. What set them apart was their ability to pick themselves up and beat the dross. Unfortunately for Liverpool, the dross have a tendency to line up with a low defensive block, nullifying our high press. So is there a magic formula to unlocking these stubborn low-block teams? It was certainly Liverpool's Achilles heel last season, a weakness compounded by injuries and the absence of key players at the turn of the year. In the absence of pace (in the form of Sadio Mane), we reverted to a strangely un-Klopp like method of conservative play. Heavy metal football was somewhat muted save for some Emre Can acrobatics. Are we in a better position to beat the dross this coming season?
Enter Mohammed Salah. Quick, direct, and fresh from an excellent season with Roma. Freeing up Phil Coutinho to drop in midfield "Improves our team in not one but two positions", being the collective narrative from the LFC faithful. I for one, welcome Salah's signing. Pace is such a critical attribute in the final third. Combine that with an eye for a pass, and an as yet unheralded part of his game; a forwards instinct for picking up the scraps in front of goal (if only Divock Origi shared this attribute). Early pre-season signs are Mane will play from the left cutting in on his right peg, Salah from the right, cutting in on his left. Herein lies a potential problem – both players cutting in. The low block teams we encountered last season tended to defend the width of their penalty box. They welcomed Liverpool attacks through the centre. It played into their hands, condensing the middle, requiring Liverpool to play intricate passes into the penalty area. With Mane and Salah driving inside, this is again likely to be a problem. A fluid front three may well be the remedy here, with Mane and Salah switching sides during the game. As well as keeping the opposition's defence honest, this switch of flanks potentially stretches the width of play.
Another key component to beating the dross – fullbacks. City have raised eyebrows with the fervour and expense with which they have acquired Kyle Walker and Benjamin Mendy. Indications are they have not stopped there with Ryan Bertrand also linked. How many full backs do you want Pep? The thing is, Pep knows that to win the league (playing football on the front foot) you need quick, penetrative full backs. Quick (James Milner) and penetrative (Nathaniel Clyne) full backs are not what we have. Clyne and Milner provided a lot of overlapping runs and were afforded ample time on the ball by opposition teams last season. But neither have the instincts and attacking verve to exploit these situations. The signing of Andy Robertson and the emergence of Trent Alexander-Arnold may help here. Robertson is known to deliver good balls from advanced positions, and Trent is fearless going forward; it's a big ask of some our young and developing players to make the step up immediately. Full-back, therefore, remains a concern for me.
One way to potentially beat the low block is to increase our dribbles into the penalty box. Where passing our way through may be challenging against a deep defence, we certainly have the attacking players to commit defenders with dribbles. As a defender you know you can't touch Mane or Salah once they are in the box. This should win us more penalties and free kicks on the edge of the box. There is of course always the danger of losing possession and being susceptible to the counter, but this is more a case of maintaining team shape to guard against that happening. Running at defenders in this way will automatically make them drop a few yards, potentially freeing up space for Coutinho to unleash a few long range efforts.
So, have Liverpool made strides to beat the dross? I'm not totally convinced based on our transfer activity. I believe Klopp has overlooked an opportunity to strengthen our full back areas, particularly at left back. I have not seen much of Robertson but the hope was for a more dynamic attacking option at left back. Klopp clearly thinks this is not a priority. There is certainly more dynamism up front with the addition of Salah so that is a major plus. Perhaps Klopp feels he already has a weapon to combat a stubborn 0-0 stronghold away at Stoke or West Brom. Perhaps he feels Sturridge will have a renaissance season off the bench, unpicking the lock of a low block team, to finally beat the dross.