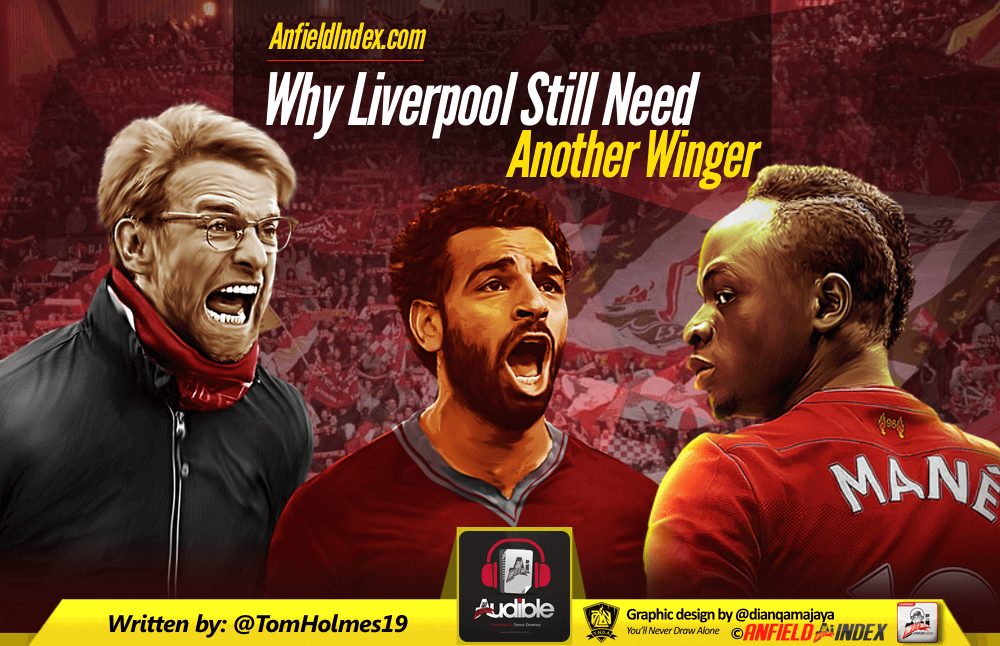 Why Liverpool Still Need Another Winger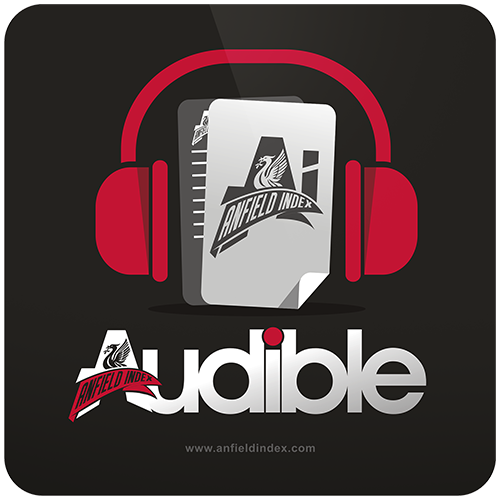 Listen to this article via @AIAudible !
Liverpool have already added one natural wide player to their squad – the exceptionally fast and talented Mo Salah, who appears to be the sort of world class game-changing signing that FSG and Klopp have promised us this summer.
However, despite bringing in a winger, there remains a solid argument that Liverpool remain a winger short – a feeling that will only have been emphasised with the news that both Sheyi Ojo and Ryan Kent are going out on loan.
Liverpool played 46 games last season; this season that number will be higher. The average number Liverpool will expect to play is 54, which is 8 more, but that number could end up being 10/12 more depending on how our three cup competitions go. The maximum number, as unlikely as that is, would be 66; a whole 20 games more than last season. So in theory, Liverpool could end up needing an extra player in just about every position. In practice, it's likely that they will need a handful more.

Focusing specifically on the wing areas then, Liverpool would definitely need one extra winger to make up those extra numbers, and with Salah they have already brought one in. However, at times last year, Liverpool looked a winger short anyway. When Sadio Mane wasn't able to play, Roberto Firmino was used out wide and that clearly isn't his best position. It was telling that in the back end of the season, Liverpool had to find new ways to grind out wins without Mane, as their natural fluidity was stagnated without Mane's pace and movement.
Let's be generous and say that Salah fills the gap for when Mane isn't playing and that adding an extra winger to the squad fills both the minutes out wide we were missing last season and then an extra ten games on top of that – and we'll come to the maths in a minute – Liverpool still need another winger.
And the reason that Liverpool need another winger is that they are not simply adding another wing option to the squad to make up the numbers: but Salah was brought in to free up Phillipe Coutinho to play in central midfield. So if we're wanting and expecting Coutinho to play the vast majority of his minutes in central midfield, then we need a winger to take his minutes in the wide areas, which is Salah, and then someone else on top of that to ensure that we aren't caught short like last season.
So let's look at the numbers*. If Salah and Mane play the minutes that they played last season, they will be able to play 48% and 56% of the minutes respectively. Given that Salah had less minutes available to him, it would be reasonable to suggest he can play more than 48% of Liverpool's minutes, but even looking at the two players' career averages, Salah's is only 56% and Mane's 62%.
So freak injuries aside, it would not be unreasonable to expect Salah and Mane to play 60% of Liverpool's minutes either side of Roberto Firmino or Daniel Sturridge. This means that Liverpool need to find 40% of the minutes for each side of the park. And across the team, 60% seems to be a common number to target to avoid fatigue.
Lallana, Wijnaldum, Coutinho, Henderson and Can will all be looking at about 55-60% of minutes in midfield. Between them, along with the likes of Grujic and Woodburn, we should have 100% of our midfield three minutes and perhaps 10% left over to use in our wide areas. Between Origi, Sturridge and Firmino, we might expect another 40-50% left over to fill up the spot. But if that is the case, then Liverpool will still be something like 2500-3000 minutes short in our wide-areas.
Now here we have options. Phillipe Coutinho is perfectly capable of playing 40-50% of minutes for Liverpool next season so if he plays those out wide then we will have filled the vast majority of that gap. However, this leaves Liverpool short in central midfield, where with Lucas and Stewart moving on, Liverpool will have been needing his minutes to make up the numbers there. Another option is to play without wingers – either with a three at the back and wing-backs or a 4-4-2 diamond, but we don't have the central defenders to play three at the back and a diamond formation means we need an entire player's worth of minutes in midfield instead.
But by far the simplest solution is simply to buy another winger. Whether that's a big name, allowing Klopp to rotate the new signing with Salah and Mane without losing any quality, or a young player with potential to fill in in the cups and lesser league games. The reasons for this are, for me at least, relatively clear.
The first reason is that Klopp likes the 4-3-3. It's clear at this point his default formation and Liverpool have played some dazzling stuff playing it. Messing about with the formation is certainly an option but the easier option, one that would make life easier in training, is simply having an option that is a direct replacement for the missing/injured/rested player. Liverpool's problems without Mane would have been drastically reduced if they could have played a player as fast, direct and dangerous as Mane in the games that he missed.
Another issue with changing the formation is how good Mane and Salah are out wide. It's fine to change the formation when both of them are missing, but more often than not at least one of them will be fit, so having players who can fit organically into that system makes more sense.
The second reason is that we want players playing in their best positions. Coutinho is certainly very, very good out wide, and if Liverpool bought a world class central midfielder to push Coutinho back out wide then I wouldn't be complaining, but there's a reason Klopp wants to use his star player in a deeper midfield role and that's because he can dictate play from there. Whether or not central midfield is Coutinho's best position is debatable but he certainly has the potential to completely change the dynamic of the side there.
And Coutinho isn't the only player who will be needed to pick up the slack out wide, and Sturridge, Origi and Firmino certainly aren't as good when coming off the wing. Whilst it's a fair point that having four strikers for one spot means the likes of Firmino and Origi will either have to be used out wide or in an attacking two, neither of them have the same impact from that position.
Overall, I think it's clear that Liverpool need to bring someone in to pick up some minutes in midfield or out wide. And I personally think that we want to use both Phil Coutinho and Ben Woodburn in central midfield as much as possible, which means that we need a natural wide player, as we only have two in the squad, and that is the obvious area to improve.
*All numbers courtesy of Simon Brundish and the AI Under Pressure Pod