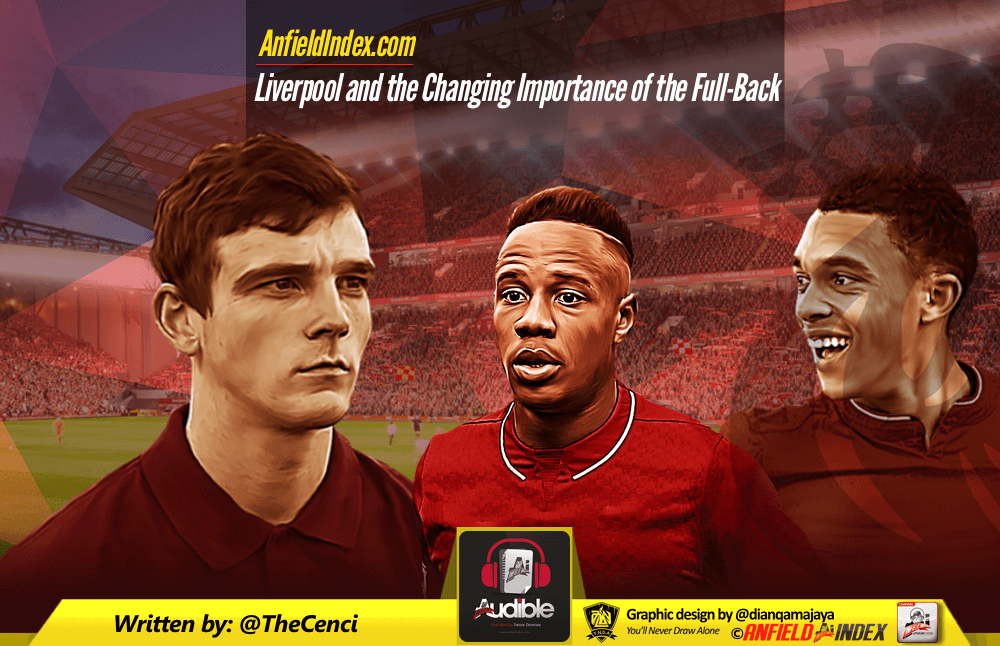 Liverpool and the Changing Importance of the Full-Back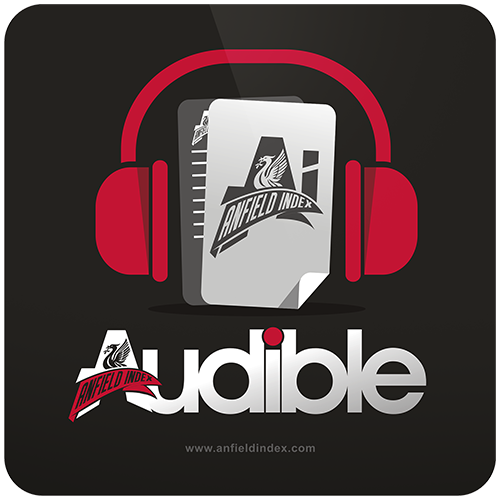 Listen to this article via @AIAudible !
The Reds 0-3 win at Hertha Berlin was a fine performance and provided a fillip in this most frustrating of LFC summers. Though pre-season score-lines are generally regarded as useless and worthy only for their aerobic benefits, it was interesting to see how the new signings coped. Dom Solanke scored a beautiful goal and we already knew what Salah can do so it was more interesting to see Andy Robertson play the second half.
The young Scot settled quickly and t wasn't too long before he was sent clear in the left hand channel and, hugging the by-line, put Mo Salah in for a tap-in. The Egyptian couldn't convert the chance – mostly because, at the speed he was going, he'd still be embedded into the post now had he not held back – but it was refreshing to see a full back find a forward in the box with an early ball. Liverpool rely on swift breaks and first time touches so this was encouraging.
Jurgen Klopp said of Robertson afterwards:

'"You could see exactly what he's good at and where he has to improve in 45 minutes – speed, good crosses, flexible and good in defence, apart from one or two situations. He needs to improve but he is a really good boy with a lot of perspectives ahead of him."  
Robertson is still only 23 and, despite being an international, has much to learn if he's going to be a regular in a top four Premier League team. Klopp has already admitted that some one-to-one coaching may be needed to help him fit into his system.
I must admit that my heart sank when I saw that quote. Klopp inferred that he is good going forward but needs work on the defensive part of his game. This, along with the term 'ball playing centre halves,' makes my teeth itch. It's like claiming that 'Dave is a good car mechanic but needs to work on his engine-fixing skills.' Surely, a full back should be a defender first and an attacking option second. That's how I've always looked at it, but then I researched other clubs' full backs and read up on the subject.
Jamie Carragher once said that full backs fell into two categories – failed wingers or failed centre halves. Carra has done a tour of the pitch himself in his time, being a centre forward, central midfielder and both a right and left back before becoming one of Liverpool's best centre backs of this generation, so he'd know. It's interesting to see how players fall into the role.
Liverpool's issues with left backs has been noteworthy over the years and, Fabio Aurelio apart, we've been unable to feature a good specialised one since Robertson's compatriot Steve Nicol. True, people may point to John Arne Riise's trophy haul at the start of the last decade, but it's significant that the defence-obsessed Rafa Benitez chose to deploy him as a left midfielder in Istanbul, preferring the less-adventurous Djimi Traore in the back four.
Equally, a decade earlier Stig Inge Bjornebye and Julian Dicks were famed for their other attributes (assists, inability to run respectively) than their tackling or positioning ability. Andrea Dossena had more memorable goals than defensive highlights while Emiliano Insua was just too young and out of his depth. Don't get me started on whatever Jose Enrique was supposed to be.
It's a thankless position and demands more running than any other on the pitch. It's for that reason why James Milner could only be a stopgap at left back despite being one of the fittest at the club. His age and build are against him being a permanent role.
Full back seems to be the position nobody wants to play. Look at Arsenal's greatest team of the modern age. Sure they had Pires, Henry and Bergkamp scoring dozens of goals, but it was the defence of Lauren-Kolo Toure-Sol Campbell-Ashley Cole which kept the clean sheets that made them the only side on a century to go a whole season unbeaten in the top flight. You'd think that's because they had natural, specialised full backs sitting behind Pires and Ljungberg. Actually, this is not the case. Lauren was converted from a midfielder role while Cole had played as a winger. Four years earlier I watched Cole play for Crystal Palace at home to Blackburn Rovers as a midfielder. He was only 19 at the time and easily the fastest and most talented player on the pitch, but Wenger moved him to left back so he could overlap with Robert Pires. Cole even admitted that, despite being widely regarded as the best left back in the world, he missed the glory of playing up front. His hero was Roberto Carlos – another player more renowned for his final third play.
Steve McManaman tells of how, Michel Salgado, his right back at Real Madrid, only spoke two words of English. 'Cover me.' Time and again, McManaman would be forced to fill in while his teammate sought glory up field.
Carra's right. Failed centre backs or failed wingers.
Attacking full backs are obviously important and in this day and age it seems main emphasis on assessing their worth is up the pitch rather than 'minding the shop'. For example, while Nathaniel Clyne is a good, solid right back the greatest criticism against him is his poor crossing. This is why many, including Steven Gerrard, see Trent Alexander-Arnold and not Clyne as the future long-term right back. Trent is always looking to join the front three while Clyne is a much more disciplined right back. That may not be enough for him for all his undoubted talent.
Formations are also key. With Chelsea preferring three at the back and the best defensive midfielder in the division (possibly Europe), they can afford to have the non-tackling wing backs in Victor Moses and Marcos Alonso. In fact, a look at their stats makes for some incredible reading. As you'd expect, N'Golo Kante made the highest average of tackles per game last season with 3.6 which is double that of his wing backs while, at Liverpool, Jordan Henderson topped the charts ahead of his full-backs – with Milner (a former central midfielder, let's not forget) scoring higher than Clyne. Chelsea don't need cover that much. Liverpool, with our shaky defence, still do.
Jurgen likes to change between 4-3-3 with that central area being with one or two men being deeper, but it doesn't give a lot of width – a failing of the system maybe as Mane and Coutinho like to come in off the flanks rather than get chalk on their boots. This is where they need their full backs.
So where does this leave Andy Robertson? What does he need to do? Well, he has to defend better, run more than anyone else in the team, cross better than anyone, add the odd goal, cover his central midfield when we break while simultaneously being up with them, be the out ball for Mignolet and oust Liverpool's vice-captain all at the same time. Oh, and tackle more.   If we need to tackle. Which we might need to do. But might not.
Got that, Andy?
Full backs, eh? No wonder they'd rather play at centre half or as wingers.