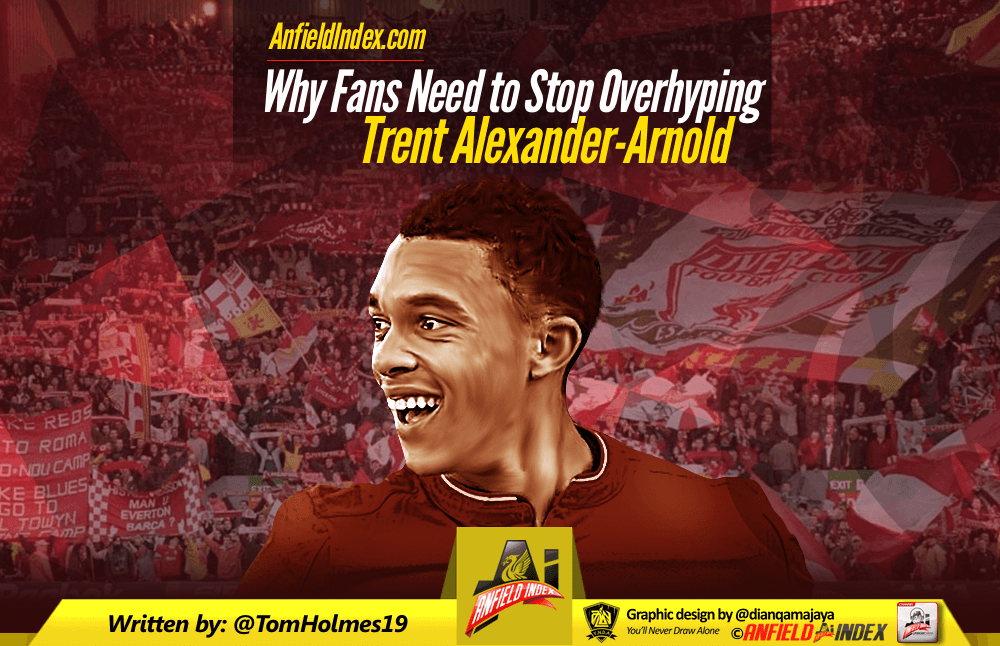 Why Fans Need to Stop Overhyping Trent Alexander-Arnold
First things first, I really, really like Trent Alexander-Arnold. When you write an article designed to temper people's enthusiasm, it's generally best to lead with a disclaimer, so there it is, I really like Trent Alexander-Arnold. I think he's an extremely talented young right-back and I think that there's every chance he has a big future with Liverpool, as I've said before.
However, let's not get carried away. And there are a lot of people getting very carried away. The narrative throughout pre-season has been that Trent will be pushing to supplant Nathaniel Clyne this season, and the fact that Alexander-Arnold has featured heavily in pre-season through Clyne picking up a series of niggles has merely reinforced this viewpoint. After an excellent performance against Bayern Munich, Liverpool fans and journalists alike were quick to suggest that Alexander-Arnold had established himself as first choice right-back going into the season, whether Clyne was fit or not.
No he hasn't.

Let's all take a minute here to assess the situation. Yes, with Clyne not being able to have a full and proper pre-season, it's likely that Trent will start the season as our primary right-back, which means that he will almost certainly get a chance to prove himself at Premier League level. But does that mean that he has usurped Clyne, or that Clyne would have been usurped if he was indeed fit? No, it does not.
First things first: Clyne started 37 Premier League games last season, clocking 3324 minutes, whilst Trent started 2, clocking 166. The evidence that we have suggests that Klopp does not trust Alexander-Arnold ahead of Clyne in competitions of value. Klopp has never picked Alexander-Arnold ahead of Clyne for a Premier League game. A handful of starts in glorified training sessions before the season has started does not change that.
Secondly, Klopp himself has spoken about Alexander-Arnold very recently, saying that as soon as he can defend, he'll be a Premier League regular. The emphasis there is clear: Alexander-Arnold isn't defensively solid enough to be trusted in the Premier League just yet. This hasn't magically changed overnight. Yes, Alexander-Arnold played well against a genuinely world class player in Franck Ribery. But this was 75 minutes of a meaningless pre-season friendly. It's not as if he pocketed Ribery in a Champions League quarter-final when there were actual stakes. He hasn't suddenly matured into a brilliant defender as well as an excellent attacking full-back overnight.
This tallies with all of the evidence we have above. He is a talented young player who will more than likely play when Clyne is injured, but he is only 18 and Klopp does not want to rely on him defensively, because he doesn't think that aspect of Trent's game has developed yet.
And right there is another key point. Trent is 18. Klopp refused to put him in the squad for Hertha Berlin because he didn't want to overburden him. This is before the season has even started. That would suggest that the chances of Klopp starting Alexander-Arnold three times or even twice a week in major competitions unless he absolutely has to are remote.
And this is extremely sensible from Klopp. At just 18, it would be far too much too quickly to expect Alexander-Arnold to suddenly carry the torch and be starting week in, week out in the Premier League. Both physiologically and mentally, he needs to tread very carefully with his youngsters and up until this point Klopp has done that. The pressure that Liverpool fans are already piling on Alexander-Arnold is immense, and the last thing Liverpool need is for him to pick up a serious injury. The other point to make is that when he inevitably has a bad game or two in the league, which he surely will, the same fans who have been bigging him up for months could well turn around and slate him. Not all of them of course, a lot of Liverpool's fanbase are reasonable and rational, but there will be some who label him the next Conor Randall after one bad game. Football fans are a fickle lot.
And the other point to make is that all of this is extremely disrespectful to Nathaniel Clyne, who remains one of the best full-backs in the league. He may have struggled in the back end of 16/17, but so did a lot of Liverpool's team. Clyne has been in the top three right-backs in the league for three seasons now, and has been genuinely excellent since joining from Southampton. Defensively he is extremely solid – far more so than Alexander-Arnold – and whilst Trent might bring a little more to the table in an attacking sense, Clyne has a cool head, experience and still produces more key passes than almost any other full-back in the league at 1.2 per game.
So whilst I want Alexander-Arnold to have a good season as much as the next person, I really think that we need to all take a step back, a deep breath and just assess the situation properly. Starting 10 league games this season would be a big step up for Alexander-Arnold's development and give him a chance to further improve, as well as featuring again regularly in both domestic cup competitions. But he's not the best right-back at Liverpool yet, he's certainly not Klopp's first choice and he will not be going into this season expecting to play more games than Nathaniel Clyne, even if, as looks likely, he will be the right-back starting the season at Watford.