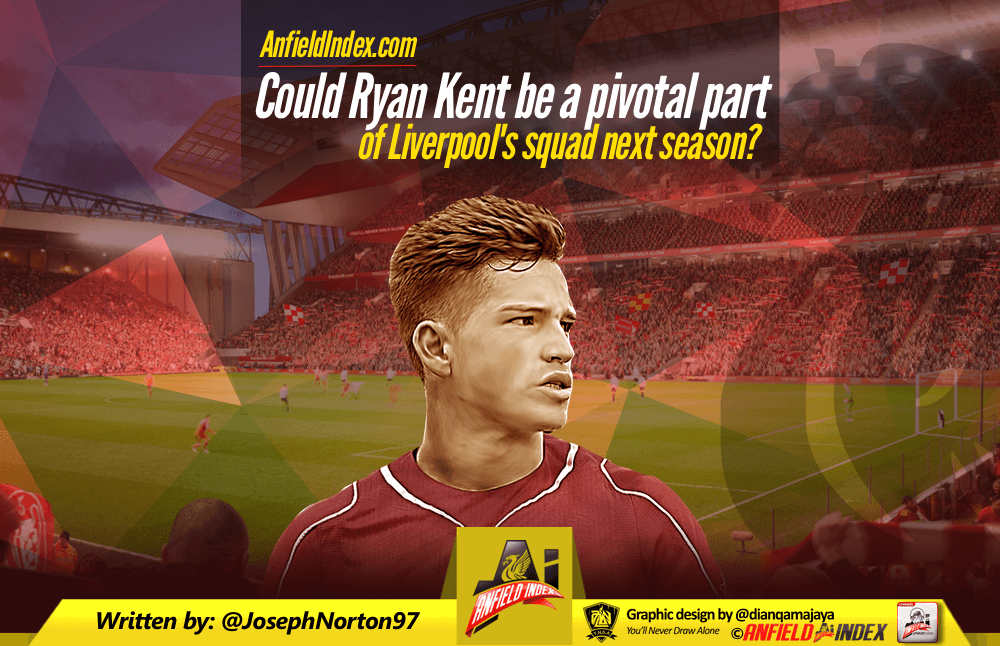 Could Ryan Kent be a pivotal part of Liverpool's squad next season?

With speculation surrounding the Naby Keita transfer appearing to fizzle out, it seems more likely than not the Reds won't get their number one transfer target for this summer. As a result, there has been a lot of debate amongst supporters as to whether the club should turn their attention to signing another winger as a back up to both Mo Salah and Sadio Mane or in fact pursue an alternative to Keita. In an ideal world where our owners had unlimited money to spend we'd get both but the reality is we'll only be able to get one and in my opinion if we're smart in the transfer market this may not be too detrimental. My opinion has always been we've needed another midfielder, a complete midfielder, someone who can come into the team straight the way a make a big impact, hence why Klopp has been prepared to spend big on Keita. Although we have very good options in midfield, there is no doubting we have two or three players who have had continued injury problems over the last couple of seasons, therefore, with the added demands of European football we need another midfielder. A midfielder who is good both defensively and offensively to cover all options such as an injury to a more defensive minded Gini Wijnaldum or the more attacking Adam Lallana. However, this would mean we'd go into the season with just two senior wingers, a slight concern you'd have to say. But let me introduce to you the step over king, young Ryan Kent, that's if he needs any further introduction after his very impressive performances in pre season. This article is not a reactionary piece after a few impressive performances in pre season, that'd be naive, I've rated Ryan Kent very highly for the last couple of years and I now feel he is starting to deliver the type of performances his potential has always promised. He's certainly nowhere near the level of Salah and Mane but I think Kent could prove to be just as pivotal part of this Liverpool squad heading into next season as those two speedsters.
Ryan Kent has spent the last two seasons on loan at both Coventry and Barnsley respectively. Last season he started 38 games in the Championship for Barnsley, scoring 3 goals and creating one assist, pretty average stats you'd have to say. Despite not dominating football games for either of these two sides, what Kent has shown is enormous potential. His dynamism, positivity and confidence has shone through in both his loan spells, even when things haven't gone his way in games he always looks to get on the ball, commit players and score goals, skills that can't but are almost always overlooked. Kent's main problem is his lack of end product, just like so many wingers, when it comes down to decision making in the final third all too often he makes the wrong choice. So what sets him apart from all the others? Apart from his incredible one v one ability and confidence, Kent is one of the most two footed players you'll see, better than Lallana I would add. Not only is the young Englishman confident shooting, passing and crossing with both feet but he is also use to dribbling with them as well, very reminiscent of Ousmane Dembele I would say. This attribute makes him very special and gives defenders a real headache when trying to workout how to defend best against him as he effectively doesn't have a week foot. In addition to this, Kent is always one or two passes ahead of the game, as soon as he receives the ball he knows exactly what he wants to do with it, yes he doesn't always execute his plans perfectly but his ideas are always clear for all to see. He's confident playing on the half turn, he's happy to receive the ball on the back foot, he'll play one touch when he needs to and he'll move the the ball offline to get away from his defender, these qualities are often overlooked by many supporters but these are all attributes that the best players in the world demonstrate. Kent is nowhere near that level of course but I honestly believe he's got all of the attributes to become very good.
The question is just where does Kent fit into the squad? Well, because of the Reds lack of options out wide, Kent would effectively be the back up to our first choice wide men. Some would say a back up needs to have the same or a similar ability to the players they are replacing but in Klopp's system in particular I would disagree with this. The most important attribute back up player's must have in Liverpool's system is the ability to replicate the skills of the player they are replacing. The main attributes both Mane and Salah have is their speed, one v one ability and movement, remind you of anyone? The thing that sets these two apart from the Reds youngster is their end product which is exactly why we paid so much for both of them. With Firmino operating in the number 9 position it is crucial we have wingers who can run in behind and take players on creating space and options for our midfielders and Bobby. This is why the likes of Lallana or even Coutinho are no where near as effective out wide when compared with Salah and Mane, they both have similar quality but they simply don't have their attributes which make our two wingers so pivotal in our system.
There will be many who will say Kent is not ready for this and my reply to them would be when is anybody ready? The youngster is 20 years of age, has had two loan spells at English league clubs and has been at the academy for numerous years, surely he has to be ready now? The reality is you only ever know if someone's ready for first team football when you give them the opportunity to deliver and the time is right for Kent to demonstrate the enormous potential he has on the big stage. I'm not for one minute suggesting if both Mane and Salah do get injured Kent is the man we can rely on to win us games, that'd be ridiculous to suggest. But should one of them get injured or need resting then for a handful of games next season Kent can come in and replicate to an extent the attributes our two wingers have, allowing our midfield to remain unchanged and the dynamic of the team to stay intact. Should we suffer injuries to our first choice wingers then Klopp would be wise to change to the 4-4-2 diamond we've seen work so well for us over a number of years as there is no doubting it gets the best out of our players when we are short of wingers.
A players ability to carry the ball, commit defenders and terrify them with pace cannot be overlooked as this creates more space and time for our more creative and central players to deliver the end product. If utilising Kent in this way allows Klopp to sign a complete midfielder to further strengthen the spine of our team, assuming we do complete the signing of Van Dijk as well, it seems obvious that this is the right thing to do. Klopp has got a very special talent on his hands so let's appreciate the attributes he brings to our team and trust him to deliver when it really counts because he has all the potential to be a very special player, trust me.