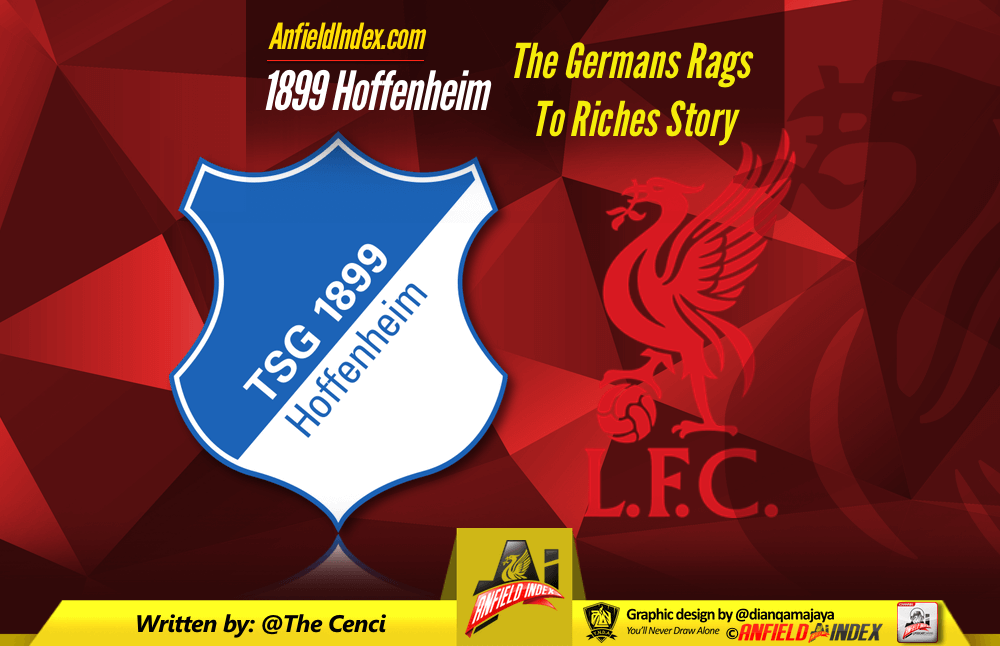 1899 Hoffenheim - The Germans Rags To Riches Story

And so it all comes down to Turn- und Sportgemeinschaft 1899 Hoffenheim e.V., or 1899 Hoffenheim for short. I might start giving them their full name though. I'm definitely getting a half and half scarf.
Being a relatively new club   on the European stage there isn't a great deal known about the men from Baden-Wurttemberg in Southern Germany. The most famous thing about them, from our perspective at least, is of course the transfer of Roberto Firmino for £29m in July 2015. He remains their club record sale and he Brazilian can expect a pleasant return on 15th August. Bobby was a fan favourite, thanks largely to his 16 Bundesliga goals in 2013-14 though he was occasionally disciplined by the club in his early days for missing training. During his time there he played alongside Ryan Babel of all people.
Hoffenheim's rise to the Bundesliga is an incredible story. Despite being in existence for over a century as their full name suggests, they were always nothing more than an amateur side playing in the eighth tier of the Baden-Wurttemberg A-Liga. It was only in 1996 when they were promoted to the Verbandsliga Baden that they began to climb the league.
The most significant day in Hoffenheim's history came in 2000 when Dietmar Hopp became the club's largest backer. Hopp had played in Hoffenheim's youth team and retained affection for his old team. He is the co-founder of the software firm SAP and has amassed an estimated fortune of $6bn so has invested heavily. He bought them a new stadium, the Rhein-Neckar-Arena in 2009 for about 100m euros when their former ground, the Dietmar Hopp Stadium did not meet the standards of the Bundesliga.
The injection of Hopp's money had an immediate effect. They were promoted to the fourth-division Oberliga Baden-Wurttemberg before moving into the Regionalliga Sud. This was still only a regional league for clubs based in the southern areas of Germany so back in the days when Liverpool were looking at buying Salif Diao and El-Hadji Diouf, Hoffenheim were still only playing regional football.
In 2004 they made their debut in the DFB-Pokal – the German equivalent of the FA Cup – where they made a name for themselves by reaching the quarter finals, defeating Bundesliga side Bayer Leverkusen on the way.
In 2006 Ralf Rangnick took over as manager – yes, the same man currently curtailing Naby Keita's human rights by denying him a move to his boyhood club (Sorry. Been reading too many fume Twitter accounts) – and Hoffenheim's form went ballistic. They were promoted to 2 Bundesliga in 2007 and played their first ever professional season – a mere 108 years after their formation. A year later they entered the top tier and before too long were able to sign Ryan Babel. Swings and roundabouts, I suppose.
They've coped without Firmino too. Hoffenheim finished fourth in the Bundesliga last season, just two points behind Dortmund and twenty behind Bayern Munich. They qualified comfortably for the Champions League – a full 13 points ahead of fifth placed Koln. Andrej Kramaric, the Croatian international and former Leicester player, netted 15 times and is worth keeping an eye on.
Despite their small stature and rags-to-riches story, Hoffenheim aren't the most popular of clubs in Germany with many fans and press criticising them and their 'sugar daddy' owner. True, Hopp has more or less bankrolled the club over the last 17 years, but it seems a bit rich when you consider that three clubs – RB Leipzig, Bayer Leverkusen and Wolfsburg – are the play things of Red Bull, Bayer and Volkswagen while two of them are even included in the team name. As yet there are no plans for them to be called Hoppenheim – though I'd like a credit if they do.
There are similarities between Hoffenheim and Jack Walker's chairmanship of Blackburn Rovers in the mid-90s. Walker too was a rich man who wanted to help his local team and saw an opportunity to upset various footballing apple carts. Hopp could hardly have dreamt that one day his amateur side would visit Anfield to compete for a Champions League group place.
As for the game itself, Liverpool are expected to progress though there are certainly easier matches to play. The second leg being at Anfield will be a significant advantage, particularly if the lads can muster an away goal. Get your bets on a Firmino strike.
Hoffenheim has a population of just over 3,000 meaning that the entire town could fit in the away end at the Anfield Road end. A small place, yes, but Liverpool will be well aware that they've bloodied the noses of many a giant in the past. Jurgen Klopp will be under no illusions that this is a genuine tie rather than a glorified training session against a European minnow.   Liverpool will be on their guard but ours is a side who have just walloped the German champions on their own ground so, with the right attitude, we should have too much for them.
They've had an incredible rise but let's hope it doesn't go any further just yet.
Up the Mighty Turn- und Sportgemeinschaft 1899 Hoffenheim e.V!