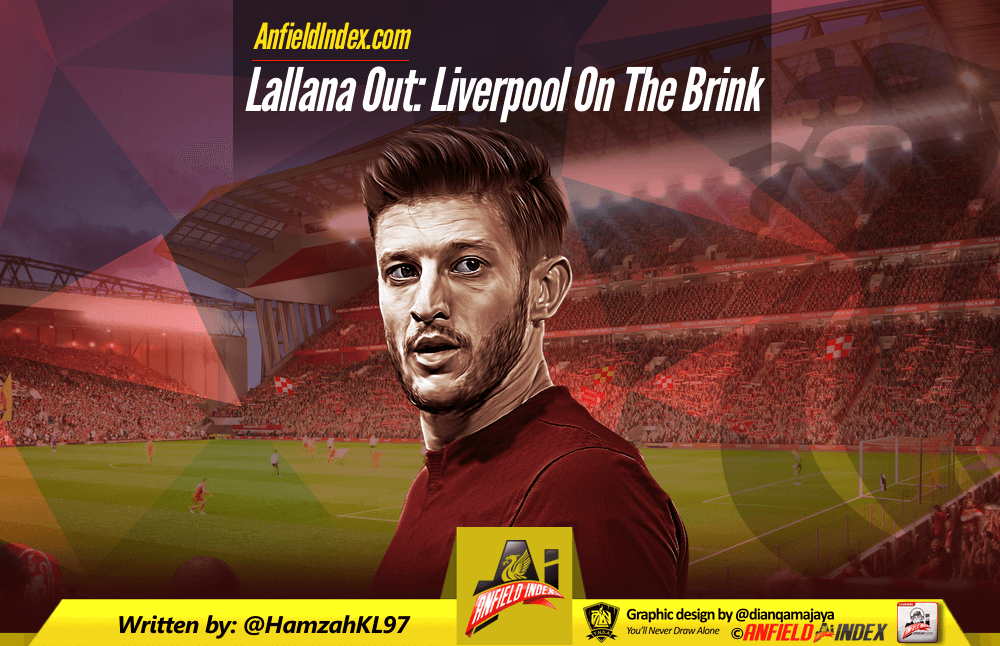 Lallana Out: Liverpool on the Brink
'Adam Lallana out for four months'
For Liverpool fans, this crushing news could hardly have come at a worse time. Yet there was a sense of inevitability about it all.
Jürgen Klopp's comments regarding Lallana's injury was particularly sombre:
'This is certainly not news we would have wanted.

'Unfortunately, the damage is such that it will likely mean Adam is out for a couple of months not weeks, so I think we can pretty much rule him out of August and September.

'Beyond that we will monitor and wait and see. He is a boy with a world-class attitude to everything professionally and he has always come back in good time from injury setbacks since I have been here, so we will see.'
A mere month ago everything was rosy: Liverpool were still in for Van Dijk, with ITK's expecting the deal to be finalised, the Keïta deal was on, Sturridge was fit and Coutinho was going nowhere.
Now, Liverpool find themselves a week away from the start of the season, with a key midfielder injured. Admittedly, Lallana may not have found himself starting every game, but Lallana was expected to perform an essential role from the bench, in order for players like Coutinho to rest, and also to start in fixtures, as Liverpool are set to have weeks that include three matches.
For Lallana himself, his injury is a real shame. Over the first half of the 2016-17 season, Lallana shone, and flourished in an attacking midfield role, slightly deeper than the one in which he had been used for a majority of his career. He then struggled to replicate his success and went on a barren run of goals and assists from December 31st, to the last game of the season, in which he scored. For Lallana, the challenge would have been to replicate his success until January, and to have a chance to feature in the Champions League for Liverpool, but his injury will deny him any chance of this in the short-term and may actually have a greater impact than just himself.
For the club, there is now less than one month remaining in the transfer window to find a player of high enough quality to come into this Liverpool side and fill the huge gap in terms of minutes and performances that Lallana covers.
Perhaps the club should have seen something like this coming, after all, during 2016-17, the side struggled with injuries, affecting performances and results, despite finishing eighth in the 'injury league' across the entire season. It was clear then that reinforcements needed to be made. Even more so when Liverpool made the decision to white-knuckle the period without Sadio Mané, as he played for Senegal in the AFCON – a decision that turned out to be a mistake that cost Liverpool in both the FA and League Cups.
In fairness, the club has tried to bring in Naby Keïta, and maybe a deadline day deal will still happen. But Liverpool now have Champions League qualifiers, and the season's first game is imminent. The squad already looks bare, lacking both quantitative and qualitative depth.
Lallana, when he was on the bench last season, was often the first change, and excelled until January too. Now though, 60 minutes into a game, Liverpool will have to look to one of either Can or Wijnaldum to make a difference from midfield, and whilst Sturridge, Origi and Solanke are all good options, they cannot function in an attacking midfield role – a position that is key to breaking down and unlocking defences – the same way Lallana can, thus placing more onus upon the starters: Firmino, Mané, Salah and Coutinho.
With Lallana out for two to four months, Liverpool will effectively be one injury away from a full-blown midfield crisis. I recently wrote on why Liverpool's squad is not enough to challenge effectively on multiple fronts, and that analysis was based on the AI's Under Pressure pod. However, the calculations used in that pod were extrapolated from the 2016-17 season. If Liverpool were to be extremely unlucky with injuries, the squad could fall apart in a matter of weeks – we have already seen how Liverpool played without Coutinho and Mané in January of 2017, struggling to perform for an entire month.
If Henderson's injury issues resurface, and Can is forced into playing as the no.6, Liverpool may well be finding themselves in a Champions League group game with a Can, Wijnaldum, Coutinho midfield three, and with Grujic as the midfield cover – hardly a position Liverpool would be comfortable in when away to PSG, Real Madrid or Bayern Munich for instance.
Of course, Liverpool may well be extremely fortunate with injuries over the coming season too, with Lallana one of the few players sidelined. Whilst this is a possibility, albeit, I must stress, a slim one, the issue is that there is the potential for Liverpool's season to effectively be over before it begins, as the team currently lacks the resources to battle effectively in just the league – do remember Liverpool only just secured Champions League qualification on the last day of the season, in which domestic cup commitments ended in January and there were no demands on the squad due to European football.
This is not a FSG or Klopp problem though, this is something they both identified and attempted to address through trying to sign Keïta and Van Dijk. However, circumstances have dictated that those two moves, right now, are unlikely, and the club should have prepared for such eventualities, unless it believes that these two deals are still likely to go through by the end of August.
Whilst Lallana's injury has occurred at a very inconvenient time, perhaps Liverpool are fortunate that it is a week before the start of the Premier League season, as it may force Klopp's hand, and push him into adding to the squad, if he had any reservations beforehand.
For Liverpool fans though, we can only hope that the club acts soon to find cover for Lallana, as without him, or another high quality midfielder, a season which promised so much could well fall apart.