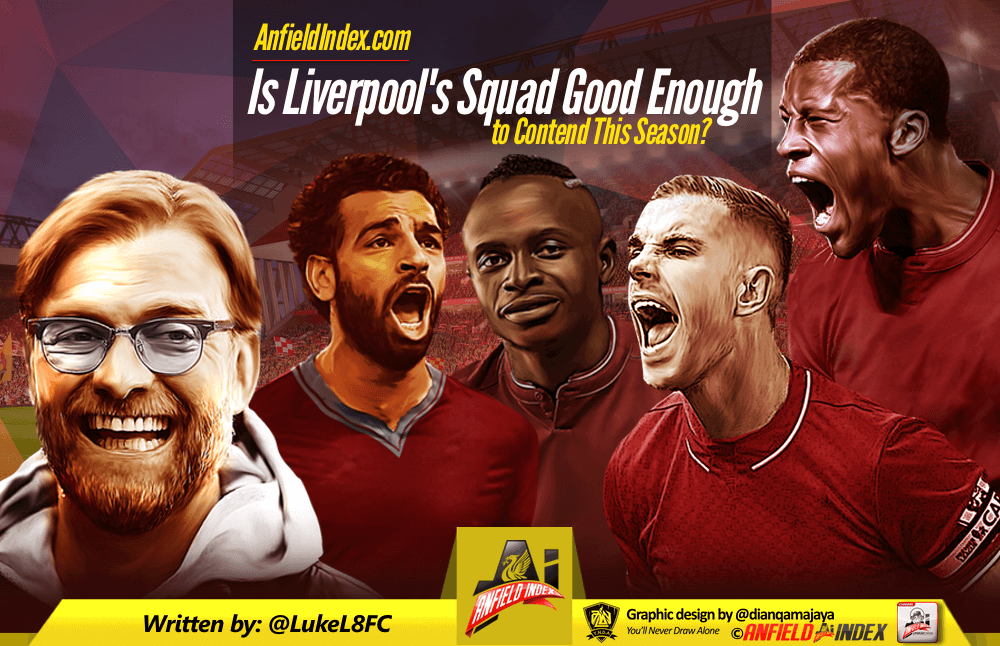 Is Liverpool's Squad Good Enough to Contend This Season?
'This is our year.' It's been declared year after year by many Liverpool fans and we've been on the receiving end of a lot of stick from rival fans, due to the glaring fact we haven't won the league since 1990, nor any trophy since 2012.
However, in recent weeks I have sensed more pessimism from fans taking to social media to express their concerns about the lack of strengthening the positions we need most. With less than a week before the Reds kick off the 2017/2018 campaign at Vicarage Road, we still haven't signed a centre-half, albeit we are supposedly still in the running to sign Virgil Van Dijk before the transfer window passes. Last season, Joel Matip and Dejan Lovren didn't play together as much as everyone would have liked to due to injuries. But when they did line up next to each other, we looked stronger at the back than we have done for a while. Matip and Lovren only played with each other three times all pre season, which hints that Klopp is not settling for a set in stone centre back partnership between players he already has.
From looking at how Klopp has set the team up throughout pre-season, it is clear he is going to be playing Bobby Firmino as the figurehead of the front three. This was indicated at the end of June when Mo Salah was signed and Firmino's shirt number was swapped to No.9 to accommodate for Salah's favoured No.11 jersey.

Clearly, Klopp didn't see the need to buy a ready-made striker but a rising young star in Dominic Solanke after an impressive season on loan to Vitesse from Chelsea, bagging seven goals. He won the Golden Ball for the U20's World Cup this summer, which he helped England win by scoring four goals in the tournament. He netted three times in pre-season and looks like he has taken over Divock Origi's role as third choice striker (that's if Sturridge, who is second choice, is fit). He was our top goalscorer playing as a false 9 last season, scoring ten goals. All of that being said, I am sceptical about whether Firmino can chip in with twenty goals in the league, which would be vital in challenging for the title all season and not being more or less out of the race come January like last season.
Should we get past Hoffenheim in the Champions League play-off, we will be faced with two games a week. Near the latter stages of the season, this will have no doubt taken its toll on the players. This is why this transfer window is vital to improve quality and quantity of the squad. With Lucas Leiva departing to Lazio, we are a midfielder down. The pursuit of Naby Keita is over with the Leipzig owner saying they received an offer worth 75m euros, which they rejected. In addition to this, Adam Lallana faces months out and Jordan Henderson is a liability with his reoccurring injury problem.
Not only have we lost Lucas' passion to put everything he has into matches, whether it be tackles or headed clearances; we have lost a leader in the dressing room. You look back to great teams of the past who have won big trophies, not necessarily Liverpool teams, they have had big personalities psyching up their team mates. Look at Cristiano Ronaldo, in the Euro Championships Final last year, he was on the sideline having come off injured and he was shouting instructions to his compatriots. They adhered and listened to him and they grinded out their 1-0 lead. Liverpool's European Cup winning team in 2005 had the likes of Steven Gerrard, whose famous celebration made the players believe a comeback was on. That team had Jamie Carragher at the back, making last ditch tackles during extra time even though his legs were riddled with cramp. He was telling Dudek to put off the AC Milan players in the penalty shoot out just like Bruce Grobbelaar had done in 1984 when we beat Roma in their own back yard.
If you look in our dressing room now, can you pin point many players who are leaders of men who you could count on to do something similar? I couldn't. This could come from not having local talent playing week in week out like we did have with Gerrard and Carragher, who know exactly what it means to play for the shirt because they were raised with it surrounding them.
Behind the scenes Klopp and his team could be eyeing up a midfielder somewhere and it would not surprise me if the press got hold of a story that we are in advanced talks with a player and the transfer was confirmed soon after. After the whole Van Dijk saga which led to the club issuing an apology and to end the pursuit of the player, those in the know at Melwood will be under strict orders to not leak anything to the press so history doesn't repeat itself.
James Milner could be playing as a midfielder this season as he did against Athletic Bilbao in our 3-1 victory. Alberto Moreno has made a case for himself to become our first choice left-back with a few good displays in recent weeks with no clubs having met the £15m price tag that is set on him. He will be challenged by new boy Andy Robertson who has looked steady in his appearances.
Klopp said after the game in Dublin:
"Alberto Moreno is 100% back which is really nice after a difficult year. Andy Robertson has shown all the skills he's got. He's still adapting to our kind of football but you can see what a threat he can be offensively. That means that Millie is free to play in midfield. Without going into the transfer market we have a new midfield player, which is nice.
This hints that we may not try to find an alternative to Keita externally after all.
The heavy metal football Klopp gets his teams to play will require rotation of key players like Coutinho, Salah and Wijnaldum throughout the season across all of the competitions we are in. He will look to youngsters like Ben Woodburn, Trent Alexander-Arnold, Dominic Solanke and Ryan Kent after his impressive displays the past four weeks.
At this moment in time, with a few weeks left to sign more players and ship players out; the question to be asking is, do we have enough quality throughout our squad to seriously contend in the league and the cup competitions?