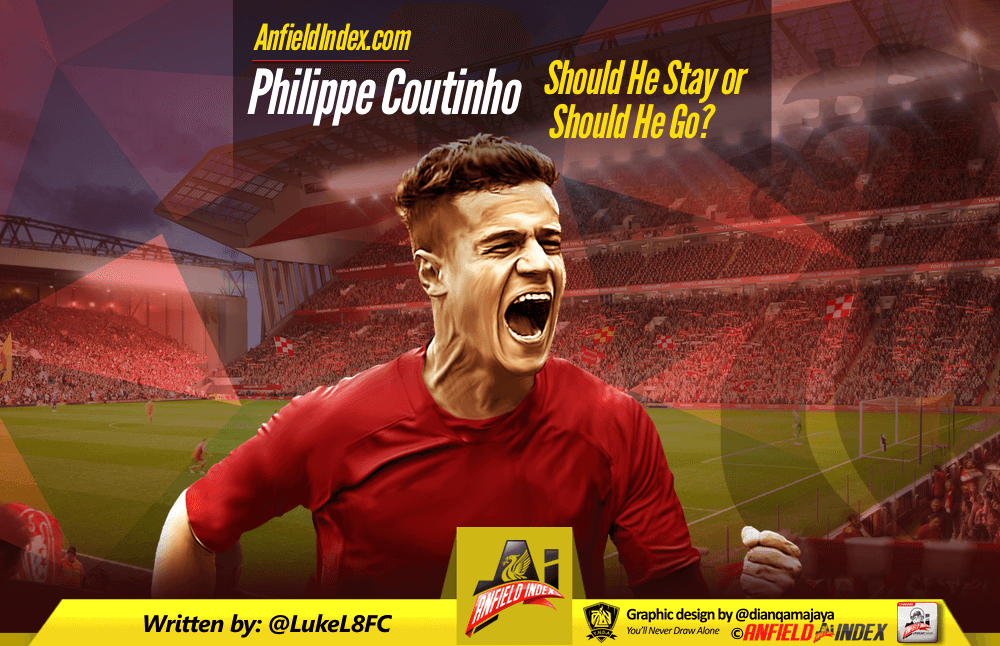 Philippe Coutinho: Should He Stay or Should He Go?
Earlier this week it was reported Philippe Coutinho would only leave Liverpool if a deal was to be done amicably. This ensured the ball was in the club's court. As long as we reject any offers, Coutinho would remain a Liverpool player come the start of September.
A morning and afternoon of twists and turns have thrown the Brazilian's near future up in the air.
FSG made an official statement this morning which declared:

'The club's definitive stance is that no offers for Philippe will be considered and he will remain and member of Liverpool Football Club when the summer window closes.'
In Jurgen Klopp's press conference at 11am this morning, Klopp reiterated the American owner's statement by saying:
"When FSG say something like this it's 100% clear."
All seemed well with us slamming the door in Barcelona's face, just like RB Leipzig have done to us over Naby Keita.
I was processing this statement and thinking that it has a resounding resemblance to when Luis Suarez was pushing for a move to Arsenal and was persuaded by Steven Gerrard to give us another year, by which point he was certain Real Madrid or Barcelona would come knocking.
The call proved to be the right call for all parties concerned. We came ever so close to winning the league title thanks to Suarez's goals and performances and sure enough, Suarez was moving to Barcelona, where his wife's family were living.
But this time it isn't Arsenal sniffing around our little magician.
The fact of the matter is, Philippe Coutinho is a South American. Football-mad South American kids grow up dreaming of playing for Barcelona. Coincidently, the best team in the world are from Spain. Therefore, these South American players who move to La Liga, do so because of their emotional connection to a country that speaks their native tongue. Not to mention the fact that the Spanish giants rake in silverware year after year.
About an hour after Klopp's press conference, Sky Sports' "sources" said that they understood Coutinho had handed in a transfer request. All hell broke lose over Twitter with speculations whether FSG released the statement knowing that he was going to hand a transfer request in. This way, Coutinho would be portrayed as the bad guy. On the contrary, Phil could have handed a transfer request in because he has realised Liverpool will not sell him, and with the summer window nearing an end this month, he has flapped and is now doing his very best to force the club's hand to sell him.
Five minutes later, Liverpool Echo reporter, James Pearce tweeted that Liverpool were 'adamant that they hadn't received a transfer request from Philippe Coutinho'.
Sky Sports News announced a statement from a 'close family member' of Coutinho's which said that:
"Coutinho has tried very hard to find an amicable solution to this but failed so far. Coutinho has tremendous love for Liverpool Football Club and its fans, but like Gerrard and Suarez have pointed out in the past, Liverpool doesn't let players leave on amicable terms."
I then thought it was his family forcing a move to Catalonia and possibly adding poison to the potion. Then the definitive statement came crashing in.
Philippe Coutinho hands Liverpool an official transfer request.
Apparently, it was in the form of an email. An email the day before we start our season at Watford. What should be an eve of anticipation and excitement for what it to come over the next nine months has been overshadowed with our best player trying to force a move from our club, with no replacement lined up (from what we know at this moment in time).
Liverpool believe his request doesn't change their stance on the matter and he will not be sold in this transfer window.
Whether it is £90m or even more, I cannot think of a realistic target to replace him. Klopp said himself that we won't be signing any 'plan B' players, so you would think if Coutinho is to leave, then we would be gunning out for our 'plan A' signing Naby Keita, yet again.
Coutinho could do what Javier Mascherano did when Barcelona wanted to sign him from us in 2010. Mascherano refused to play against Man City and we lost the game 3-0. Undoubtedly, he would lose the respect from The Kop. Supporters dream of wearing the red shirt on their back; and he would be turning his back on it.
If we decide to sell Coutinho, the club looks weak in back-tracking from their statement this morning. But if we decide to keep him, which we are within our right to seeing as though he signed a five-year deal in January, removing a release clause, we are surrounding the rest of the squad with an individual whose heart isn't there. His presence could cause an upset in the dressing room should he not put in 100%. But then again, he could show his professionalism and keep his head down and get on with what he does best. That's what Luis Suarez did.
A gentlemen's agreement may be in the offing between the club and Coutinho that he can go next summer or in January, once we have found a replacement for him. But by that point the ship to Barcelona could have sailed by then for Coutinho and it might not be a gamble he wants to take.
Only time will tell for what the outcome is. So, for now, watch this space.