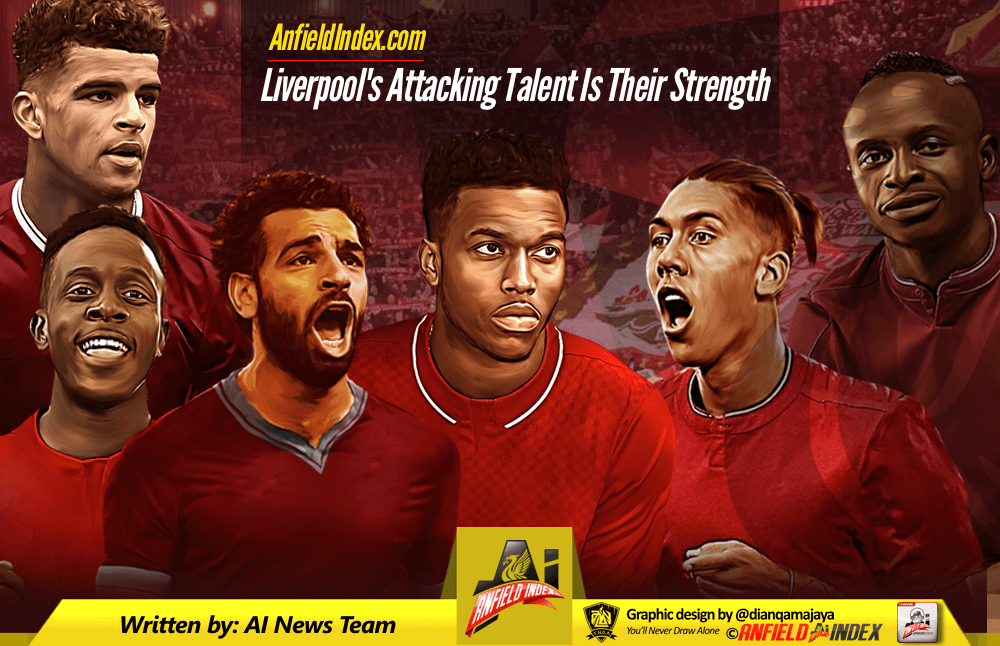 Liverpool's Attacking Talent Is Their Strength
Some of Liverpool's key rivals for the 2017/18 Premiership title have spent a fortune to on new strikers this summer. Arsenal paid £52 million for Alexandre Lacazette, Chelsea spent £60 million on Alvaro Morata and Man Utd splashed out £75 million on Romelu Lukaku. Tottenham already have Harry Kane and Man City can call upon the services of Sergio Aguero, arguably the two best strikers in the Premiership, and it has been claimed on social media that Liverpool now have the worst striker out of any of the top six sides. First of all, Tweets like "Chelsea: Costa Tottenham: Kane Man City: Aguero Liverpool: Firmino Arsenal: Lacazette Man Utd: Lukaku Good luck Firmino…" do a vast disservice to Roberto Firmino, a quality striker who has many wonderful attributes and is great at bringing other players into the game. It also overlooks Liverpool's strength in depth in that position, with Daniel Sturridge, Divock Origi and Dominic Solanke all vying for a starting berth. On his day Sturridge is better than any of the aforementioned bunch of Premiership strikers, while Origi is blessed with superb talent, but it is the latter that is starting to generate real excitement.
This summer Solanke led Engand to the Under-20 World Cup and won the Golden Ball as player of the tournament. In doing so he followed in the footsteps of Lionel Messi, Paul Pogba and Aguero, and Chelsea must be kicking themselves for letting him slip through their fingers as he has amazing potential. His fee will be decided by a tribunal, but it is expected to be around £3 million, which could prove to be the bargain of the summer when you consider that the likes of Kyle Walker and Gylfi Sigurdsson are becoming £50 million players.
Solanke has picked up where he left off at the World Cup, turning in some eye-catching displays for Liverpool in pre-season. He banged in goals against Crystal Palace and Hertha Berlin and looked extremely sharp. Last time out he came off the bench to score one and set up another as the Reds beat Athletic Bilbao 3-1 and he is in far better form than the man he replaced, Origi. If Sturridge continues to struggle for fitness and Solanke continues to demonstrate he is more effective than Origi, the young Englishman could find he gets a lot of game time this season.
Firmino does have a much poorer goals per minutes ratio than the likes of Kane, Aguero, Lacazette, Lukaku and Morata in recent seasons. That is undeniable, and Jurgen Klopp may need to throw a deadly finisher into the mix. If Sturridge cannot stay fit and Origi cannot nail down the role, then that man could be Solanke. He could play in tandem with Firmino, who is a wonderful auxiliary forward with a brilliant ability to bring others into the game, or replace him in the starting line-up. Solanke is down at 33/1 to win the Premiership's Young Player of the Year award and that could be an interesting punt. He certainly seems capable of being the next big British talent to emerge – and he will have to be if he is to usurp holder Dele Alli.
Either way, it shows that Klopp has plenty of options going forwards – Solanke, Firmino, Sadio Mane, Sturridge, Adam Lallana, Mohamed Salah, Origi, Philippe Coutinho. They all have goals in them and that makes comparisons between each top six team's first choice striker a moot point. Liverpool were among the leading goal scorers in the league last season and there is every reason to think they will bag even more this time around due to the increased competition. They just need to improve defensively. If they can do that then they could sustain a title challenge. The online sports betting sites currently have the Reds as sixth favourites, all the way out at 12/1. Liverpool are used to being written off, but it seems strange when they are on an upward trajectory under Klopp and constantly improving. At 12/1 you can go each-way and still make a big profit if they finish in the top three and that looks an interesting option given their wealth of attacking talent.