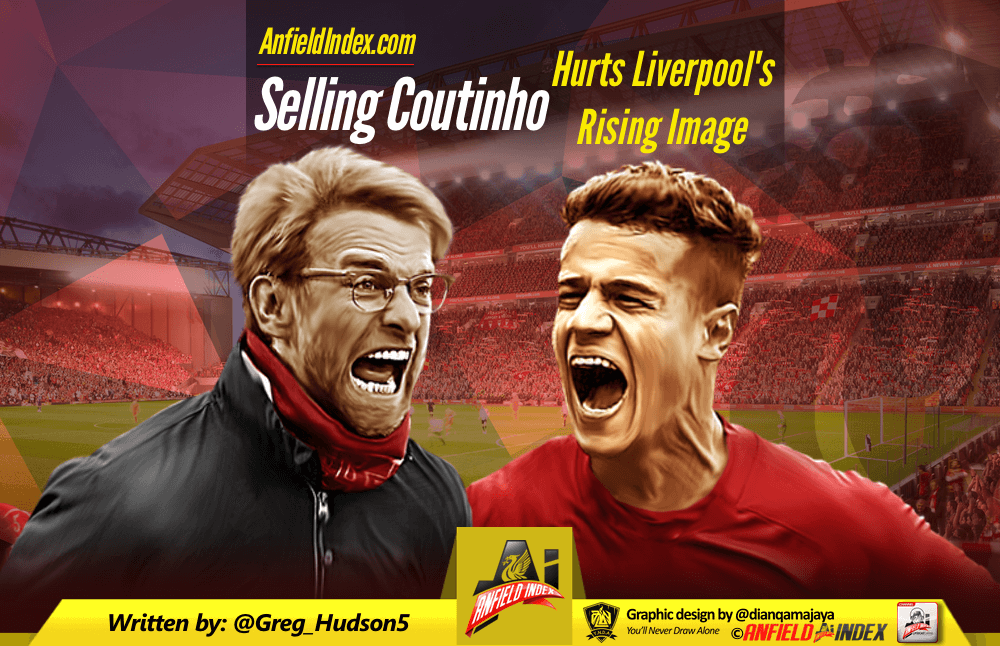 Selling Coutinho Hurts Liverpool's Rising Image
In January of 2013, when Liverpool announced the signing of a young Brazilian playmaker from Inter Milan, I read the article on my computer screen and said "Coutin-who?" I knew I'd heard the name, knew it had been associated with words like "flop" and "bust," and when I heard he had joined for around £8.5 million, I thought it was nearly ten mil in the bin.
Oh my days was I wrong.
The young Brazilian has since blossomed into one of the Premier League's premier playmakers, free-kick-takers and general havoc-causers, and less than five years on, the £8.5 million fee looks a right steal. He's grown in sharpness, intelligence and general quality, and so has the whole club along with him.

Since the late 1990s, Liverpool has been a selling club, not a buying club. World-class players with household names like McManaman, Fowler, and Owen left the club shortly before or after the year 2000, followed by another rash of top player departures around a decade later, as Alonso, Mascherano, and Torres departed the club with their eyes set on higher prizes. The failed title run in 2014 which was followed by the sale of Luis Suarez to Barcelona further reinforced the notion that Liverpool, though a top English club, was a stepping stone, not a destination.
But since the sale of Raheem Sterling to Manchester City in 2015, Liverpool's biggest transfers have been acquisitions. Roberto Firmino, Sadio Mané and Mo Salah have all brought quality to Liverpool, and while they weren't global phenoms at the time of their signing, they were players who had a record of success in high-level competitions and aspirations of achieving great heights with the Reds.
Ongoing transfer sagas over players like Naby Keita and Virgil van Dijk further indicates the image Liverpool have created in the past few seasons thanks to players like Coutinho and a manager like Jurgen Klopp. Van Dijk, who has reportedly set his heart on a move to Anfield, just this week filed a formal request for transfer and issued a statement in which he laid out his personal goals.
"I am incredibly ambitious and want to achieve as much as I possibly can to fulfil my potential in what is a very short career as a professional footballer," van Dijk said in the statement issued through his management firm. "I want to play European football again and challenge for major honours and, as such, I would like Southampton to consider the interest in me from top clubs should it still exist."
While he doesn't mention Liverpool by name in the statement, van Dijk's sentiments are encouraging for supporters like me. This statement proves to me that Liverpool have rekindled the belief amongst players that Anfield is a special ground with a side that can achieve special things. Selling Coutinho, at any price, threatens to undo all the progress Liverpool have made in building up this image since our heartbreak in 2014.
If Liverpool's true ambition is silverware in competitions of the highest order, a player like Coutinho is an invaluable asset, both in terms of his ability on the pitch and the message his presence sends to other players: if a player as good as Coutinho believes in Liverpool and what the Reds can accomplish, they must be a serious side with serious ambitions. Thus Liverpool becomes a destination for players to achieve their goals, and not a place to stop along the journey.
I'm not having a go at Phil. He's a top player who deserves to play top football, and while Liverpool can offer him Champions' League football this season, the Premiership remains the most difficult league in Europe. Barcelona have an attractive brand, attractive football and attractive prospects in a domestic league that offers little by way of a challenge outside the city of Madrid. It's fitting a player of Phil's calibre who is coming into his prime – and at 25 Coutinho is nearing the peak of his powers – would want to surround himself with the best in the game. That he wants to play for Barcelona is natural. That he wants to leave now is natural.
But the consequences of selling Coutinho, especially this summer, would be dire for the club and for Klopp's ambitions. He would lose his best player, making achieving success in a four-fronted campaign – with the league, two cups and European competitions looming large – nigh on impossible without signing new players in what little remains of a transfer window that can only be described as chaotic. Worse still, Liverpool's recent reputation as a club that sells on its best players would again hang over the dressing room. Selling Coutinho would pave the way for other top players like Mané or Firmino to force through moves away from the club next summer if this season is a flop. Selling Coutinho would make it easier for other top players to snub Anfield for the likes of the Etihad, Old Trafford, Stamford Bridge or the Emirates, as Alexis Sanchez did in 2014, in the immediate aftermath of the Suarez transfer.
Liverpool aren't a one-man club. Coutinho's presence doesn't make or break Liverpool's chances of success this season. But his departure would trigger a ripple affect that could hamper the club's prospects for several seasons. And it would once again make it painfully clear to the football world that Liverpool still isn't the place to achieve glory: it's just a place you stop along on your way to Spain. And that could set the club, the manager and the players back another five years in the hunt to bring silverware to the fans at Anfield.