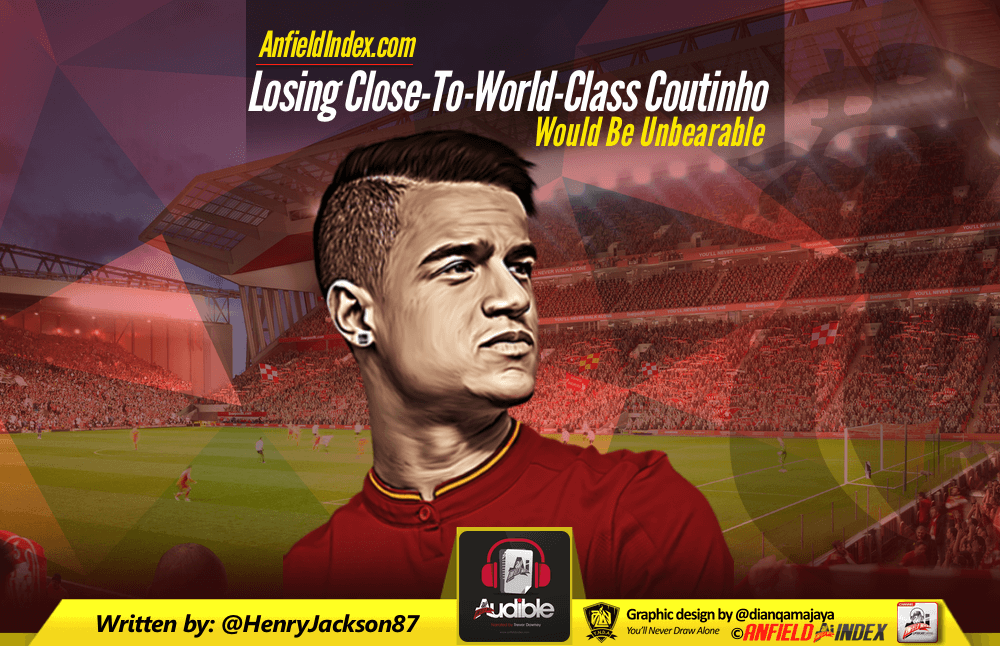 Losing Close-To-World-Class Coutinho Would Be Unbearable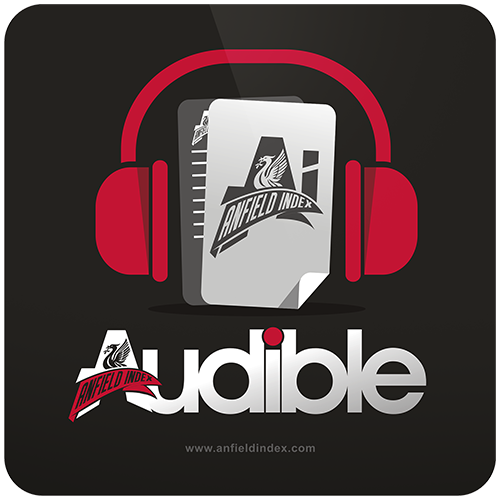 Listen to this article via @AIAudible !
With the great players, you can see the moment at which they are about to become genuinely world-class.
With Steven Gerrard, it was 2004/05, when he matured from being one of Europe's best young midfielders to one of the finest players on the entire planet.
Luis Suarez did it in 2013/14 – it should never forgotten how brilliant he was the previous year, too – when his levels of genius were on a par with any player we have ever seen in a Liverpool shirt.

Away from the Reds, both Lionel Messi and Cristiano Ronaldo suddenly went from incredible talents to all-time greats around the same time in the early 2010s, hitting a level that set them apart from the rest.
These giants of the game just find that extra gear at a certain point in their career and never look back.
For Philippe Coutinho, that moment is now.
Over the last four and a half years, we have been treated to endless moments of brilliance from the dazzling 25-year-old, from defence-splitting passes to inch-perfect stunners.
He has been the Reds' talisman more often than any other player since Gerrard and Suarez moved on, and many have rated him as one of the Premier League's outstanding players on his day.
Few foreign players have enjoyed such as impact on Merseyside this century, and he is adored by anyone of a Reds persuasion.
With Jurgen Klopp moving Coutinho into his preferred central midfield role this summer, we are set to see him become legitimately world-class.
We have watched the Brazilian thrive there in the past – in 2013/14 he was superb, but was often overshadowed by several others – and pre-season has done enough to make us giddy with excitement at what he could do this season.
The performances against Leicester City and Hertha Berlin, in particular, really were quite something.
With the likes of Sadio Mane, Mohamed Salah and Roberto Firmino in front of him, Coutinho can absolutely wreak havoc with his creativity and ability to dovetail with his fellow attacking teammates, reaching levels he has never found before.
Consistency has been the one thing that has occasionally dogged Coutinho, and the reason why he hasn't hit that world-class status yet.
He has been guilty of drifting out of games when things haven't been going Liverpool's way, and his previous left-sided role could make it hard for him to run the show in certain scenarios.
At 25, and now in the role he was born to shine in, there are no excuses for Liverpool's key man not to enjoy an extraordinary campaign and lay claim to be the best player in the country.
There is one major stumbling block, though. Barcelona.
The Catalan giants have made no secret of the fact that they are desperate to bring Coutinho to Camp Nou, and the daily reports linking him with a move there are causing serious amount of distress among the Liverpool fanbase.
Despite Klopp and the club continuing to state Coutinho is not for sale, it is impossible not to be concerned about them buckling eventually, especially if the player decides he wants to leave.
With these promises being made, and the fact Coutinho is on the verge of his best ever season, losing him now does not bear thinking about.
Some supporters will say that receiving a ridiculously large fee for the South American would make them less affected by the news, but it is simple: Liverpool will not return to the top if they sell their best players.
It would give off such a bad message, and in a summer when FSG's popularity levels have reached an all-time low in the eyes of many, this would be the straw that broke the camel's back.
It is fairly inevitable that Coutinho is going to end up at Barcelona one day – don't believe Barca's "you have to sign now or don't sign at all" threat, they will want him just as much in a year – but now would be the worst time possible for Liverpool.
Remember, if you can, how depressing it was when Gerrard looked on the cusp of joining Chelsea in 2004 and 2005 – this would almost be as bad, although the current side does at least possess more match-winners than back then.
Klopp has done exactly the right thing this summer and decided that he is building his entire team around Coutinho. He is the most gifted player in the squad, and like all the greats, he must be the focal point of the team.
If the unthinkable does happen and Coutinho did leave, all would not be completely lost but it would be a hammer blow of epic proportions.
Having finished in the top-four last season and been steadily improving under Klopp, this would be a major speedbump in this Liverpool team's progress.
If Coutinho stays and avoids injury, he will have a mesmeric 2017/18 campaign, producing one of the most eye-catching individual campaigns in recent Reds seasons.
Some may feel that that is expecting too much, but he is that good, and he is at a perfect point in his career to reach that top level.
The next few weeks could define Liverpool's season before it has even properly got underway – please stay, Phil.