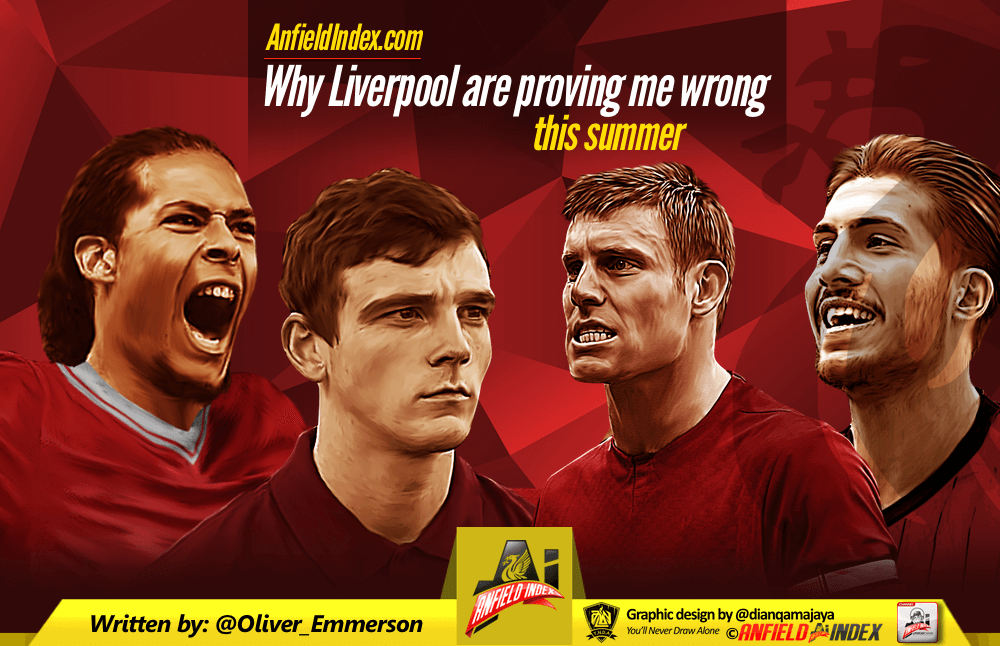 Why Liverpool are proving me wrong this summer
As Liverpool swept Middlesbrough aside on the final day of the season, I was filled with optimism.
Let the fun begin, I thought We had Klopp, Champions League football and reportedly a rather large pot of gold to splurge on some much-needed transfers.
Most importantly, we'd experienced sensible – logical – progression. We'd moved from a season containing cup runs and an eighth placed finish to a season where the league mattered most, and we moved up to fourth.

We had got better as a team, rather than relying on one spectacular play to help us leap up the table (I'm looking at you, Suarez). It means that we're less likely to fall off a cliff this season coming, and left us with much scope for improvement.
I also thought that the club was moving forward off the pitch. A position of strength in the transfer market, no more Ian Ayre. FSG's brilliant move to hire Klopp had paid off and we appeared to be making clever choices in high positions, with Peter Moores coming in as CEO and Michael Edwards being promoted to Sporting Director.
So, why have Liverpool surprised me?
Virgil Van Dijk hasn't been signed days before the new season, less than a week before a crucial Champions League play-off. Having been in a position of strength not just to sign a centre-back, but to get *THE* sought after centre-back, we're days away from lining up against Watford with Dejan Lovren in the side for the fourth consecutive season.
How has that been allowed to happen?
Emre Can hasn't signed a contract, and we're in August. He has now officially got less than 12 months left on his deal. The German international that dragged us to the Champions League during the run-in hasn't signed a new deal. 'It'll be sorted when he's back from holiday' they said. He's been back for weeks. No announcement.
How has that been allowed to happen?
We're days away from the season starting and the focus is on whether or not we'll hold on to our best player, rather than at the top players we've brought in – because there's only been one addition that you could hail as 'fantastic' so far.
How has that been allowed to happen?
Andy Robertson was done later than it could have been. Yes, no more Milner at left-back, hopefully. But, couldn't buying a player for a minimal fee from a relegated club have been done before late July?
Plus, that signing has only allowed Milner to make a bizarre re-appearance in centre-midfield during pre-season, something Klopp has openly talked about as being a POSITIVE thing.
The only time Milner playing in centre-midfield is acceptable is in a testimonial fixture.
There was a reason that he, and his 150k p/w wages, were moved to left-back last season. The only reason he's back in centre-midfield, is because the squad planning has been messed up.
'He's like 7th choice CM' you may say. Not good enough.
Milner's in contention for a midfield role at the moment, because Alberto Moreno remains a Liverpool player. What?
Bar a handful of games last season, in most of which he performed admirably, Moreno hasn't been considered a first team option in a year. He was on his way out, Liverpool had named their price and more than one Premier League club want/wanted him.
Regardless of my own views on the player, why is he still at Liverpool in August?
Maybe, because Liverpool's squad planning has been poor, or transfer market implementation of any plan has been poor.
Has it dawned on Klopp that the squad, with a sale of Moreno, would be just too small to compete on four fronts?
I'd assumed Liverpool were past the point of progress where those sort of mistakes were made.
That discussion only begs the question as to why both Lazar Markovic and Mamadou Sakho remain Liverpool players. What on earth is going on with Sakho? He's been virtually transfer listed for a year, and didn't play a minute in pre-season.
By keeping him around and waiting for someone to meet the asking price, Liverpool are only driving the value down on a player the world and his wife knows we want to sell.
Markovic is a similar story, if not quite so desperate. He could go on loan again, but what's the point? Klopp doesn't rate him, regardless of whether you or I do, we need to get rid.
And then, the squad would definitely be too small. But we go back to the poor delivery of signing's. Salah, great. Robertson, good. Solanke, how many minutes will he get? We're a centre-back light, a winger light and a central midfielder light.
Ignore what Klopp says, that is the truth. Just because Liverpool are targeting quality in these areas, doesn't mean that they're not also being purchased to strengthen the squad depth.
Transfers that should have happened by now, haven't. We've spent the summer chasing Naby Keita, a fantastic player but one Liverpool have had their fingers burnt chasing.
Has that seem them take their finger off the pulse in other areas, and to how much cost?
I came into the summer thinking the right players would come in, they'd do so early. I thought Sakho would be gone early, and Moreno wouldn't be a Liverpool come August.
I thought, and I'm sure Klopp thought, we'd be set for Watford.
However, we most certainly aren't.
Changes must be made before September, and I'm sure they will. I'm not saying it's been a bad summer, nor that it will be considered one in a few weeks time. There is chance for the Reds to redeem themselves.
However, fan frustrations at this point are very understandable. Liverpool have surprised me by allowing such frustrations to become reasonable.