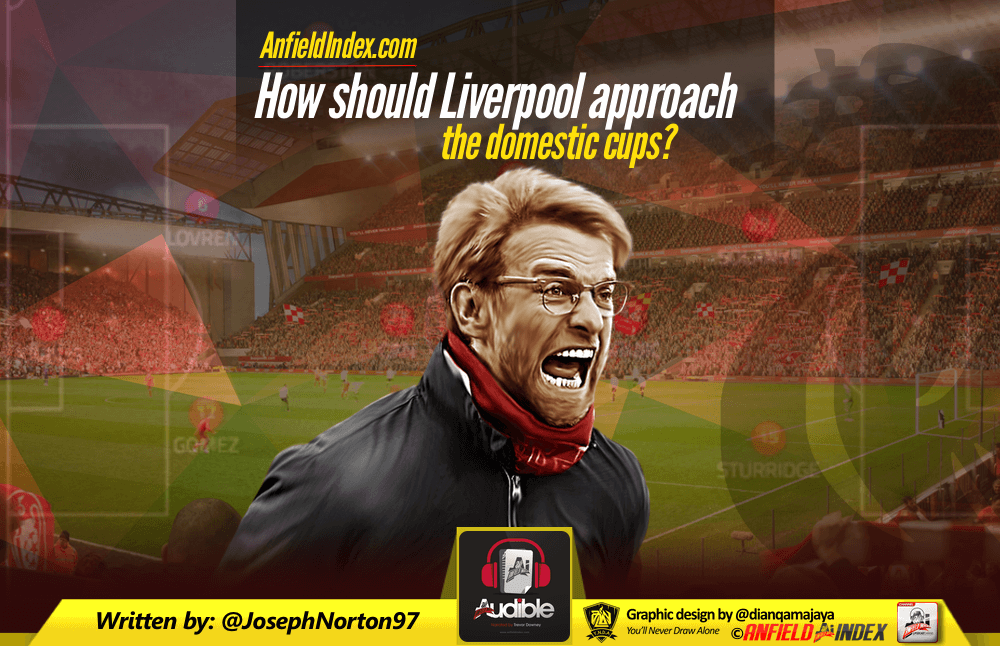 How should Liverpool approach the domestic cups?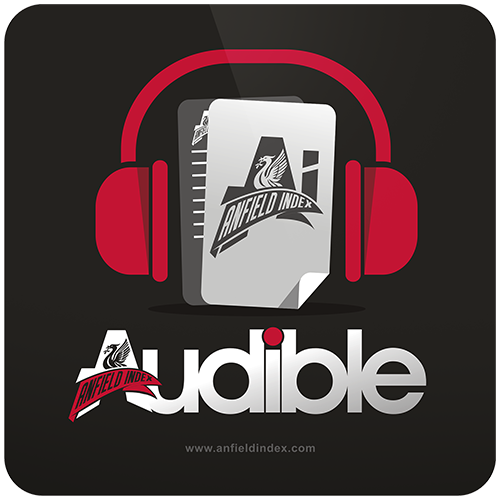 Listen to this article via @AIAudible !
Despite having the added demands of European football, the domestic cup competitions should be seen by Liverpool supporters and more importantly the manager as genuine chances of silverware this season. This is not to say big players shouldn't be rested in the league cup and FA cup, they will have to be. But with Liverpool's strength in depth in key areas such as defence, central midfield and up front these provide the Reds with a perfect opportunity to give their very talented squad players the platform to develop and force their way into Klopp's plans when the more important league and Champions league games come around. Just because Liverpool could be playing up to 65 games next season if they are successful in all competitions, the domestic cups should not be seen as an unnecessary distraction which is why it's so important the club build a squad capable of challenging on all fronts, which is why in my opinion we are at least two players short as it stands. Liverpool are a big club and should always look to win every trophy they enter and the domestic cups this year should be seen no differently. So with the likes of Matip, Clyne, Henderson, Firmino, Mane and Salah all needing resting in these games, what starting line-up can we expect to see from Klopp.
Formation
First of all let's look at what players we are likely to have available in these competitions with our regular starters needing some much deserved rest. The Reds are blessed with numerous strikers, therefore, a formation which includes two forwards is vital should Liverpool want to give their talented attackers a platform to deliver. Another area of the pitch Liverpool have a lot of depth in and are likely to add to before the window closes is central midfield, most of Liverpool's creative players operate best in central positions, as a result, a formation which includes as many midfielders as possible again makes sense. Finally, the Reds are very short of options out wide with Salah and Mane being our only senior wingers, both of them will need resting in these games so it makes sense the formation used in these competitions avoids having any wingers. If Ryan Kent does stay at the club, I believe he will be best used as a back up to Mane and Salah in the the league and Champions league rather than an alternative to them in domestic cups as I believe he will perform best when he's surrounded by top class first team regulars. From looking at the overview of the squad it's probably quite clear what formation I'm suggesting….. the 4-4-2 diamond. Although I have always been a big fan of it, I honestly believe it is the perfect formation for us to succeed in these competitions and be a real force this year.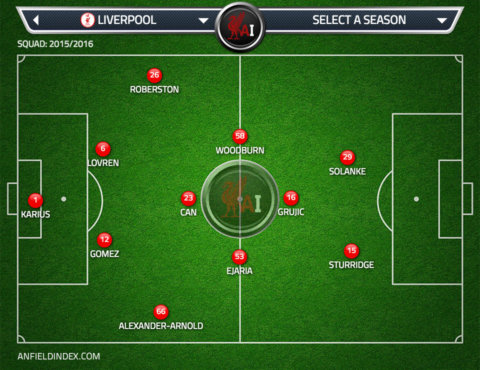 The Team 
It seems as though Simon Mignolet will be the Red's number one this season, therefore, the goalkeeper for the domestic cups is likely to be either Loris Karius or Danny Ward, I think Klopp really believes with the right development Karius could become a top quality goalkeeper which is why I think we'll see the young German in these competitions again this year. When Nathaniel Clyne is back fully fit, I think his superior defensive attributes mean Klopp will use him as his first choice right back in the majority of games next season, therefore, this will provide Trent Alexander-Arnold with the perfect platform to develop and improve his game away from the big stage of the PL or CL. That's not to say we won't seen Trent in a handful of bigger games next season as he has impressed yet again in pre-season and provides a more attacking alternative to Clyne, therefore, when the Reds come up against a low block side at Anfield, Trent may be the best option in these games. If we do manage to sign a top class CB then him and Matip especially with his injury record should be rested in the domestic cups ensuring they are fresh for the Premier league and Champions league which means that we could see a centre back pairing of Joe Gomez and Dejan Lovren. Joe Gomez has all the attributes to be a top quality CB but he needs game time to refine his game and the domestic cup competitions would provide a perfect platform for him to do so. Dejan Lovren is a good defender but makes too many mistakes to be a regular for Liverpool, however, having the Croatian as the third choice centre back and our leader in the heart of defence in a changed team would really emphasise the strength in depth the Reds will hopefully have this season. Should Liverpool unforgivably not sign another centre back then Ragnar Klavan will likely partner Gomez, with Lovren somehow still Liverpool's second choice CB. Either way it cannot be denied both of these partnerships are very strong especially against weaker sides in the football league. Left back is an interesting one and I think come January, Andy Robertson will have solidified his place as first choice ahead of James Milner but I think because of his experience and Clyne's absence then the 31 year old will remain top of the pecking order which means Robertson is likely to line up at left back in this team. Again this is no bad thing as it gives Robertson the chance to learn the position Klopp wants him to play away from the big stage but he should not be Milner's back up for too long. Should Liverpool have a back five of Karius, TAA, Gomez, Lovren and Robertson then the Reds will have a very solid base to build from in the domestic cups which is a very encouraging sign.
Should Klopp decide on playing the diamond then I can see Emre Can lining up at the base of midfield, however, this may depend on whether he favours Can or Wijnaldum to play in his first choice midfield. Either way it's a certainty one of them will operate in this position. The two positions either side are likely to be take up by Marko Grujic, Ben Woodburn or Ovie Ejaria, all three players have the ability to succeed in these positions and again it would provide them with the perfect opportunity to improve and develop their games. In my opinion Liverpool still need another midfielder, a complete midfielder to go straight in our first team which would mean Gini Wijnaldum would be freed up to play in one of these positions, adding some much needed quality to the position. Before Lallana's injury I had him nailed on to play at the tip of the diamond and what a player he would've been to have in that position, but because of his injury it leaves Klopp with a bit of a conundrum. If Klopp wants to go really attacking he could play Daniel Sturridge in the number 10, a role I think he would be great in or he could try and use Ryan Kent in this position if he wants someone who can take players on and commit defenders. The manager may also consider using Grujic in this role should he want to give him more freedom in midfield. We've all seen the attacking qualities the Serbian has, so there is no doubting he could do very well in this role. A lot of who plays in the midfield four is dependent on incomings and who Klopp sees is his first choice 11 but it is clear to see the Reds have plenty of quality options to play in all of these roles.
Liverpool have a wealth of options in attack which is why a formation that gets two strikers on the pitch is going to be imperative in the domestic cups. Roberto Firmino is likely to play in almost all of our Premier league and Champions league games which means he will have to be rested, but this still leaves the Reds with plenty of options. If Sturridge is fit he has to play every game Firmino doesn't because of the quality he possesses, as a result, Klopp should partner him with Dominic Solanke. The young Englishman has been brilliant in pre-season scoring 3 goals and looks a much more complete player than Divock Origi, he really does remind me of Diego Costa. This is not to say Origi won't be given game time this season, I would alternate Origi with Solanke in the domestic cups as the Belgian needs to be given the chance to fulfil the potential he has shown glimpses of. Should Klopp play Sturridge at the tip of the diamond then Origi and Solanke could also be paired together. Danny Ings should not be forgotten about also but it looks as though he's still a good couple of weeks away from full fitness and will then need some game time in the U23's before he should be considered.
If Liverpool can make the two signings we desperately need then this squad has the potential to be extremely successful on all four fronts next season. If we don't add to our starting 11 in the next couple of weeks I believe that will mean we've had a failed window – failing to address our main weakness at centre back. Having said this, the Reds should still be more than capable of finishing in the top four, doing well in the Champions league and going far in both the domestic cups, failure do to this wold be terrible for the Reds after a positive season last time out. Should we compete the signings of a top quality CB and a complete midfielder then there is no reason why the Reds can't challenge for the title, get to the last 16 of Champions league and be very successful in the domestic cups. Klopp has a very good squad heading into next season and it would silly of him to completely dismiss the domestic cups as a distraction, it's a brilliant opportunity to win some silverware, develop players who are deemed not quite ready for the starting 11, whilst resting some key players. Liverpool football club exists to win trophies.