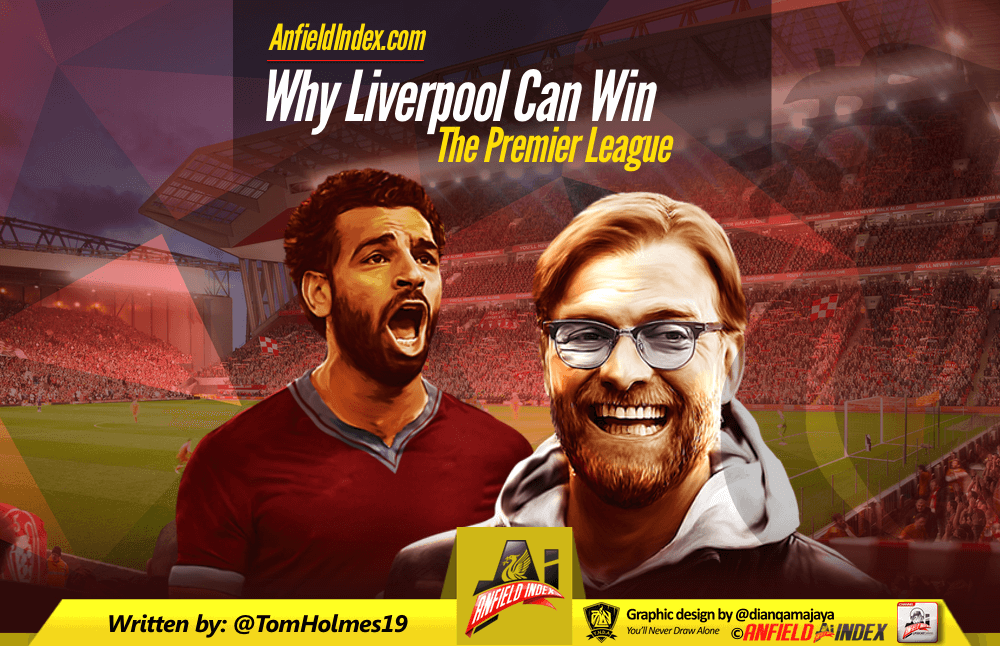 Why Liverpool Can Win The Premier League
Liverpool go into this Premier League season off the back of another good summer, looking to build on a really big improvement in the last twelve months and possibly challenge for the Premier League title. So, based on Liverpool's summer window, the relative strength of the other teams around us, and of course, Jürgen Klopp, can Liverpool win the Premier League title? Yes, and here's why.
Hit the Ground Running
The first thing to note is what Liverpool need to do to be heavily involved in a title race. Last season we "scraped" into 4th with 76 points (one of the highest ever points tallies required to secure Champions League football). Based on the last few years, anything above 80 points should be enough to at least put Liverpool in contention for the title, although anything less than 85 probably won't be enough to win it. So realistically, Liverpool need to add 10-15 points to their tally, but any improvement on 76 points should put us there or thereabouts, given that 76 points would place Liverpool 3rd in at least 6 of the last seasons.
Have Liverpool done enough in this transfer window?
So ignoring the other sides in contention for a moment, have Liverpool done enough in this window to add 10 points to their tally? Well, I would argue that at this moment, not quite. What the club have done is brought in three players varying between good and world class. Robertson offers some class competition at left back, and is a good solution to one headache for Jürgen Klopp; Solanke offers another dimension to our attack off the bench, and then there's Mo Salah.

Salah deserves a paragraph to himself because I think that he's the best signing Liverpool have made in years. When was the last time Liverpool brought in a player who was already an elite level, world class signing in his position? Salah is dead, dead good, a versatile, fast, intelligent and technically gifted forward. He scores goals, he creates chances for others, he is one of the fastest players in the game, and his movement, positioning and footballing instinct are all incredible. How many goals will he add to Liverpool's attack? 10? 15? He scored more goals and assisted more than anyone in Liverpool's starting eleven last season, creating more chances per game than anyone in Liverpool's squad, including Coutinho and Firmino.
So to recap, Liverpool have added depth in two areas that badly needed it, and brought in a player who is arguably better than anyone currently in our team and certainly on a par with Coutinho, Mane and Firmino. The net result is that across pre-season, Liverpool scored 19 goals in 8 games, with Salah himself scoring four. Liverpool will score more goals this season, and it's not impossible that they hit 90 goals in the Premier League.
But is Salah worth an extra ten points? Plausibly not, but then the initial question was misleading. After all, asking if transfers have brought in an extra ten points implies that the players currently in the squad aren't going to improve, which is unquestionably not true in this case. Both Daniel Sturridge and Jordan Henderson look fit and firing, and the likes of Emre Can, Sadio Mane and Roberto Firmino will naturally improve. We roll our eyes when Klopp talks about Ryan Kent, Alberto Moreno and the likes of Grujic and Gomez as new signings but they effectively will be.
Avoiding Injuries and Maintaining Fitness
The big issue for Liverpool remains fitness, and whilst we weren't necessarily unlucky with injuries last season, there's scope for us to be luckier, both with who gets injured and when they get injured. We won't lose Mane to the ACON this year, so that will get us what potentially five points more than last season? Minimum? If Coutinho doesn't pick up a serious injury he could play an extra five games and that could earn us what another five points? The point is that even without incomings, there are spots here and there where Liverpool can naturally improve and snatch a few more points.
The Case for the Defence
The big issue regarding Liverpool is, of course, the defence. Centre-back is an issue that absolutely needs to be shored up. I'm holding my position that with or without another central defender Liverpool have enough to compete for the title, but I'd feel a lot better about our chances if we had one more addition to the squad to start alongside Joel Matip, relegating Dejan Lovren to the bench. However, whilst 46 goals conceded is probably too many, the Liverpool side of 13/14 nearly won the title conceding 50 goals, and I certainly think there is natural scope for Liverpool to improve on that 46 conceded. Keeping Matip and Lovren together for as long as possible is key to that, but having better fullbacks, a settled goalkeeper, and just time working with Jürgen Klopp will all chip away at that tally. Conceding less than 40 might be just out of reach, but conceding less than 45 certainly isn't, even without defensive reinforcements.
The Competition
So let's look at Liverpool's rivals because simply put, the Reds aren't mounting a title chase in a vacuum, and there are five other sides who all want to win the Premier League. And whilst a lot of Reds fans will argue that every single one of those other five are in a better position, or that all of them have had a better summer, to suggest that is simply incorrect.
There were two teams last season vastly ahead of Liverpool, so let's look at those. Both Chelsea and Spurs got through last season by having extremely good starting teams, but lacking depth. For Chelsea, that depth issue, much like Liverpool, is going to be tested by European football, and they are in a worse position to cope with that than their rivals. Chelsea have just three recognised central midfielders, two strikers, two wing-backs and four central defenders. Outside Chelsea's strongest eleven, they only have Caballero, Rudiger, Fabregas, Willian and Batshuayi as cover. And for Spurs, the situation is even worse, as they have failed to sign a single player this summer, losing their first choice right back Kyle Walker to Man City and second choice Trippier to injury. Spurs can barely put together a starting eleven right now, let alone a bench.
And what of the teams Liverpool ended last season ahead of Arsenal and Man United. Arsenal have made two astute signings in Kolasinac and Lacazette, but have failed to shore up their central midfield or their central defence, with an ageing spine and the possibility of losing Alexis Sanchez hovering over them. United meanwhile, have replaced Ibrahimovic with Lukaku, an ageing Michael Carrick with Matic, and added another central defender, but have done very little to address the key weaknesses in their side. They've improved, but not enough.
So of Liverpool's rivals, the only one who genuinely looks like they've seriously improved is Man City, who have spent £250m revamping their squad. Walker, Mendy and Danilo are seriously hot prospects at wing-back, Bernardo Silva is another attacker to add to their vast array, and Ederson cannot possibly be worse than Claudio Bravo. But the key issue for City is whether or not their array of big names can settle, and whether they'll concede fewer goals given that their defensive midfield and centre-back areas look potentially short. Of all of the top six, the only one I think has improved more than Liverpool in this window is City, but even then that's only on paper.
Other Commitments
A few other things to bear in mind. All six sides have European football; for Chelsea in particular, this will be a shock to the system. Spurs have to play at Wembley, and this will put a sizeable dent in their home form. From a managerial perspective, there will be a lot of pressure on Mourinho, Wenger, Conte and Guardiola. Pep and Mou in particular simply have to win the Premier League title this year, so if things don't start well, that could have an adverse effect.
Most Importantly….
And the final thing to remember: we have Jürgen Klopp. Klopp has built this squad and is at the point where he's only looking for elite level additions. Klopp has worked with the majority of these players for two years now, and he's reaching a point where he's been able to have a tangible effect on them. Klopp appears ready to mount a title challenge. And so are Liverpool. So for once, let's just shelve the pessimism for a bit.
So, what does this all mean?
So, will Liverpool win the title? I mean I don't know, there are 38 games to be played and frankly every year things rarely go as predicted. Personally, I think we'll fall just short, with Man City probably favourites and Chelsea if they sign a few more players also still serious contenders. But I think Liverpool are in a position if we keep Phil Coutinho of course, where we can really start to challenge with the big boys.
But the question isn't will Liverpool win the title, the question is can Liverpool win the title, and the answer to that is a resounding yes.