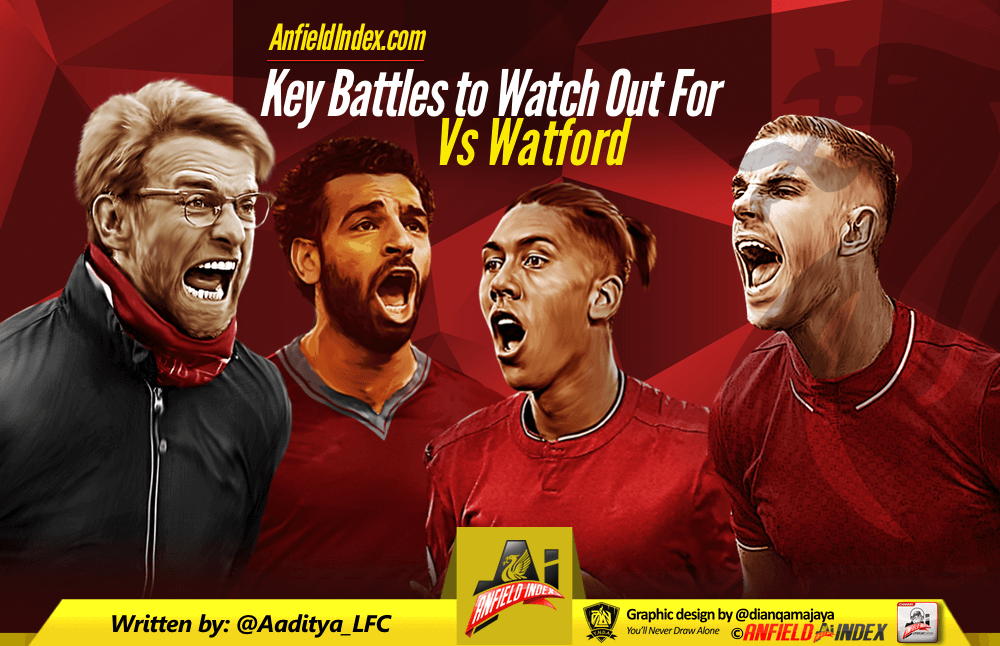 Watford v Liverpool Preview - Key Battles
Finally, it is that time of the year, when Liverpool fans can finally shift their attention from Twitter to events on the pitch. The transfer window and the deals (lack of) can be the topic of discussion for another day. This Saturday, when Liverpool face Watford at Vicarage Road, the only thing on the agenda must be three points. Jurgen Klopp's Reds will be aiming for a fast start and a morale-booster ahead of the visit to Germany to face Hoffenheim in the first leg of the UEFA Champions League playoff.
Before getting into the key battles, a little disclaimer. I will not be including Philippe Coutinho in this one and that is ONLY because of the uncertainty surrounding his fitness, and nothing else.
Adam Lallana and Nathaniel Clyne are definitely out, while Daniel Sturridge and Coutinho remain massive doubts for the visit to the Hornets.
So, the key battles:
Sebastian Prodl v Roberto Firmino
Firmino alternated between playing on the left wing and as the centre forward in pre-season, but like last season, it is clear that Klopp's preference is to have the Brazilian in the middle of the park, from where he is so much more influential.
If Coutinho is absent, and Lallana already ruled out, Firmino's role becomes doubly important. You know you will get insane work rate from the new Reds no. 9, but the creative burden will also fall on him.
Prodl and Younes Kaboul are likely to line up in the heart of Watford's defence, face-to-face with Firmino. Both are big strong typical centre-halves, so they might not enjoy the prospect of having to track Firmino when he drops deep tries to break the lines with his movement. An under-rated aspect of Firmino's play is his ability to keep possession under pressure, and with the two big men possibly wanting to impose their physicality on him, it will be crucial for that aspect of the Brazilian's play to shine through.
Jose Holebas v Mohammad Salah
Given the crazy money that has been flying around in the market, Liverpool's current club-record signing might well be tagged as a bargain come the end of the season.
Salah is the quintessential Klopp signing. There are no pretentions that Salah was signed for any other reason than that he fit the manager's system to a tee. His pace on the counter-attack is obviously what Klopp wanted to add, to supplement Sadio Mane on the other flank. But he is also a Klopp player, in that he never stops running. With Trent Alexander-Arnold likely to slot in at right-back, Salah's must help out the youngster who has only made a handful of Premier League appearances before.
But I am convinced that Salah offers more than Mane did down the right flank last year. In many ways, he is a lot more mobile than Mane is, playing the ball and moving around trying to be on the end of another pass. With Mane on the opposite side as well, there is not just one flying African Red that oppositions have to be worried about anymore.
Holebas didn't have a great last season and first tests in a new season don't come much harder than a winger of the speed and ability that Salah has.
Etienne Capoue v Jordan Henderson
Capoue was a revelation last season for Walter Mazzarri's Hornets. From a defensive midfielder, he became a lot more dynamic and got some vital goals for Watford, ensuring that he compensated for the dip in form of Odion Ighalo and Troy Deeney as the Hornets managed to comfortably stave off any threat of relegation.
Facing him will be among the most underrated midfielders in the league, in Liverpool's skipper. Henderson has already shown in pre-season that he is very close to full fitness. When Henderson plays, Liverpool seem a better side. He keeps the ball moving and knows to protect that back four, with his ability to read the play.
His passing, especially in the PL Asia Trophy was a joy to watch and one can only hope that the skipper will set the tone on Saturday at Vicarage Road. The tone for not just three points on the night, but for a massive season.