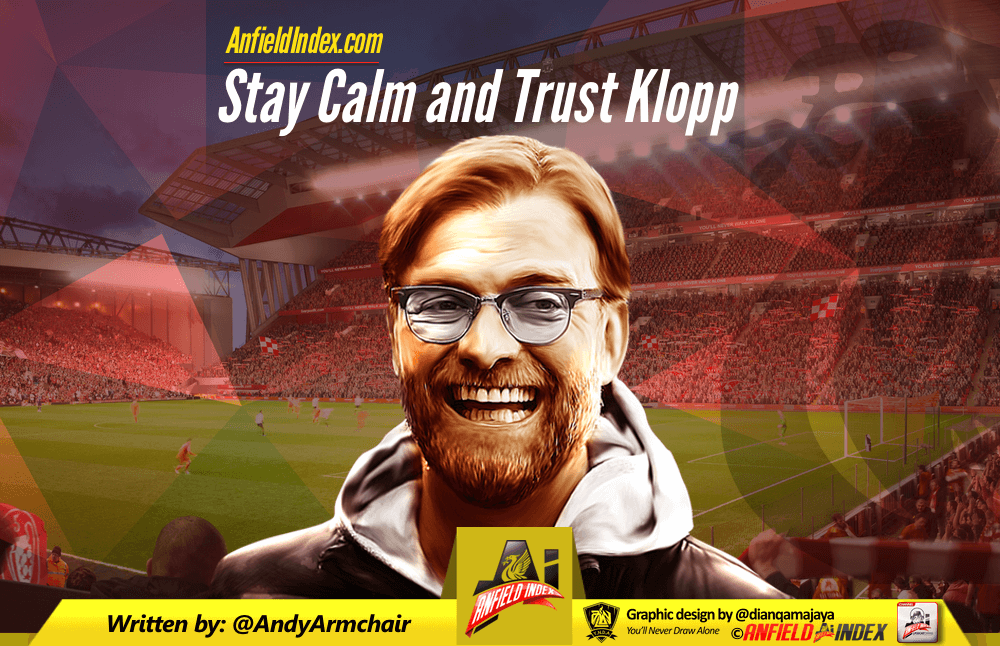 Stay Calm and Trust Klopp
It's an obvious thing to state and it can perhaps come across as being somewhat condescending, but the transfer window does not close until 11pm UK time on Thursday 31st August. So, at the time of writing this, there's still nearly three more weeks to go. However, it seems that final judgement, in all its absolution, has already been passed by many. Don't get me wrong, I think our transfer window has been a little underwhelming up to now.
The key words being: up to now.
If Virgil Van Dijk or any other centre-back is not signed. If Naby Keita or any other central midfielder is not signed. If Philippe Coutinho is sold. If, if, if; a lot of if's there and should they all transpire, then the purveyors of doom will be licking their lips at the prospect of a flaming pitchfork inspired mob baying for the blood of FSG. That may be hyperbole, but should those aforementioned if's happen, then the mood will understandably not be good amongst fans at the start of a defining season for the club.

Unbelievably, I've seen some almost begging for it to happen, with the hope that Jürgen Klopp will walk out on the club. I can't get my head around that one. Imagine wanting Klopp to walk out of your club, just to feed your hatred of the owners. That's a special breed of stupidity right there.
I can completely understand some having reservations about FSG, sceptical of their ability to run such a huge football club or simply thinking there are better owners out there for Liverpool; but wanting to see the club seriously harmed and take a massive backward step into the unknown? Sorry, but you need to take a long hard look at yourself with that one.
So, when it comes to the prospect of Coutinho being sold, let me put it like this: Liverpool Football Club means the world to me, it's the closest thing I have to a religion. However, I do live in the real world and I understand that we are not at the top of the footballing food chain, so when Barcelona come calling, it's very difficult for a player to resist. Like I said, Liverpool means everything to me and I dare say millions of other fans too, but Coutinho is from Brazil, not Bootle. I'm sure he's enjoyed his time here and is appreciative of the adulation he's received and the club's role in his development. Unfortunately, there is a 'but' here because if Barcelona want him, I can understand reciprocation from his perspective.
Hopefully, any further bids are rebuffed and come September, Coutinho accepts it and knuckles down, which I don't doubt he would, especially given this is a World Cup year. I actually think it would be more beneficial for him to stay another year and show the world what he can do from midfield. As much as Liverpool fans have adored him, he's not held in the same regard by Barcelona fans, so if he goes there now, with the perception of being a replacement for Neymar, he won't replicate that and could soon have the crowd turn on him.
A season of showcasing his talent from midfield on the biggest stage could have the Catalan giants return next summer and their fans on board for his arrival. I'd love to think that after a year of lighting up Liverpool's midfield in Europe will have him decide he wants to stay where he is. That's the optimist in me. Either way, both Liverpool and Coutinho benefit from another year of his mercurial talents.
The fact is, these are all if's, but's and maybe's.
That, ultimately, is my point here, because with weeks left in the window, things can change. Rather than give final and unequivocal analysis on something that hasn't finished, I think we have to show a little patience and, dare I say it, belief in Klopp. Only last summer, question marks were raised over our summer signings and I will confess to one of those unsure on a couple of them. Klopp didn't manage to acquire all his first choice signings, but the alternatives made us forget about that and Sadio Mane cemented himself as an integral part of the team. Although we did still lack the squad depth that I feared would be an issue, we ultimately achieved a core objective of getting back into the top four.
So, even if last summer didn't go entirely to plan in terms of transfer targets, Klopp and his staff were more than able to cope with it. Maybe there's a lesson for us fans there.
There's good reason why you can't provide final analysis to a match that's 70 minutes in, so maybe there's still some late drama to come; this is, after all, Liverpool Football Club.