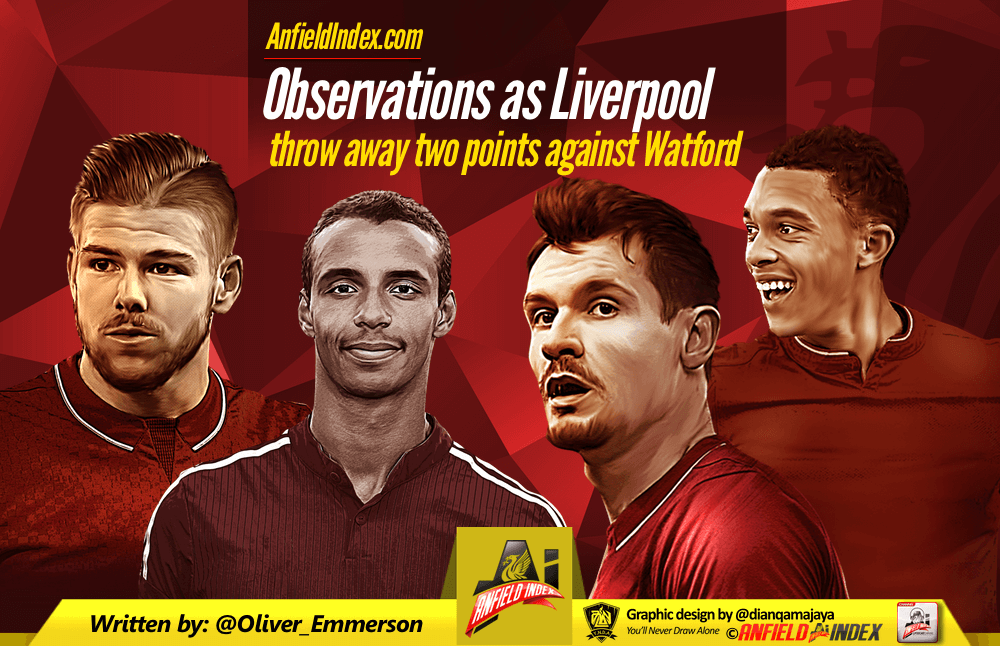 Observations as Liverpool throw away two points against Watford
Given the thrills of the unpredictable, hair-raising Premier League that the media tells us we should embrace and love for it's uniqueness, that all seemed a little predictable.
Liverpool were behind, level, behind, level, ahead and level in a topsy-turvy opening clash with Watford, one that finished 3-3. It was disappointing, but perhaps not a terrible point come the end of the season, especially if we get past Hoffenheim.
Observations were there to be made, and here they are.

PRAISE FOR THE FULL-BACK'S
In a first-half that was nothing but a complete mess, praise should be reserved for Alberto Moreno and Trent Alexander-Arnold. A surprising full-back pair, Moreno repaid the confidence shown in him by Klopp with an aggressive performance that contained few mistakes. Some have suggested he was at fault for the second goal, all I saw was a left-back doing 'okay' in a 50-50 with his man. Other than that potential blip, a solid if unspectacular performance.
Trent Alexander-Arnold was Liverpool's best player in the first-half and not far off in the second. Composed on the ball, sensible in the challenge, he even added two fantastic set-piece deliveries to his performance, one's that should have been nodded in by Matip and Lovren. Perhaps taking him off was the wrong decision, as the free-kick that led to the eventual goal came from that side of the pitch.
SALAH THE SLOW BURNER
It was a frustrating opening period of the game for our new winger, as he fed off scraps and fired over the one chance he did get.
The Egyptian grew into things though, always looking positive and taking up some excellent shooting positions, even if the shot's sometimes left a little to be desired.
We knew about his pace, something that helped win the penalty for Firmino, before he was expertly on hand to nod in from close range for what should have been the winner. A goal and assist on debut, when he didn't even play that well. Ace.
LIVERPOOL CAN SCORE WITHOUT COUTINHO
Ignoring the defence for a moment, the clash showed that Liverpool can be a potent goal-scoring threat without Coutinho. The Reds didn't really get out of first gear going forward and will be much better at other times this season, but still managed three. Mane didn't look sharp but showed some quality, Firmino came alive in the second-half and I've already spoken about Salah.
But, given the way the front three played, it's hard not to be frustrated at the potential of the team if Coutinho comes back in to feed these willing runners ahead of him. It's hard to say that Liverpool would have won with Phil in the team, but one or two more clear-cut chances on the break may well have been created as Watford chased for an equaliser.
WILL VAN DIJK FIX THE PROBLEMS?
Lovren and Matip recovered from a shaky start against Okaka to have relatively okay games in open play, but it didn't help Liverpool defend set-pieces, a recurring theme. Klopp is insistent that they're working hard on it, but progress doesn't seem to be there.
Mignolet lacked his commanding presence that we saw so often towards the back end of last season, summed up by a comical mix-up with Lovren that nearly cost the Reds. Will Virgil Van Dijk's proposed signing solve these dead ball issues?