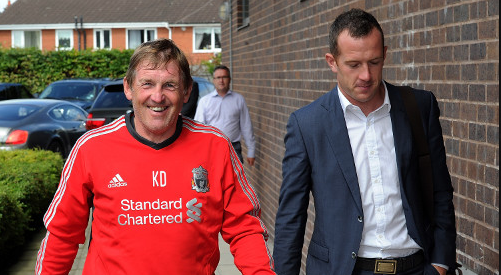 Charlie Adam - Statistical Breakdown of Season 2010/11
Liverpool FC announced today that they had, finally, agreed a deal with Blackpool FC for the services of Charlie Adam. If Adam passes his medical, the six month long saga will draw to a close with Kenny finally getting his man.
Charlie Adam's transfer to Liverpool FC was blocked at the last minute in January and his form suffered because of this. From August to January Adam was in a rich vein of form which is why Kenny Dalglish and Damien Comolli earmarked him as their central midfield option. In this article we are going to look at Charlie Adam's statistics from the 2010/11 season.

In his first season in the Premier League Charlie Adam scored twelve goals and made eight goals and was therefore involved in 36% of Blackpool's goals (20 goals out of 55 goals) in the Premier League last season. A full in depth statistical breakdown of Charlie Adam is shown below. We've broken up the tables to show Goal Attempts, Passing, Passing Breakdown and Crossing/Long Ball breakdown.
We've not compared this to any other player due to this article being a player profile. We will however get the full stats of Steven Gerrard, Jordan Henderson, Lucas Leiva & Raul Meireles for a bumper Statistical Comparison over the weekend.
As the tables show above Charlie Adam averaged a shot on goal every 39 minutes, which is pretty impressive, however his shots hit the target every 87 minutes so one attempt per game on target, again not a bad stat for a central midfielder. As I said earlier the stats for all other Liverpool midfielders, new and old, will be put together for a comparison article on the weekend so that you can see how Charlie Adam actually matches up with our current squad. I think on an early indication he will add a lot to the side. Adam's shooting accuracy is at 44%, which is good and chance conversion a standard 15%. Most of the players, that I've had the pleasure of comparing in my short time as a statistician (can I even call myself that?), have a chance conversion percentage of around 10-20% so this is a good figure. Again this is skewed heavily by his penalties. If you take the penalties out his conversion is 5.6%, which is poor.
With 80 chances created (including assists) Charlie Adam is creating a chance every 38 minutes. His creativity and passing is something we lack in the centre of midfield when Gerrard is not playing. Lucas Leiva has had an impressive season but his characteristics are to keep the ball, hustle and anchor and Spearing the same. So towards the end of the season Liverpool FC had two players doing a similar role in central midfield. With Charlie Adam, hopefully, playing centrally Liverpool should have more creativity in open play and from set pieces.
Whilst he got twelve goals last season, I feel his scoring stats will most likely dip at Liverpool FC. Why? Well because in Steven Gerrard and Dirk Kuyt we have two penalty takers who will always be ahead in the pecking order. Even with direct free kicks I believe Adam will only get to shoot on goal with those that favour his left foot, else Steven Gerrard and Luis Suarez will be the main direct free kick takers.
Moving onto passing in open play Adam's pass completion is at 72% which isn't bad but gets slightly worse when adding in all types of passes (set plays etc) and is at 67%. Speaking of set plays, 50% of Charlie Adam's assists were from set plays which is encouraging for all especially Andy Carroll, as earlier on I saw a tweet from @OptaJoe stating that five out of the eight assists from Charle Adam were from crosses!
Further breakdown of Charlie Adam's passing and crossing is above. The most striking thing is the amount of long balls or chipped passes that he makes per minute. The problem is that these stats may overlap with each other for example a chipped pass could be a long pass etc. Still the breakdown is interesting to see how often Charlie Adam is attempting these types of passes. For the passing breakdown 63% of Charlie's passes are forward, 12% are backwards, 5% are to the left and 20% to the right – at least the passes are moving in the right direction and he cannot be labelled as always passing it sideways or backwards!
What has been bringing Charlie Adam's pass completion percentage down is his passing in the attacking half and final third. More than two thirds (70%) of his passes are in the attacking half and it's here that he makes most of his crosses, hollywood balls etc which are two of the reasons for his low pass completion of 58%. It's even worse in the final third with only 56% (cross completion affects this total). When Adam keeps it simple, i.e. in the defensive half, he's averaging a completed pass 88% of the time.
Overall Charlie Adam had a very good year for Blackpool and had he performed as well as he did in the first half of the season Blackpool may well still be in the Premier League. The next question is how well will he do at Liverpool? Will the pressure be too much? Can he perform with more expectation? All will be answered in the 2011/12 season, and I for one am looking forward to seeing some creativity from our central midfield role which is something we've lacked this season.
If Adam does sign on the dotted line, Liverpool FC would have bought Henderson and Adam, both of whom have had exceptional creativity stats. A sign of things to come?
If you find anything interesting in the stats above, please do leave a comment. It's now free to register and sign up with AnfieldIndex.com so please do so!
N.B. All stats used in this article are from EPLIndex.com. Thanks to @EPLIndex for the stats, please do give them a follow on twitter.